I received a copy of this DVD in exchange for my honest review. All opinions are one hundred percent mine, and I was not financially compensated in any way.
AVAILABLE ON DVD, DIGITAL AND ON DEMAND FEBRUARY 6, 2018
Chaos ensues in the all-new family comedy, Woody Woodpecker, coming to DVD, Digital and On Demand on February 6, 2018, from Universal 1440 Entertainment, a production entity of Universal Pictures Home Entertainment. The film blends live action and CGI animation to tell the crazy and humorous story of an all-out turf war between the mischievous prankster and a big city lawyer who wants to build his dream home in Woody's backyard. Directed by Alex Zamm (Inspector Gadget 2, The Little Rascals Save the Day), Woody Woodpecker stars Timothy Omundson ("Psych"), Thaila Ayala ("Rio Heat"), Graham Verchere ("Fargo") Jordana Largy (Monster Trucks) and Eric Bauza (The SpongeBob Movie: Sponge Out of Water), as the voice of Woody. TheWoody Woodpecker  DVD and digital features deleted scenes and an exclusive inside look at the making of the film as well as the evolution of Woody's iconic cartoon character.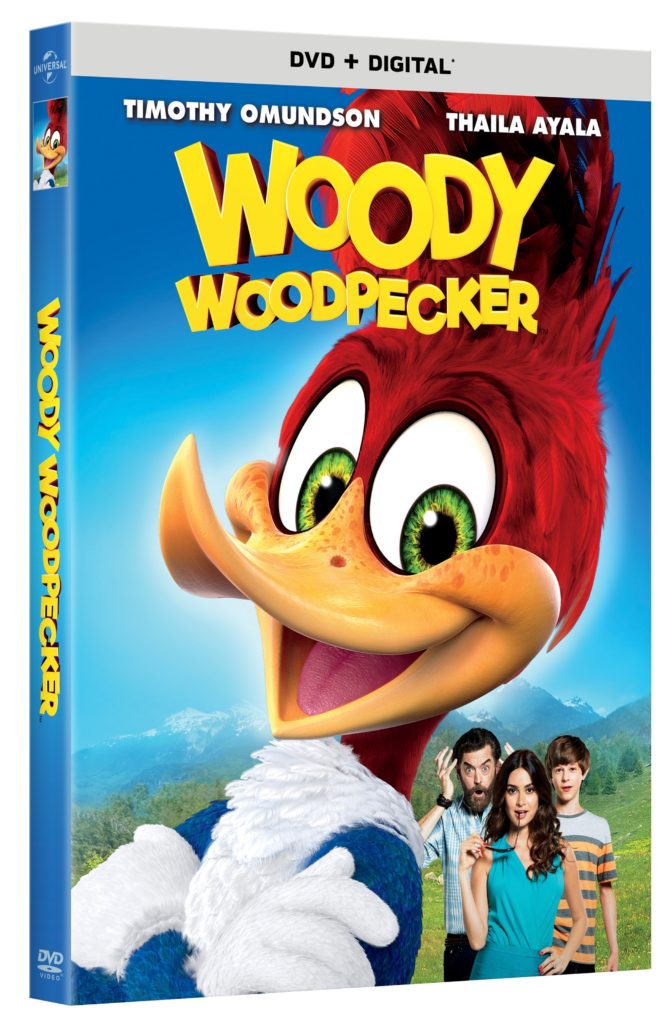 Woody Woodpecker is back with his signature laugh, wacky antics and wisecracks in his first ever live-action/animated film. Woody must protect his forest home from Lance Walters (Omundson), who starts building his dream mansion in the forest with his son, Tommy (Verchere), and fiancée, Vanessa (Ayala). To make matters worse, Woody must avoid the clutches of two grizzly poachers. With a series of crazy hijinks to sabotage their plans, Woody proves he'll stop at nothing to defend his turf. Get ready for laughs in this hilarious comedy about everyone's favorite woodpecker!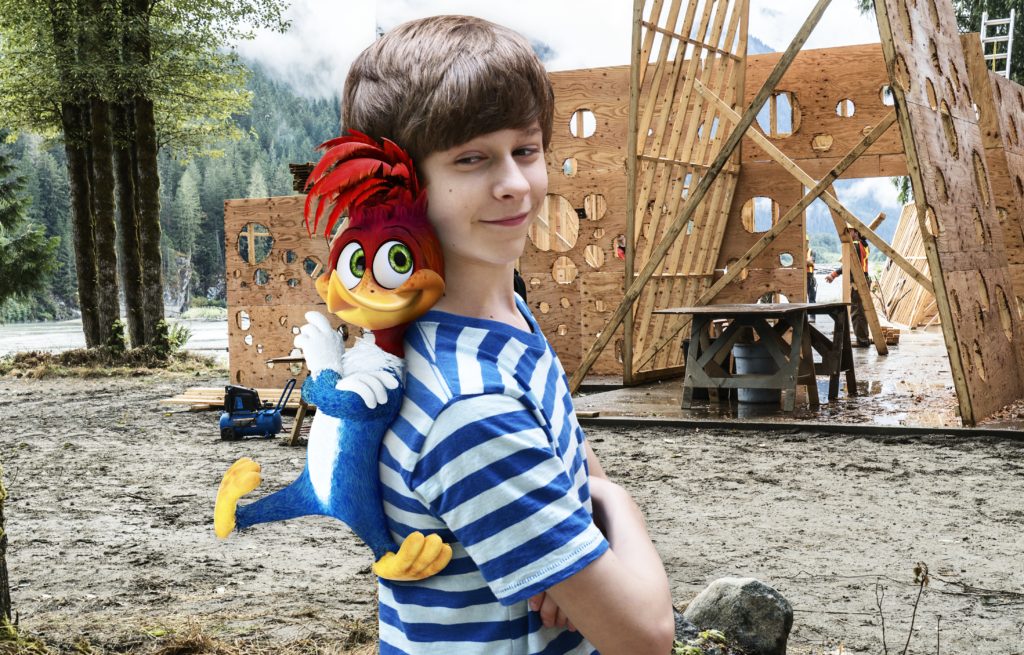 Woody Woodpecker is a legendary icon created by Walter Lantz in 1940. Woody Woodpecker & Friends have entertained kids for more than 75 years! Woody Woodpecker cartoons appeared in theaters until they debuted on television in 1957. Woody's popularity resulted in new shows airing across several decades. "The Woody Woodpecker Show" has been broadcast in over 155 territories and 105 languages worldwide. He is one of the most memorable cartoon characters in animation history, featuring the little red-headed bird with the unforgettable laugh, who's forever pecking his way out of trouble. Woody has evolved from a cartoon TV character to a Pop Culture Icon with his fearlessness, crazy antics and smarts.
BONUS FEATURES on DVD and Digital
Guess Who? The Evolution of Woody – Woody Woodpecker is one of the world's most iconic animated characters. In this featurette, we explore how Woody's look and personality have changed since his introduction in 1940.
The Making of Woody Woodpecker – Filmmakers and cast discuss why this version of the Woody character is so appealing and how his brand of physical humor translates across audiences.
Working with Woody – Filmmakers, cast and crew reveal the specific challenges of filming a movie whose main character is CGI.

Woody Woodpecker is available on DVD and Digital.
DVD offers the flexibility and convenience of playing movies in more places, both at home and away.
Digital lets fans watch movies anywhere on their favorite devices. Users can instantly stream or download.
Movies Anywhere is the digital app that simplifies and enhances the digital movie collection and viewing experience by allowing consumers to access their favorite digital movies in one place when purchased or redeemed through participating digital retailers. Consumers can also redeem digital copy codes found in eligible Blu-rayTM and DVD disc packages from participating studios and stream or download them through Movies Anywhere. MOVIES ANYWHERE is only available in the United States. For more information, visit https://moviesanywhere.com.
FILMMAKERS:
Cast: Timothy Omundson, Thaila Ayala, Graham Verchere, Eric Bauza
Casting By: Lisa London, CSA, Catherine Stroud, CSA, Sean Cossey, CSA, JJ Ogilvy
Costume Designer: Sheila White
Music By: Chris Hajian
Edited By: Heath Ryan
Production Designer: Tony Devenyi
Director of Photography: Barry Donlevy
Co-Producers: Greg Holstein, Alex Zamm
Produced By: Mike Elliott
Based on the Character "Woody Woodpecker" Created By: Walter Lantz
Screenplay By: William Robertson & Alex Zamm
Story By: William Robertson & Alex Zamm and Daniel Altiere & Steven Altiere
Directed By: Alex ZammTECHNICAL INFORMATION DVD:
Street Date: February 6, 2018
Copyright: Universal Pictures Home Entertainment
Selection Number: 63175473/ 63175474 (CDN)
Layers: DVD 9
Aspect Ratio: 1.78:1 Anamorphic Widescreen
Rating: PG for some action, rude humor and language
Languages/Subtitles: English SDH, French Canadian, French European, Latin American Spanish
Sound: English, French European, Latin American Spanish Dolby Digital 5.1
Run Time: 1 hour, 33 minutes
MY REVIEW
First of all, let me say that the character Woody Woodpecker is a cartoon I watched as a child, but I'll admit, Woody kind of bothered me. He was so purposely destructive and derived such joy out of it that sometimes I didn't enjoy the show all that much.  It was typical animation back then, and it was a part of the overall Saturday morning cartoon offerings, so I just dealt with it. However, I always enjoyed the silliness of the song. And for the record, it was sad that the song was not found anywhere in this production! I'm certain it was due to copyright issues or some other reason, but I did notice.
Secondly, the PG rating should not be enough to cause any family to back away. The worst things that happen is Woody passes gas and laughs about it, and the rest is cartoon violence (with the exception of a burning house). There is no bad language from what I could tell, and you won't find any sex scenes or even any allusions to such. A very tame movie for all.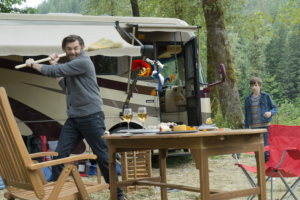 I will admit that for much of the movie, I was bored, but that is because this movie is for a younger audience to enjoy. While it features a familiar animated character (I found the animation stellar, by the way), this is decidedly geared towards those in preschool, kindergarten, and early elementary. By the time kids reach eight, nine, or ten, more than likely, they will not be as willing to sit through the film unless it is for the sake of a younger brother or sister or friend.
Additionally, I would have preferred the two poachers to be just minimally more frightening than they are. While I understand this is geared towards smaller children and that they are depicted as being anything but intelligent, I would have preferred more edge akin to someone like Cruella de Ville or another iconic comic villain. I found these characters to be too "dumb" for my tastes.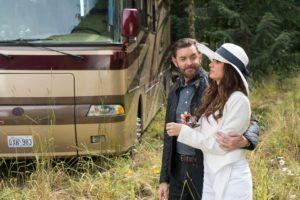 However, in spite of any pitfalls, this movie has many redeeming moments. More than anything else, the way in which Woody is depicted is quite pleasing. I appreciate the fact that his destructive behaviors are not intentional (unless going after the bad guys), and the fact that he is toned down some is quite refreshing. Certainly, he wreaks havoc all over the forest, but in the end, he willingness to be a part of a family genuinely shines through. It was a very nice reimagining of an iconic character.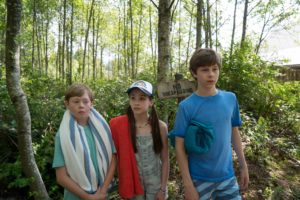 Another thing that works is the acting of the main cast. I recognized Timothy from 
Psych
, and seeing him as the single dad who is willing to mend his ways for the sake of his son is a nice message. Similarly, I recognized Graham from some of his past works, but especially from his current role in 
The Good Doctor
. He carries the young people throughout the story, and he and Woody appear to have a unique bond.
Seeing my friend Jordana was another nice surprise! She was the first one to tell me about this movie, and I remember when she was shooting it. I would have liked to have seen more of a significant role for her and maybe even a romance, but at this point, I'll take what I can get. And she was exemplary as always.
I have a wonderful treat for all of my readers! If you live in the U.S., you are eligible to enter the giveaway widget below for your chance to receive a copy of this DVD and a CD copy of the soundtrack from the movie! All you need to do is enter by 9 P.M. Pacific time on February 15th, and you are in to win! Best of wishes, and don't forget to
buy
your own copy of the movie today!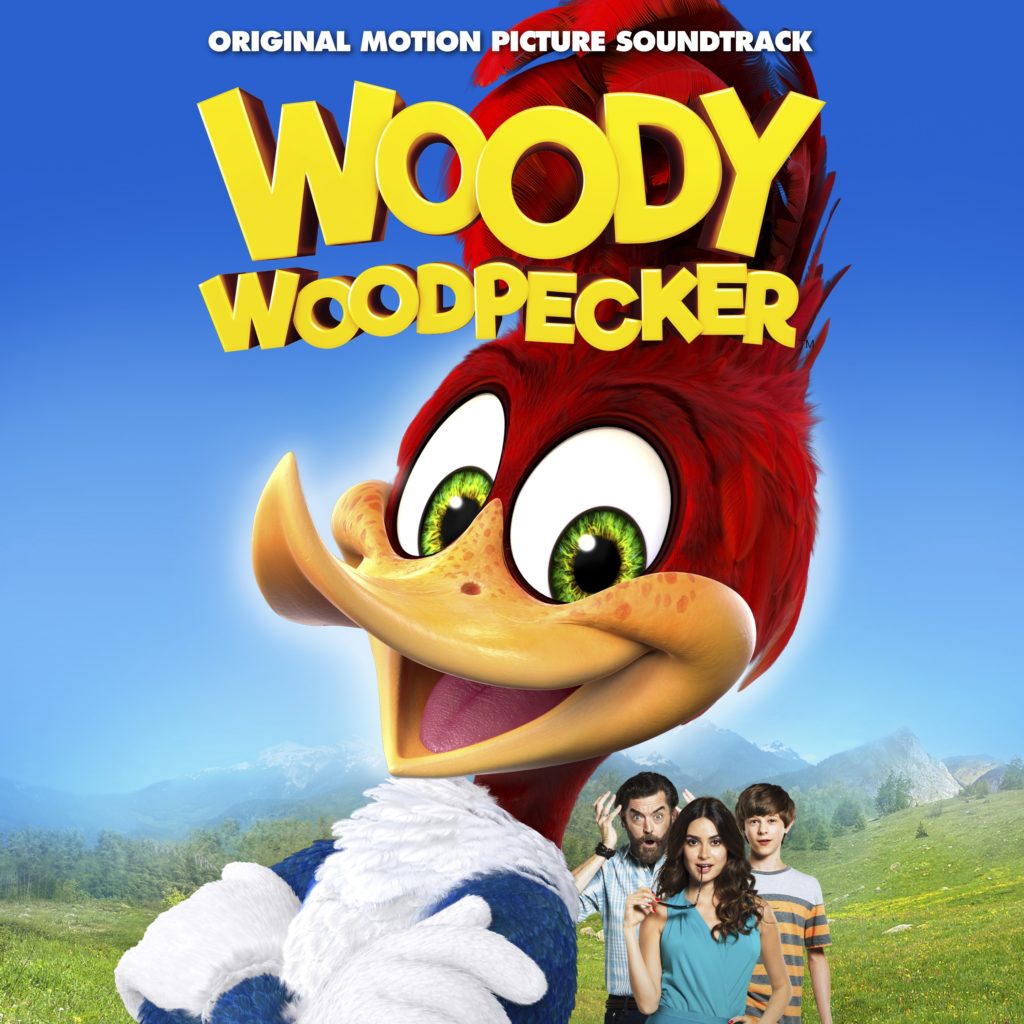 The Woody Woodpecker Song – Alex Geringas
Surfin' Bird – Randy Crenshaw & The Kids
Everybody Thinks I'm Crazy – Eric Bauza feat. Tha Vill
What I Like About You – The Kids
Troublemaker – Blaze n Vill
What a Day – KNOTS
Create a Country Estate – Chris Hajian
Pristine and Untouched – Chris Hajian
Sucker for Peanut Butter – Chris Hajian
Dinner for Four – Chris Hajian
A Highly Territorial Bird – Chris Hajian
Need a Guitarist – Chris Hajian
Poachers Lodge – Chris Hajian
Peanut Butter – Chris Hajian
A Regular Pablo Peck-Caso – Chris Hajian
Happen – Chris Hajian
A Misunderstood Gesture – Chris Hajian
Want the Woodpecker Back – Chris Hajian
Your Turn to Live in a Cage – Chris Hajian
Woody's New Home – Chris Hajian