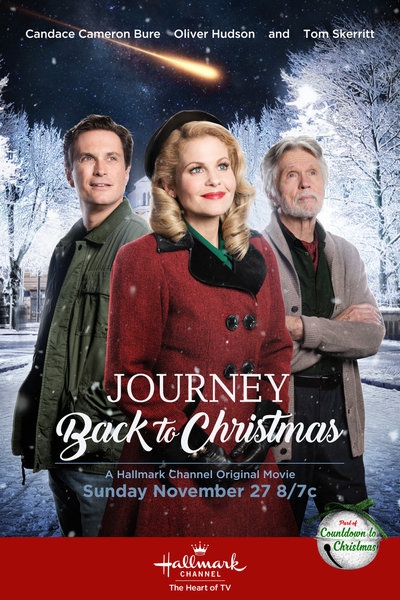 Back in October, I had the honor of interviewing a Hallmark author, Leigh Duncan, who recently had a book published based on a popular Hallmark movie, Journey Back to Christmas. I finally had a chance to finish this book, and I'm so glad I did! Below is my review of this fun and entertaining read.
Journey Back to Christmas by Leigh Duncan
My rating: 5 of 5 stars
I am an avid Hallmark fan, and when it comes to their Christmas movies, I watch them and often enjoy the vast majority of them. I remember when this film came out last year (2016), and I was wondering how much my family and I would enjoy it. I had no problem with time travel, but sometimes my mom is not too keen on it. But thankfully all of us loved it!
When I discovered that Leigh Duncan wrote a novelization of this film, I was thrilled! I was a bit unsure when I read my first Hallmark book ("Love You Like Christmas), but I knew this one was going to be fantastic. I had never read anything by Leigh, so I went in expecting to relive a favorite Christmas film, and that is exactly what happened.
Because I had seen the movie, I knew the story, but Leigh wrote in such a way that took me deeper with the various characters, and I loved getting to read more about some of the backstories and the thoughts going through their minds. I actually wish the book would have been longer and examined the characters even more (especially the romance between the characters in 2016), but that is just a personal preference. My only complaint is that the book was a bit too short, but that is something that possibly could not be helped, and Leigh herself may not have had control over that. I also would have loved an expanded epilogue with more about Hanna and Chet, but perhaps it made more sense to end things in the present.
Regardless, Leigh's style matched the movie quite well, and I look forward to reading more of her works, Hallmark or not, in the future. I'm glad Hallmark has connected me with a fantastic author, and I would highly recommend this book to anyone who enjoys Christmas romances!
So if you are interested in buying this book or checking out more of Leigh's books, check her out here.
Those books would make perfect last-minute gifts, and it's nice to know that we can support Hallmark through book sales now as well as movies!