If you are like me, Hallmark's "Countdown to Christmas" is a tradition that is almost required viewing in my household. Last year, Candace Cameron-Bure starred in Journey Back to Christmas, one of the network's most popular and most-watched films. My mother is not a fan of time travel tales, but this wasn't your typical time travel story. It is a sweet romance featuring a gripping saga that demonstrates what is genuinely paramount in this world–true love. Additionally, it emphasizes how vital everyone is in this world, and each of us has a very special purpose for our lives that touch scores of individuals both in our lifetime and beyond. Recently, Hallmark Publishing began publishing books based on a few of their popular Christmas movies, and Leigh Duncan happens to be the first published author with them. Because of this auspicious event, I gleefully jumped at the opportunity to ask Leigh a few questions about herself, her books, and most noteworthily, her work with Hallmark.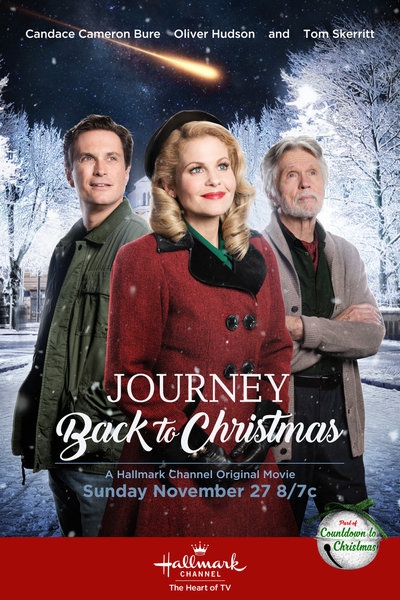 RH: What inspired you to be a writer?
LD: I've always loved telling stories. Super-highways didn't exist when I was growing up, and a trip from our house in Central Florida to my grandmother's Alabama farm took eleven hours. When we weren't reading, my sister and I entertained each other on those long car trips by telling stories we'd made up. Some of them were epic! When I was in the second grade, I turned one of those car-trip stories into my first novel. It was an action-packed tale about a blind Prince Charming who had fallen into the clutches of an evil witch and needed to be rescued by the heroic princess. And I've been writing ever since.
What kind of training did you have for writing?
Throughout high school and college (Go Gators!), English was my favorite class. After graduation, I studied Creative Writing at American Univerisity and UCLA. I belong to several writers' groups, including Romance Writers of America and Novelists, Inc, both of which have been huge sources of education and support.
What was your first published piece of writing? Any story attached to it?
In the year leading up to my daughter's wedding, I wrote a series of tongue-in-cheek essays on the trials and tribulations of selecting a venue, shopping for a gown and surviving a hurricane the week of the ceremony. When I submitted those to Adams Media, they scooped them up for Cup of Comfort for Weddings.
What kind of research do you do for your books?
For the most part, I follow the guideline, "Write what you know." The first book I sold to Harlequin American, The Officer's Girl, tells the story of a young woman who arrives in Florida shortly before a major hurricane makes landfall. That one was easy—having grown up in Central Florida, I'd lived through my fair share of hurricanes. In my next book, The Daddy Catch, the heroine is an accomplished flyfisher, another topic I already knew a great deal about. That's not to say I don't do research. I do. Tons of it. Mostly online. But every once in a while, a trip to someplace fun and interesting will spark a new idea for a book.
What book has been your easiest to write? Your most challenging?
Journey Back to Christmas was the easiest book I've ever written. Hands down. I think it was so easy because I didn't have to so many decisions. Sometimes I absolutely labor over what comes next, how my hero or heroine will react, what they'll do. In a novelization, those questions are already decided for you—on screen. Since that part was already done for me, I was able to concentrate on how things in their past had led the protagonists to this moment in time, and how they felt about the actions they were taking.
As for the most challenging, The Daddy Catch, definitely. Oooooh, the re-writes I faced with that book!
You have the distinction of having the first book published with Hallmark Publishing. How did that come about?
Well, I'd heard that Hallmark was looking for a few good manuscripts, so I sent them a sweet, second-chance romance. That manuscript got a speedy rejection because it wasn't exactly right for their imprint. But sometimes, "no" really is the best answer. Even though my story wasn't quite right for their line, the Director of Hallmark Publishing liked my writing so well that she asked if I'd consider writing the companion book for Journey Back to Christmas. It sounded like such a fun project, I had to say, "Yes!"
How was adapting a movie to a book different for you than the novels you had been writing?
As a writer, I'm constantly making choices. What happens next? Is that really what the hero would do? Does the heroine really want what's behind Door A? Should she peek behind Door B? Is that word or phrase the perfect one? By the end of a big writing day, my head aches from making so many choices.
So, in one way, writing Journey Back to Christmas was easier because there weren't as many choices to make. I didn't have to decide what the hero and heroine would do—those decisions had already been made by the director, the scriptwriter, the actors, and actresses.
For those who have seen the movie Journey Back to Christmas, why would you recommend they read the book?
While I love movies, I think a book usually provides a richer experience. Just like the root system of a stately oak tree is far larger than the tree we see above ground, books offer a greater depth and understanding than the movies provide. In writing Journey Back to Christmas, I was able to dig deeper into the reasoning behind Hanna's and Jake's actions, to show their histories and why they worked together to solve, and re-solve, her mysterious appearance. Plus, a lot of viewers had asked what happened after the end of the movie. To answer their questions, I added a lovely little epilogue.
If a reader has not seen the movie, what do you suggest—book or movie first. Why?
Oh, read the book first, by all means. You'll get to know Jake and Hanna and Sarah and then when you watch the movie, you can really appreciate the excellent acting of Candace Cameron-Bure, Brooke Nevin and Oliver Hudson. And you can drink in all that beautiful scenery, the gorgeous sets and simply enjoy the experience.
Any other upcoming works you can mention?
Before I had the opportunity to write for Hallmark Publishing, I was working on my eighteenth novel, Broken Road, Book 3 in The Orange Blossom series. I hope to get back to that in time to release Broken Road in 2018. But, I enjoyed working on Journey Back to Christmas so much that I've agreed to write the companion book for another of my favorite Hallmark movies, A Country Wedding, which will also come out in 2018.
Any plans to write a book that can be made into a movie?
I'd love, love, love to write a book, or even a series, for Hallmark Publishing, and of course, I'd be over the moon if my work ever became a Hallmark movie! Be still my heart!
What do you enjoy about Christmas the most?
Christmas means family to me. When our family was younger, we invited the grandparents, aunts, uncles, and cousins to our house to celebrate the holiday. We'd troupe en masse to the candlelight service on Christmas Eve, drive around town ooohing and aaahing at the Christmas lights, hang our stockings and watch for Santa Claus. On Christmas morning, after we plundered our stockings, we'd all gather in the kitchen for homemade orange and cinnamon rolls before we opened presents, and later in the day, we'd all sit down to a fabulous feast. Now that my children are grown and have families of their own, I've passed the Christmas torch to my daughter. And yes, I get a little teary-eyed each year as I watch her pass along our holiday traditions to a new generation.
What do you enjoy about Hallmark the most?
Working with Hallmark Publishing has been every bit as sweet and wonderful as the most sentimental greeting card, and I look forward to writing more books for Hallmark Publishing, books that will "make you smile and warm your heart."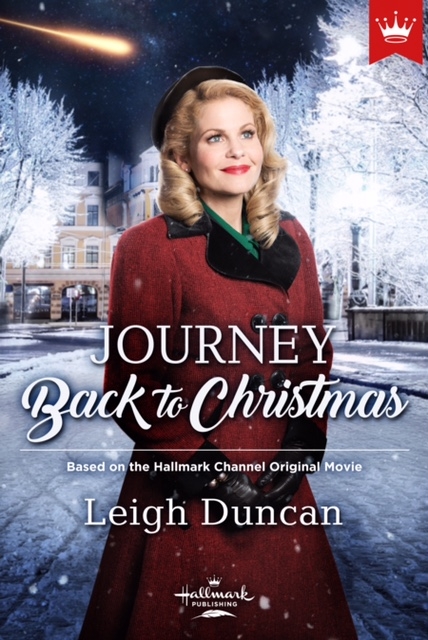 Journey Back to Christmas went on sale October 17th from these retailers:
Barnes & Noble
Treat yourself to ebooks inspired by Hallmark Christmas movies. Enjoy a heartwarming, feel-good story…and find out what happens after the movie ends.
WWII is finally over, but Hanna's husband, Chet, didn't return home. She puts on a brave smile during the day while nursing her hospital patients, but at night, she grieves the loss of her love.
Then the Christmas Comet appears for the first time in over seventy years, and Hanna's caught in a snowstorm and knocked unconscious. She wakes up in modern times, and much to her confusion, her small town has changed. A local cop takes pity on her and invites her to stay with his family over the holiday.
As she searches for her place in this familiar yet different town, Hanna discovers that even small acts of kindness impact lives…and that the true meaning of Christmas is timeless. Now, she hopes to find her way back to her own time…and this year's comet may lead her to a Christmas miracle.
This sweet story includes a free original recipe for Gingerbread Cupcakes with Christmas Comet Cookies.
I, for one, am quite enchanted with the idea of Hallmark publishing books, and I think they couldn't have picked a better author to inaugurate this new service of theirs. While I was unfamiliar with Leigh's work before Hallmark snatched her up, I am intrigued to check out not only her Hallmark works but her other books as well. Being a writer myself, I always sense a strong kinship with fellow literary professionals, and my fingers are crossed that Leigh's dream of writing a Hallmark movie may come true for her in the near future. I applaud Leigh's dedication to her craft, and she has proven that old adage that encourages us to never stop learning, improving ourselves, and trying new things. I don't think any of us ever arrive, and true artists like Leigh continue to strive to be better with each book they write. Furthermore, Leigh is hopefully gaining a whole new group of fans who are discovering her giftedness and knack for storytelling. So I would invite all of my readers to check out Leigh's links below, and if you are inclined, consider purchasing and reading her new book, Journey Back to Christmas. I greatly anticipate taking the time to feast my eyes on her novelization that I am convinced will capture the true essence of one of my new favorite Hallmark Christmas films, and I can hardly wait for her to pen A Country Wedding as well. In addition to Hallmark's commitment to producing wholesome, quality films, they have chosen Leigh to christen this new medium of theirs, and I couldn't be happier for them and her!
FOLLOW LEIGH
About Leigh Duncan:
An Amazon best-selling author and a National Readers' Choice Award winner, Leigh Duncan is the author of more than two dozen novels, novellas and short stories. Her first full-length book, The Officer's Girl, was released by Harlequin American Romance in 2010. Leigh went on to write seven more books for Harlequin, including the highly acclaimed Glades County Cowboys series, before she began writing the more complex, heart-warming and emotional stories that have resonated with her readers. Leigh lives on Central Florida's East Coast, where she writes women's fiction and contemporary romance with a dash of Southern sass. To learn more about her, visit her website at www.leighduncan.com.