During the last season of Chesapeake Shores (which was also its inaugural season), I connected with a couple of crew members behind-the-scenes, and Kirsten Hansen was one of them. It is tremendously gratifying for me to witness her expanded involvement with the show this season, and in spite of her frenetic schedule, she took a few moments to answer some questions about Chesapeake Shores season two while providing valuable insight into her perspective on various facets of the entertainment universe.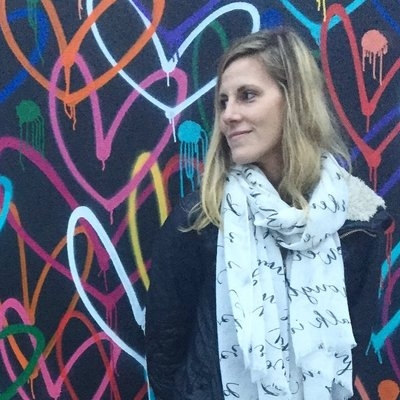 RH: What is your exact title this season and how is that different from season one?
KH: This year, I was fortunate to be on board from day one in the writing room. That was exciting for me. Executive Producer Nancey Silvers, Showrunner Michael Berns and I met up early on for a month plotting out season two – such as where we left off in season one and where we saw each character going over the course of the next season. As I was heavily involved in the first season, I had a key role early on in maintaining story continuity to ensure we stayed true to what was set up last year, our characters, and our fans.  This season, I had the titles of Associate Producer, Writer, and Script Coordinator.  After that month of planning in the writing room, we were on Vancouver Island, where it became a real team effort because we were under such tight timelines. Everything works at warp speed in TV. We were sometimes (re)writing six episodes at once. Two that were prepping, two that were shooting, and two more that we were madly plotting out on index cards in our boardroom. Along with producer Matt Drake and Executive Producer Dan Paulson, who were in the trenches with us, there were a lot of seventeen-hour days and seven-day weeks. We consumed a lot of caffeine to keep ourselves awake and productive, and luckily our skill sets seemed to balance each other out. Not a lot of sleep, but a lot of laughs, and a lot of great memories.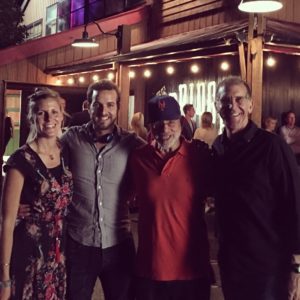 Did you writers have an overall theme this year as you tackled the writing? What did you want viewers to take away from the show?
Chesapeake Shores is a show about family and love, and I hope I can speak for everyone when I say, we'd love Chesapeake Shores to be that cozy place that feels like home. That's what Hallmark does so well, and Sherryl Woods  started it all by creating a wonderful book series. We really had such a solid foundation in place when we began season one. And this season, we ask the questions — "Can you go home again?" And "Can you heal the past and how does your past shape your future?" That is true for every one of our cast. We wanted to understand more about why Megan left, but also the repercussions of how that has affected every one of the children going forward. In season two, we focus a lot on their unfolding careers, their familial relationships (with the five siblings and also with Mick and his brother Thomas) and also budding romantic relationships… We really just want to create a show that people can relate to and learn something from… or just be their "happy place."
Although you had writing input on every episode, what episode did you specifically write this year? What did you enjoy most about writing that episode?
Writing in TV is such a collaborative experience and this year, I was fortunate to be very closely involved in every episode, helping to break the stories, outlines, and also writing/rewriting the scripts.
Episode 2004, "It's Always Nashville" is the script that has my name on it, but it wouldn't exist without Michael Berns and Nancey Silvers' help and genius. I loved writing this episode. It challenged me as a writer to dig deeper, and it allowed me to have a lot of fun as well. I especially loved writing the scenes between Bree and Jess — banter is my specialty. And getting to write Simon Atwater's poetic words from "It's Always Caroline" was so much fun. I still melt when I see Oliver Rice, who plays Simon, speak those words to Bree in the bookstore. #Swoonworthy, right Chessies?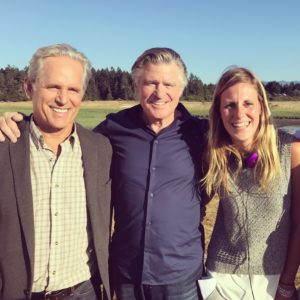 How often were you on set, and did you have any specific responsibilities when on set?
Well, as Michael Berns will tell you, we were not on set enough for either of our likings! We both love the thrill of production, and the team effort it takes for the crew, cast, and director to bring the words to life.  There were episodes that we were able to be on set every day; however, there were weeks where we were so busy in the office writing, we rarely got to set. On set, writers are there as an ear for the director, and also the cast. If they have any questions about the script, or just want to bounce ideas around, or propose an alternative way of doing things due to logistics etc, we are there to help rewrite on the fly, or just ogle by how much better they are making what's on the page come to life.
Although I know that you love every character in the show, is there a character with whom you identify most closely? Why?
I do love every character, and I don't just say that to be diplomatic. They all balance each other out, and fit together like a puzzle, each one interesting and exciting to write for different reasons.  BUT with that said… AND I don't think it's a secret to anyone, the character I relate to the most is Bree O'Brien. She is the middle daughter of three sisters, loves yoga, and is the writer in the family… That's me. And in real life, Emilie Ullerup is from Copenhagen, Denmark, where my Dad was born… so I definitely feel like there are a lot of parallels between us. I often say on Twitter, #BreeOBrienIsMySpiritAnimal… because how often in life are you blessed with characters who are so similar to you, and you get to write their journeys in love, loss, growth, and healing? It's been so much fun and healing for me as well.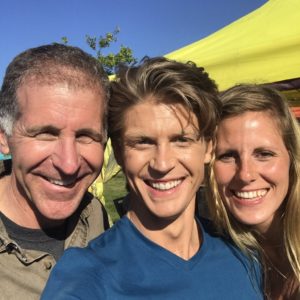 If granted a season three, what would you hope for the core cast next season? Any specific requests from you?
A season three would be amazing, because we are just getting started. One of the challenges of writing Chesapeake Shores is we have nine LEAD characters. And then so many others that we have grown to love as well. Try giving every one of the O'Briens and Trace a full and fulfilling arc each episode and fit that into forty-two minutes. It's no easy task. We always feel like we are compromising and having to cut back in places where we want to see more. If it was up to Michael, Nancey, and I, I bet every episode would be a two-hour movie. (Matt Drake, the Producer, was often telling us, "We need to cut page count. These scripts are too long!" LOL.) But that's also what makes TV fun. Because we have this short amount of time to get to know these characters and slowly unravel their lives, just like real life… and hopefully, we'll have the time in Seasons three, four, five, etc to really get to know these people and see them go on to live extraordinary, ordinary lives.
As far as specific requests for season three, what can I tell you without giving spoilers? I will say that I'm a sucker for happy endings. We've seen so much pain and suffering for so many of our characters, I would love to see them each getting that "Happily Ever After." And more weddings!! Who doesn't want more weddings?!
Any other upcoming/recent works you would like to mention?
Yes! I just finished writing a Hallmark romantic comedy called EXTREME LOVE. This movie I hold dear to my heart.  The producer Bruce Johnson came to me (with a concept he created) back in April, and it was as if I had come up with the idea myself. The story is so relatable (It's about facing your fears, and going for your dreams once life has become complacent), and it specializes in funny banter and romance, so it was so much fun for me to write. I can't wait until we start casting and production – and of course when it airs on Hallmark Channel in January as part of their Winter Fest.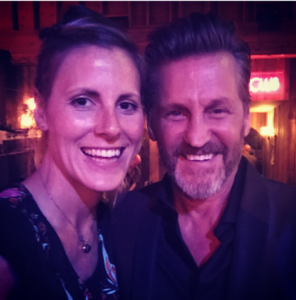 When you want to unwind, what are your favorite go-to activities?
Funny enough, I love to write. And I love yoga. Both are healing for me in their own way, and both help me reconnect to myself on a deeper level. Life can be so chaotic and busy, and with so much suffering and sadness in the world, it's important for all of us to take care of our own hearts. I truly believe that if we all loved ourselves more fully, we'd see more love in the world reflected back. But instead, we are all so busy comparing ourselves to others, beating ourselves up, and thinking we are somehow not good enough, or not where we should be in life.  One of my teachers used to say that we need to see the world as Me and You, rather than Me Against You. How are we alike, not how we are different. Me Against You, in the world is called War, and in the body, it's called cancer. Where our cells are fighting against each other.
I think a lot of us have been struggling to find that place where we belong. I wish everyone knew just how valuable they were to this earth. None of us were a mistake or forgotten; we all matter. And I'm thankful to Hallmark for creating that safe haven where people can turn on the TV and see love, kindness, and family. That's the world I believe in. And I'm grateful I get to create content that fits my personal mantra.
I sort of went off topic there…(smile)… I will add that another favorite thing is spending time with my 3 ¾-year-old nephew who is just the sweetest and funniest little being. We have a lot of fun together and he keeps me real. Nothing more real than being called "Bum Bum Face."
If you could work with anyone in the business that you haven't as of yet, whom would you choose and why?
Oh boy, don't get me started! Haha. Actually GREEK is one of my all-time favorite TV shows, so honestly, working with Michael Berns has been such a pleasure and honor. And to hear behind-the-scenes tidbits from one of the writers… well, I was fangirling like crazy.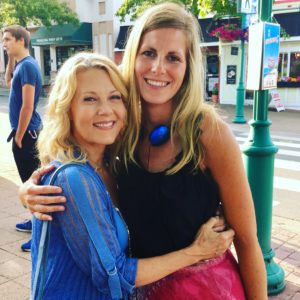 I also have other writers I've looked up to my entire career like – Richard Curtis (KING of the Romantic Comedy – writer (and sometimes director) of so many of the greats: Love Actually, Notting Hill, Bridget Jones' Diary, About Time). He really set the bar for me. I love that British Wit; I find it so smart and clever. And to work anywhere in his vicinity would be a dream come true along with Julie Plec (creator of The Vampire Diaries and The Originals) and Shonda Rhimes (hello, Greys Anatomy and Scandal). Both women are powerhouses who have revolutionized TV, and I hope to one day be a showrunner/writer/director (like them) with my own series on TV, that can help to heal and change the world – while also making people laugh, because if you can't think big, then why bother?
Sometimes I don't think we dream big enough because we think — well, it'll never work out anyway… I've been there. I've had many professional disappointments. I've been told NO more times than I can count. I've been left sobbing in the fetal position on the floor when things didn't work out. Well, now I know, it just wasn't the right time. They say making a dream come true is 1% inspiration and 99% perspiration. And I believe, if it is truly what you want, and you don't give up, it will work out in the right timing. There are enough naysayers in this world; don't let your own voice be one of them. Believe in yourself, water your dreams every day and watch them come true. And as the beautiful and wise Barbara Niven always says, "Don't give up five minutes before the miracle."
Thank you so much, Ruth, for this interview… it was such a pleasure once again. And thank you. #Chessies! Honestly, Chesapeake Shores wouldn't exist without you guys! I wouldn't get to write characters I love, and work with people I adore every day if it wasn't for your support… We are so grateful to you all, and love connecting with you on social media, and live tweeting on Twitter. You have created such a family, but I guess that's another testament to Hallmark. They say the employees/staff are always a reflection of the leadership at the top. And when Hallmark is all about family, so would be the fans.  We love you and thank you!! Now let's all pray for a season three so we can do this all over again! And I really hope you enjoy the rest of season two… there's so much good stuff coming up, we're just getting started! #OBrienFamilyForever #TrAbby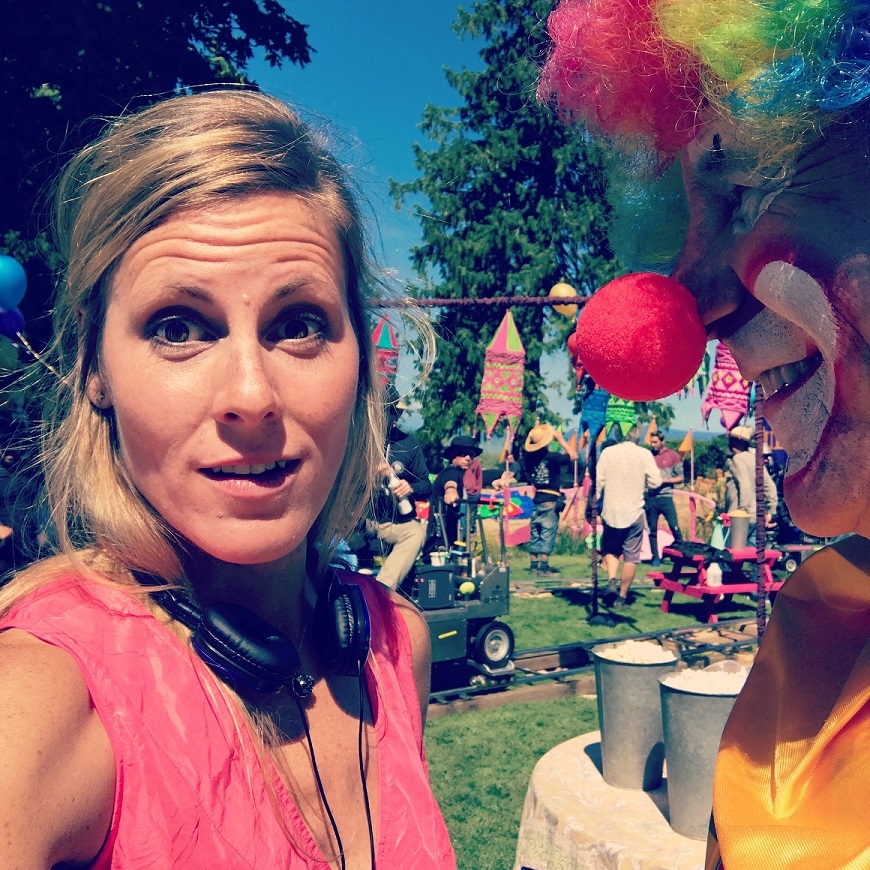 The fact that Barbara Niven and Diane Ladd so closely identify with this inspiring woman is enough to cause my opinion of her to rise astronomically. Notwithstanding, Kirsten is a stalwart force in the world of screenwriting today, and as she rises to face each new challenge in her career, she consistently demonstrates that she is destined to be an integral part of this sometimes ruthless show biz world. She radiates positivity and humility wherever she goes, and she is never hesitant to "roll up her sleeves" and do whatever work is required no matter the time commitment nor sweat equity involved. She tirelessly pursues her dreams while working as expeditiously as necessary to meet every impending deadline. And somehow, she still finds the time to interact with fans on Twitter. Her smile is always genuine, and her warmth can be felt in every post she creates. Additionally, her inner beauty irradiates her entire being, and she becomes a beacon of light and love that engenders peace and kindness to all who come her way. While I am aware of the prowess of the writing and production team (not to mention the actors themselves), I know that Kirsten is a vital asset to Chesapeake Shores, and I can hardly wait to see the rest of this season as well as her upcoming film this January. Please take a moment to check out all her links below, and don't forget to tune in every Sunday night to the Hallmark Channel for the show that continues to spread love and light throughout the world. In a time of darkness, Kirsten is one who has chosen the path of benevolence, truth, and creative vision, and I am grateful to the powers that be who chose to include her in this incredible show!
FOLLOW KIRSTEN