More often than not, I have fellow Hallmark fans to thank for virtually introducing me to actors and actresses who are new to Hallmark (but very rarely new to the entertainment universe), and in the case of Jen Lilley, that is one hundred percent accurate. Not being a soaps aficionado myself, I rely on my friends who are to "fill me in" on soaps actors (former and present). Robin Plate is one of the most selfless, supportive, and benevolent fans I know, and I remember her telling me when A Dash of Love was about to premiere that she hoped I could interview the female lead, Jen Lilley. I had noticed the name, but I knew absolutely nothing about her. Thanks to Robin's consistent, but kind prodding, I researched Jen, and what I uncovered was absolutely amazing. While I openly support a wide array of industry professionals from practically every walk of life, when I discover one who is a strong person of faith, my excitement level ascends far beyond the roof. In this case, I have the persistence of both Robin and Jen (she followed up with me when she didn't hear back as her first message was evidently lost in cyberspace) to thank as well as the sovereign hand of God for this phenomenal interview that is profoundly humbling for this fledgling interviewer to post here.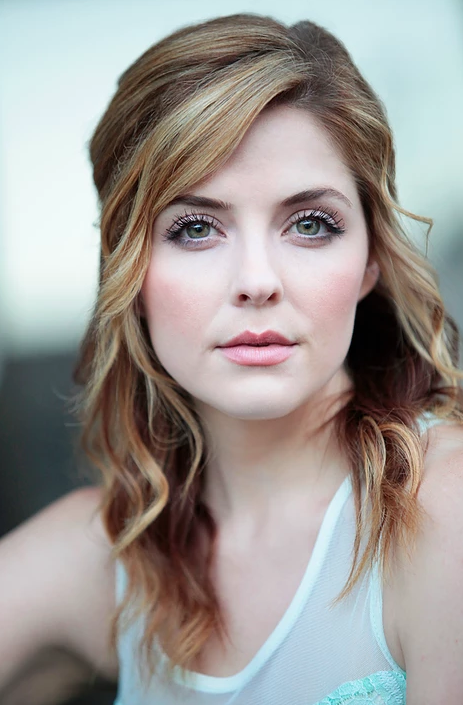 RH: What inspired you to become an actress?
JL: The shortest answer I can give you is my faith in Jesus. I never planned on becoming an actress. I had thought about it as a kid, but no more or less than any other child. In college, I auditioned for a film on a whim, booked the female lead, and fell in love with the cast and crew. I figured it was just a fun experience, but the Lord began speaking to me about it. I'm not afraid to share my faith, and more importantly than that, I'm not afraid of what the church thinks of me. God alone is my judge. I don't have to boast about what I've done or how pure I am. That's worthless. What really matters is loving people because Jesus loves people. I have no problem hanging out with people who have completely different, or even opposing ideals than me. Especially if I can help lessen the pain they've encountered from a bad experience in church. And please don't misunderstand. There are SO many WONDERFUL churches out there that are so legitimate, and loving, who are following after God's own heart. My church is like that. I go to C3, Los Angeles. There are C3's all over the globe, and they're the real deal. But that's what acting came down to for me. Studying people, telling stories that will make people laugh or cathartically deal with loss and loving people with abandon.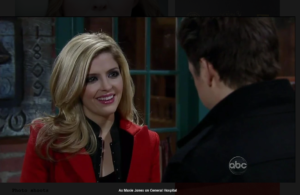 You have enjoyed quite a long career in soaps, starting with General Hospital and then moving on to Days of Our Lives. How did you first get involved in soaps? What are the benefits and challenges of a soap opera career?
I got involved in soaps overnight in the most unforeseen way. In fact, it was extraordinarily surprising to me because several teachers told me there was no point in ever taking a soap opera casting director's workshop because I'd never be pretty enough to be on a soap. I know that sounds harsh, but I didn't really care because I love comedy, and you don't have to be a beauty queen to do comedy.
Which brings me back around to how I landed on General Hospital. Kirsten Storms abruptly left the show with a medical emergency, and a casting went out for a girl our height, who's blonde and has great comedic timing. There was no mention of the fact that it was to play Kirsten's role until she was well enough to return.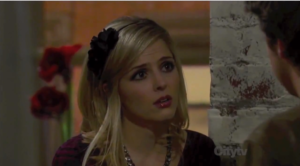 My manager and I both called each other (I think we both left each other voicemails about it at the same time we were so on top of it) and decided to submit my comedy reel to casting director Mark Teschner. There were over 15,000 submissions, and eight girls were called in based on their reels. I got a callback as soon as I was driving home from my first audition. Then I did a chemistry read with Bradford Anderson, and the next thing I knew, I was told to wait outside. Jill Farren Phelps was in her office making a deal with my agents, then the door opened, she screamed, "you booked it", and suddenly I was brought a stack of ten scripts and escorted to all these offices to learn about who Maxie (character) is, before I was whisked into the basement for an emergency fitting. This was around 6 pm at night. I started at 6 AM the next day, with forty pages of dialogue, and having to mimic an already established and adored character. It was insane. It was baptism by fire. I was supposed to be there three weeks, and that turned into eleven months. From there, I had the soap world's attention, and Days called my reps a few months later to audition me for the roles of Theresa Donovan and Jordan.
The benefits of soap opera training are that if you can do soaps, you can do anything. Truly. You have to memorize about thirty pages a night on average of your own dialogue, everything is one take, there are no cue cards and you're not allowed to improv your way through the scene, and there's no time for blocking marks. You just have to learn how to find the lens, find your light, and be sure not to block your co-stars' light or mirror their body language in a scene. It's a whirlwind. It's exhausting but exhilarating. I'm so grateful for my soap background.
This year you have branched out into Hallmark film with the first being A Dash of Love. How did you first get involved with the Hallmark Channel? What did you enjoy most about that first film?
Hallmark Channel called my reps with an offer. Apparently, they had been monitoring my career and social media posts for years and thought I would be a good addition to the Hallmark Family. I'm so grateful. I absolutely adore Hallmark Channel!
I don't know if there's any one thing I loved most about my first Hallmark movie. I loved every single moment. I guess my favorite was working with Brendan Penny. He is absolutely hilarious, to the point where I would be almost crying before most takes. He's the best. But then you have to throw in how awesome it is working with Christie Will Wolf, how perfect Kandyse McClure is as my best friend, how iconic Perry Gilpin is, and how fantastic the ENTIRE crew was, and it's just a dreamlike winning combo of perfection.
As you have now come back for at least two more films (Eat, Play, Love and Harvest Love), what do you like about making films for the Hallmark network?
What I LOVE about making films with Hallmark Channel are the stories they tell. They're so heartfelt and uplifting. Some are happy-go-lucky, and some are more wistful, but they all have happy endings. And I think our world is so upside-down right now, that we could all use some positivity and escape.
 What can you tell us about your character in the upcoming film Eat, Play, Love? What was it like playing opposite two legends in TV (Lee Majors and Lindsay Wagner)?
Dr. Carly Monroe is the adorable geek you can't help but love. She's clumsy, endearing, and relatable.
Working with Lee Majors and Lindsay Wagner was incredible. It was so fun to watch the two of them on screen together. They have a lot of iconic (bionic) history. They're magnetic on screen and quite the duo.
Your co-star, Jason Cermak, is making his lead role debut this weekend. What was it like working with him?
Jason is absolutely lovely. He's a genuinely good guy. He's generous on and off screen with his time and conversations. When we would go out with Lucie Guest after wrap, Jason would walk me back to my hotel lobby to make sure I was safe, and in a truly chivalrous manner, he wasn't at all hitting on me. And as a married woman, I appreciate that so much and find it rare. Jason's the best. I'm sure we'll remain friends forever.
Christie Will, your fabulous director, has spoken so highly of you, and I think you've made a couple films with her now. What do you appreciate most about working with her?
Christie and I understand each other. I don't know how to explain it, but I just always know what she wants me to do, without much communication. It's kind of magical. But what I truly appreciate most about working with her is the genuine friendship we've developed off screen. We've shared so many meaningful conversations that have nothing to do with the movie, and I think that's led to us having our own little language in a way that just works on screen.
Any other upcoming works you can mention?
As you mentioned before, I am also appearing in Hallmark Channel movie, Harvest Love this fall. That movie is going to be incredible, so we'll have to chat about it again.
In addition to Harvest Love, I have four other movies coming out this year or next.
Off the Menu, directed by Jay Silverman (who rehired me after I worked with him six years ago on a pilot) starring Santino Fontana and Dania Ramirez. That's a rom-com.
Snatched (working title), directed by Brian Skiba and also starring Dina Meyer and Corin Nemec. Snatched is a thriller, and I play Aubrey Lewis, the lovable protagonist, and victim of Dina and Corin's deception.
The Duplicate, directed by Nadeem Soumah. I play twins Jessica Klint and Alessandra Banks. The Duplicate is a thriller, and I'm SO excited to see it; the movie will have you on the edge of your seat and guessing until the very end.
And lastly, The Wedding Do Over which should air sometime soon on Pixl network. The Wedding Do Over was directed by W.D. Hogan and I play Sandy Brantwell, a bride who's wedding goes so wrong that she needs to do it over. Lots of physical comedy in this film and W.D. Hogan and I were in stitches for most of the shoot.
Since music is a part of your life as well, do you see yourself doing anymore of that in the future? Future projects??
Yes, I'm currently working on a 60's-style album with producer Adrian Gurvitz. I'm recording it as quickly as possible, but it's taking a while because I've been so busy filming. Adrian is the BEST! And of course, I'm always open to any TV or film that wants to incorporate my singing.
I know that faith is a central theme of your life. How do you remain grounded and strong in your faith in a world that is not always conducive to or supportive of faith-based values?
Because Jesus is my focus. Not fame or success. Every job is about where He sends me and why and to whom can I show kindness and love. I'm not on a crusade; I'm trying to spread genuine love and be His hands and feet. That rarely means leading people down the Romans Road. It's about forming relationships and easing other's burdens.
I know you are a dedicated supporter of various charities. Please tell us which ones you support and why.
I would LOVE to go into all of that. But I have to go meet with some social workers now 🙂 Easiest place to find this answer is on my website.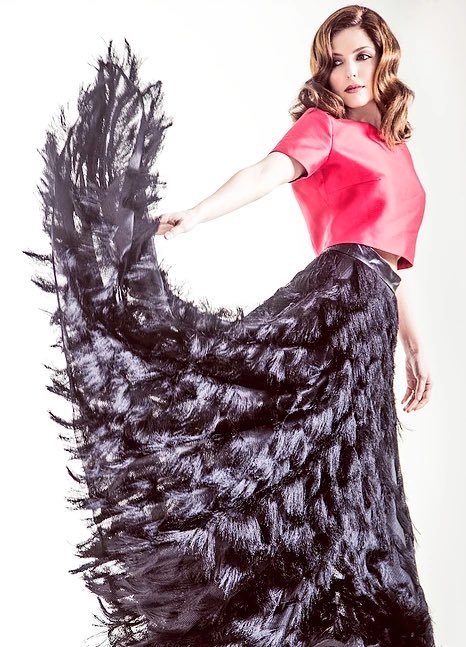 I typically use this space to expound upon the merits of the actor in question, but in truth, I honestly don't know what I could add that wouldn't perchance detract from the words of wisdom that Jen has penned. No doubt her words are permeated with the love and guidance of God as she is one who relies on Him every step of the way in her day-to-day life. He is not merely a part of her life; He is her life. And that is a quality that is sometimes rare in a world where wrong seems right and right seems wrong.
Like Jen, I don't spend my time preaching damnation for lost souls on street corners or in bars, and I certainly don't see the virtues of demolishing those who are hurting, afflicted, or abused. I believe fervently that it is about relationships, and reading those words that Jen wrote stirred my soul with passions and reminders of why God has left His church on this earth. It is not about hate, violence, or legalism. Instead, it is about love, benevolence, and healing. 
While I do not know Jen well, her reputation precedes her. Negativity and complaining are not a part of her creed. Instead, she is one whose joy is infectious and whose love is limitless. Every person who has ever crossed her path is better for having done so as she is one who believes and lives the simple but profound gospel truth of loving all, serving all, helping all. While she is a public figure with a life busier than almost anyone else in the business, she has her priorities straight, and her humility is as genuine and as pure as it comes.
I realize that my paltry words cannot even begin to paint the depth, authenticity, and kindness that shine from this woman of God, but then again, Jen herself would be the first to give all glory to God anyhow. Since He defies human description and He only asks we give Him our best, I will leave these words here and move on to my final objective.
Don't forget to tune in Saturday, August 19th to the Hallmark Channel for the premiere of Eat, Play, Love starring the incomparable Jen Lilley. Furthermore, be sure to check out all her links below for even more inspiration and charitable thoughts and news. While Jen is a human being whom I would never place on a pedestal, the fact that she is not afraid to live out her Christian walk in front of millions of people endears her to my heart for the rest of my life. And by the way, I look forward to seeing her in heaven one day (if not before).
FOLLOW JEN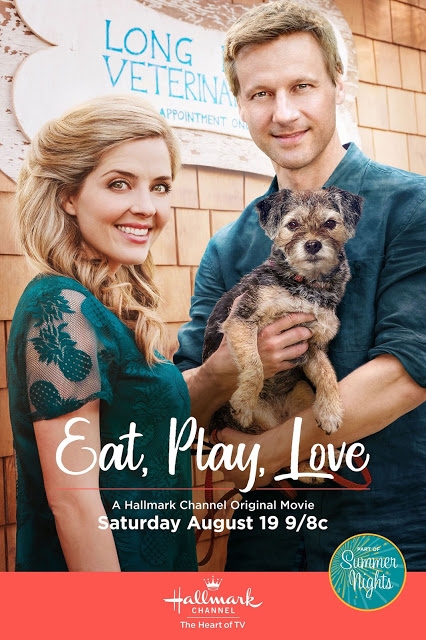 Interested in subscribing to all my site's updates? Subscribe below!