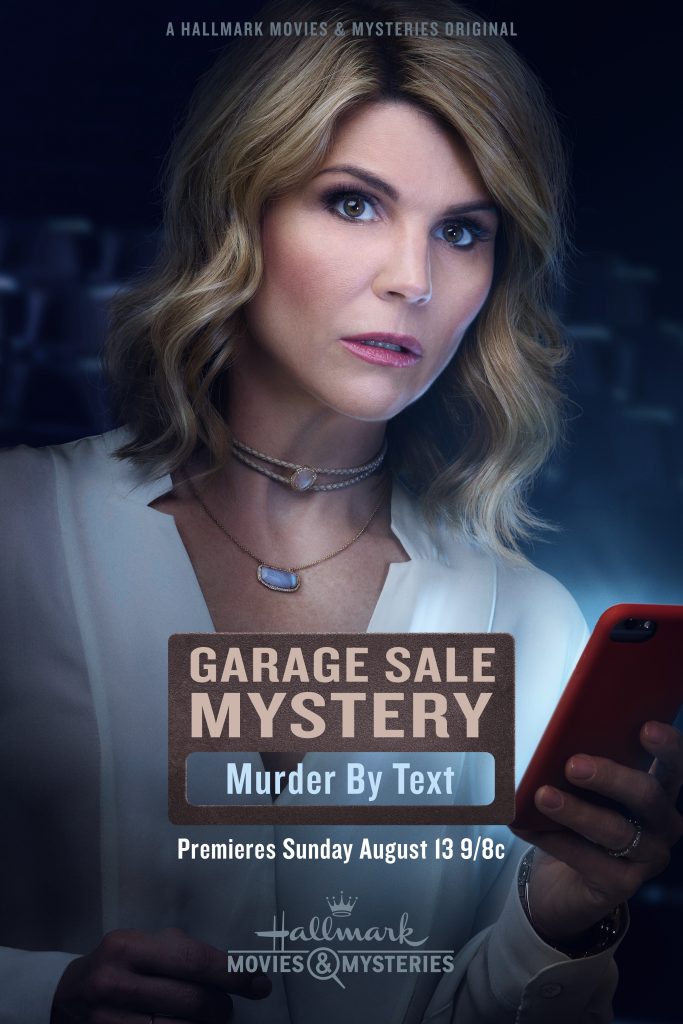 Jennifer Shannon is an expert garage sale shopper with an eye for hidden gems and a mind for solving mysteries. At her consignment store Rags to Riches, Jennifer agrees to sell some collectible tour jackets on behalf of bass player Lita Merrill, who is about to go on the road with local country singer John Dalton. On the day of Dalton's special hometown concert, Lita abruptly quits the band via a cryptic text. When she is subsequently found hung to death in her living room, the case is ruled a suicide.
POTENTIAL SPOILER ALERT: While I am extremely careful when reviewing any film, especially mysteries, I cannot guarantee you won't discover something that "spoils" the film for you. With that in mind, please decide now whether you read on or not. You have been warned.
As per usual, there are plenty of recognizable faces in this stunning cast. Long-time Hallmark (and Lifetime as well as other networks) will recognize the superbly talented Emily Tennant. While her time on our screens is brief as Lita Merril, the role is memorable and pivotal. In recent times, Emily has truly grown into these adult roles and emerged from the mold of "teenager" or "little girl." I am so glad that Hallmark continues to use her tremendous talents in their films and shows.
However, Kurt Teixeira is someone who is completely new to me. And after researching his credits, I deduced that he is relatively new to acting in film/TV in general. As the singer John Dalton, he gives a splendid performance in his first Hallmark role (and I believe his first real featured role in a TV movie). I'm assuming he is the one singing in the film given his choral background, and if that is the case, I say double bravo for a tremendous acting and musical performance. Here's hoping we have not seen the last of him.
As the rather dark and foreboding Bo Taylor, Matt Ellis triumphantly returns to Hallmark Movies & Mysteries (he was earlier featured in Hailey Dean Mystery: Murder With Love). Bo is quite a crucial character, and while I refuse to give any spoilers, I recommend keeping a close eye on this character. Matt infuses him with the precise irascibility necessary for this type of character, and I look forward to seeing more from this accomplished actor in the future. Although most of his credits are not Hallmark-related, his career is decidedly established and extensive.
While the casual viewer may be tempted to overlook the characters of Bobby and Mike (other members of John Dalton's band), as we know, every character is essential and should be considered a suspect in a murder mystery. And in these roles, we are treated to the gifts of Ryan McDonnell and Warren Abbott, respectively. Both are making their Hallmark debuts, and all I can say is that I trust it won't be their last! They both give solid, credible performances.
No doubt that this pairing is an absolute blast! According to an interview I did recently with Tegan Moss, this is the sixth time she and her brother, Jesse Moss, have worked together on screen. As Pamela Dalton, wife of musician Jason, Tegan gives the kind of performance that those who have closely followed her career have come to expect from her. She is just returning to acting after about a six-year break, but it is clear that she has not lost her knack for creating prominent and credible characters. And Jesse is quite consistent in his role as Jason's manager, Rick. Again, I will reveal no hints as to these characters' involvement or lack thereof within the mystery, but they are intrinsic characters that may hold the key to solving the crime.
Those with a keen eye will remember seeing Kalyn Miles in Wedding March 2, as the illustrious wedding planner, but she has also been featured in The Convenient Groom. However, I think her role as Cassie Parks is going to firmly embed her within the minds of Hallmark fans forever. Not only is the character inexorably tied to the plot, but Kalyn gives a stunning performance that will keep you guessing and wondering how Jenn will figure this one out! Perchance we Hallmark fans will see Kalyn again, but she has done some work outside of the network that devoted fans may wish to investigate.(Season's Greetings is worth the watch.)
As we know, there are always subplots that don't directly deal with the murder at hand. And this time we get a particularly entertaining visit from Dani's (Sarah Strange) sister, Beth Anne. I have no doubt that Hallmark fans will rejoice to see the spunky and delightful Gabrielle Miller portraying this role, as we have seen her in Good Witch, Christmas at Cartwright's, and Trading Christmas in addition to her appearances on other networks. All too often, Gabrielle gets typecast in the "not nice" roles, and Beth Anne is seemingly in keeping with that tradition. However, I think Hallmark fans are in for a dazzling surprise when Beth Anne reveals who she genuinely is beneath her facade. And in so doing, she helps us understand a bit more about Dani. I would absolutely love to see Gabrielle return for a visit as she is a winsome addition to the series. I guess that's up to the writers, Hallmark, and more, but I would be the first to petition Hallmark for her inclusion, as I doubt there's little Gabrielle cannot do when it comes to acting.
While Logan (Connor Stanhope) is featured this time, the focus of this film when it comes to Jenn's family is Hannah (Eva Bourne) and Jason (Steve Bacic). Again, I don't want to give anything away, but Hannah and Jason have a conflict that looks as though it may not be resolved anytime soon. Hannah is hitting her father where it hurts, and Jason is often at odds to know how to reconcile this issue.
Thankfully, because this is Hallmark and more episodes are planned, we can rest assured that both will reach a compromise that will be mutually beneficial, but the way in which it is solved may put some serious strain on their father-daughter relationship. I enjoyed the way the story developed this particular issue, and the resolution was indeed the piece de resistance. Kudos to the writers and to the actors!
Of course, we will be treated to Dr. Trammel (Jay Brazeau) yet again., and the aid he offers Jenn (Lori Loughlin) is invaluable as always. He ceaselessly brings a lighter mood to the subject of murder, and I am so grateful to Hallmark for consistently bringing him back. I wouldn't even mind seeing him in a few more scenes sometime in the future, but at least he's there!
And what on earth can I say about Sarah Strange as Dani that would enable me to demonstrate just how much I adore her in this role? I particularly enjoyed learning about Dani's background and getting insight into why she behaves as she does, dresses like she does, thinks like she does. I often forget that Sarah is the one portraying Dani because Sarah has so crafted this multifaceted woman into the three-dimensional, warm, loving, quirky character we viewers are privileged to see. I know it is rather cliche for me to declare this, but it is inevitably true to state that there is no one else who could play Dani so effortlessly and flawlessly as Sarah, and I look forward to many more years of Garage Sale Mystery films featuring her unique and wondrous talents in this role of roles! Oh, and by the way, if it's socially acceptable for Dani to "fangirl" over a favorite musician, then I think it's safe to say it's permissable for any woman at any age to do it, right?
In the role of Detective Lynnwood, Kevin O'Grady gives another stellar performance opposite the magnificent Lori Loughlin. What I appreciate so much about Kevin's portrayal of this stalwart character is that he has indeed crafted Lynwood into a dynamic character that cannot be ignored. In the beginning of the series, Lynwood was more dismissive of Jenn's capabilities. Lynwood seemed to be the typical, run-of-the-mill detective that never recognizes the benefits of utilizing a civilian's intuition in the seemingly impossible cases to which Lynwood is subjected. As he has grown by leaps and bounds, while he still values Jenn's safety above all else, he has come to truly appreciate and even applaud her skill and talent at crime-solving. While she will probably never be afforded an official police consultant status, Lynwood knows the merit that Jenn brings to each and every case. And furthermore, he knows that it is futile to warn her or implore her to stop. She's independent and reckless enough to completely ignore his well-meaning warnings. I look forward to the continued unofficial partnership of Lynwood and Jenn.
As for Lori, I doubt I need to convince anyone of her giftedness nor the fact that this role was written for her and her alone–indubitably! While we can always count on Jenn's faculty for crime-solving, sharp wit, and unsuspecting brilliance, there is no one else on the planet who can bring to the role of Jenn Shannon what Lori brings to this character with such ease and perfection.
While I probably will never have the opportunity to tell her in person what an unbelievable talent she is nor how much her movie and television performances have meant to me over the years, I shall do my utmost to continue to celebrate her career in the only way I know how–reviewing her work and declaring her one of the reigning queens of Hallmark.  The authenticity she brings to each role, and particularly this role, is absolutely mind-boggling, and I'm so glad she has persisted in providing such incredible programming to all of us viewers who relish quality storytelling and programming.
Be sure that you tune in tomorrow (August 13) to Hallmark Movies & Mysteries to watch the next installment of this phenomenal series!
For more information:
http://www.hallmarkmoviesandmysteries.com/garage-sale-mystery-murder-by-text