From the moment I saw her in Hallmark's Cedar Cove series, I was rather intrigued with Emily Tennant, a young actress with expressive eyes, a beautiful complexion, and a busy working schedule. I have seen her in such a wide variety of works at this point that it was a true joy to get to ask her a few questions recently about how she got started in the business, her notable works (especially for the Hallmark network), and even a hint at her future aspirations.
RH: What inspired you to become an actress? What kind of training have you received?
ET: I started auditioning for commercials when I was six years old and working in TV and film when I was ten.  My sister and I had friends that were auditioning, and we wanted to try it out too!  I'm lucky that it turned out to be something I really enjoy and am passionate about.  I have worked one-on-one with coaches over the years, and have learned on the job working with various actors and directors.
What are your memories of your first professional job in the business? 
I was ten years old and I had my first audition for television; it was for a WB pilot called Day One, and I ended up booking it!  It was an incredible experience.  It was a big ensemble cast, and everyone was so kind.  I remember being in awe of the elaborate sets.  My character wrote in a diary, which ended up being a voiceover that narrated the show.  I'll never forget recording that and working in the sound booth for the first time.
As one who has grown up in the business, what have been the benefits and challenges of this career path?
I feel like growing up in the industry has made it easier for me to face rejection.  When I was auditioning as a kid, I really just enjoyed the process and didn't put too much weight on actually booking.  So I never viewed not getting the part as someone saying "no" to me.  One of the biggest challenges as an actor is to not take things personally.  There can be so many factors that play into why you are not the right fit for a role, but it can be easy to beat yourself up when you don't get the part.
Another challenge of this industry is the unpredictability.  I like having things in order, and it can be very hard for me to live day to day not knowing when my next job will be, or where it might take me.  On the other hand – how exciting is that?!  You can book a job tomorrow that will take you to new places that you may never have even thought of visiting.  We never know what's around the corner, and there is something freeing about that.  At the end of the day, I feel so lucky and grateful to get to do what I love for a living!
Please tell us about your extensive experience with the show Mr. Young.  How did you first get involved and what did you enjoy most about your role?
Mr. Young is one of my favorite projects that I have had the opportunity to work on.  It was the first multi-cam show to film in Vancouver, and it's where I found my love for comedy!  I played the role of Ivy Young, the older, not wiser, sister of kid genius Adam Young. The writers gave us so much fun material to work with.  I got to dive in and play a character; Ivy thought she knew everything, but was utterly clueless.  I hope to work on many more comedies in the future.
Hallmark fans will remember you from Cedar Cove. How did you get connected with that show and what was it like being a part of Hallmark's first original series?
I auditioned for the role of Cecilia and was so happy when I got the call! I had previously worked for Hallmark on Christmas in Canaan and a few other projects, so I was thrilled to be involved with their first original series.  It's exciting to see all of the shows they are filming now, and we have the dedicated Hallmark fans to thank for that!  We had an amazing time filming Cedar Cove – the cast and crew were fantastic, and the locations were all so beautiful.
During that time, you were cast in the movie Driven Underground. What was that shoot like? Any special behind-the-scenes moments? What was it like working with that cast/crew?
Driven Underground had a much darker tone than Cedar Cove, so it was interesting jumping back and forth between the two projects.  The movie was a thriller, and the cast was awesome!  Kristy Swanson played my mother–she is so lovely–and Lochlyn Munro was a part of the cast too.  He has played my dad in numerous films, and is one of my favorite co-stars!  I always enjoy working with him.
We also saw you in the Hallmark film The Wedding March with Jack Wagner and Josie Bissett. How did you land that role, and what did you enjoy most about this experience?  Any chance we will see you in the sequel? 
I was brought in to audition for the role of Grace and was very excited to see director Neill Fearnley in the room.  We had worked together on the Christmas in Canaan movies, as well as Cedar Cove.  I was lucky enough that Neill and the producers thought I was the right fit for the role! We filmed at a beautiful location, and I had an amazing time getting to know the cast.  Josie Bissett is definitely one of my favorite film moms – she is funny, kind, and so down-to-earth.  Jack has a great sense of humor; he was awesome to work with.
Sarah Grey, who played Julie, is such a sweetheart.  We became fast friends on this set.  The sequel wrapped filming not too long ago, and yes!  I'm happy to report that Grace does make an appearance.
This year has been an incredible year for you? What are some of the highlights and what are your upcoming works we can look forward to?
It has been a busy year for me so far!  I had the opportunity to work on Garage Sale Mystery: Murder by Text, so keep your eyes peeled for that one.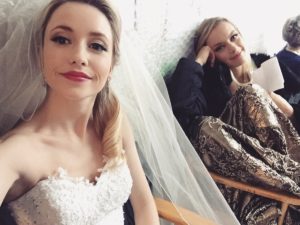 I recently finished filming a Hallmark movie called Marry Me at Christmas, starring the beautiful and talented Rachel Skarsten.  I have also recently started working in voice-over and I'm loving it.  I can't say what project I'm working on yet, but I can tell you it's a lot of fun!
Any plans to eventually write/direct/produce?
I have always been interested in working on the other side of the camera.  I'm not sure yet what avenue I will take, but I do know that is something I would like to pursue in the future.  I feel like it's a really exciting time to be a woman in film, both on screen and off!
What is your advice to young people who are considering becoming actors?
The biggest piece of advice I can give to people who want to become actors is to make sure to have interests outside of the industry.  Have other hobbies and activities that you are passionate about.  As an actor, you don't really have control of when your next audition will be, or when you'll book your next job, so it is important to have other things in your life that make you happy.  I believe this ultimately makes you a better actor as well.  As far as the acting goes – work hard, make choices, be professional, and be kind.  Always be willing to listen and eager to learn.  Never forget where you came from no matter how high up the ladder you climb.
What TV show(s) do you like to binge watch when you have the time?
 I am currently binge watching The Fall, starring Gillian Anderson.  She is incredible!  I am also watching Love, and re-watching Friends and The Office.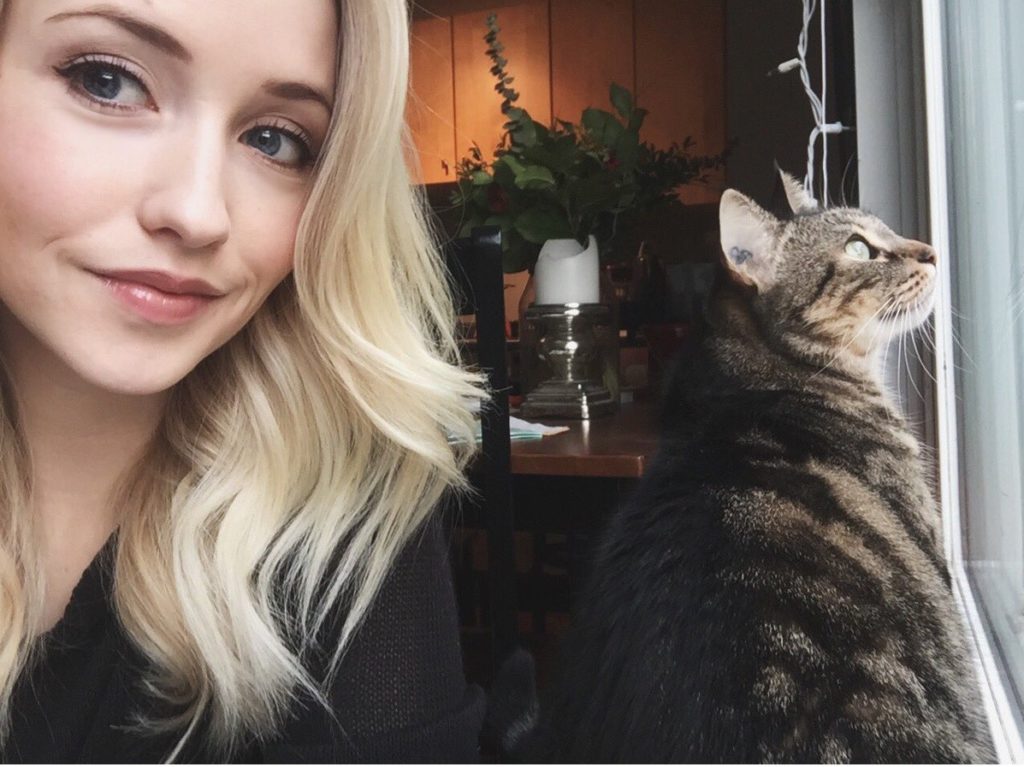 It does my heart good to see Emily grow and mature into such a lovely, young woman right in front of my eyes, and to witness her dreams coming to fruition one by one is something that thrills me to no end. As one who has remained grounded in her work and devoted to self-improvement all while demonstrating what a benevolent and socially responsible young person should be, Emily is one who is deserving of any honors that have been bestowed upon her as well as her fan's undying support. As her career continues on its steady upswing, I can only wish her all the best, for any network who chooses to feature her is the recipient of the constantly expanding versatility and skill of one confident and gifted young lady. U.S. Hallmark fans (and more) will want to tune in Saturday, June 17th for the premiere of The Wedding March 2: Resorting to Love in which we will have the fortuitous opportunity of catching a glimpse of this talented lass. Likewise, be sure that you follow all of her links below so that you do not accidentally miss one of her stellar performances for either Hallmark or its sister Movies & Mysteries Network, not to mention all the other networks and studios that will be certain to showcase her varied abilities. 
FOLLOW EMILY