I will admit that I was not overly enthusiastic about the new Aurora Teagarden film series on the Hallmark Movies & Mysteries network when the first in the series premiered. Yes, it was enjoyable, and I loved Candace Cameron-Bure, but in my personal opinion, it took some time to establish the characters, chemistry and rhythm that the series boasts now. It was the film entitled Real Murders that sold me on this series, and I will admit that Robin Dunne had something to do with this. I hadn't noticed him until I witnessed his stellar performance in this film, but from that moment, I never forgot his name nor face. And the fact that his character's name was Robin was something memorable for me because it is rare for an actor to play a character who bears his own name. Since that time, I have seen him in a couple other Hallmark films, but after seeing him in Sound of Christmas, his schedule finally permitted him to answer a few questions for me about how he got started in the business, his vast and diverse experience within movies and films including Hallmark, and even a bit about what we may expect for his future.
​RH: What inspired you to become an actor? What kind of training have you received?
RD: It was just something I always wanted to do. I can't really explain it. When I was younger, I went to an arts high school in Toronto (Etobicoke School of the Arts). Around the same time, I got myself an agent and started to get jobs in film and television. I've pretty much been learning "on the job" ever since.
A fan asked about Little Men.  She wanted to know if you still keep in contact with the other actors in the series. 
LITTLE MEN was a series based on the Louisa May Alcott book of the same title. We did a couple of seasons of the show back in the late 90's. It was my first experience being part of the ensemble cast of a television series. This past winter, I worked on another series called MURDOCH MYSTERIES. I saw many of the same crew members whom I'd worked with on Little Men. It was nostalgic seeing old friends after twenty years. It did make us all feel a little old as well.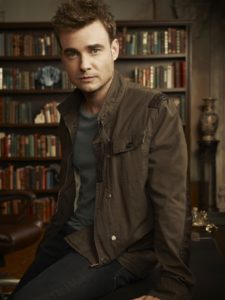 While I have not seen Sanctuary, I see that it was a mini-series/web series and then a very well-received series and that you were in both. How did you get involved with the series? How did it make the jump from web series to TV series? 
My great friend, director Martin Wood, contacted me and said that he and Damian Kindler and Amanda Tapping were putting together a web series and there was a part that he thought I was right for. This was back in 2007, when nobody was doing web series. I wasn't quite sure it would work, but I loved the character and the script. We released the show online, and it got such a great response, that the SyFy Channel (and many others around the world) decided to pick it up. We ended up doing four seasons of the show. In many ways, Sanctuary was a pioneer, breaking ground for many series today looking to make the jump from the web to television.
I think your earliest work with Hallmark was on one of the Good Witch movies, The Good Witch's Destiny. What was the on-set filming atmosphere like?
Working on GOOD WITCH was a lovely experience. Catherine Bell (who plays Cassie – a.k.a the "Good Witch") is an absolute gem to work with. Not to mention that she is a bona fide star. It is always exciting to work with someone whose work you admire. I have said before that not only does the lead performer in a series or film have the responsibility of carrying the piece, the best ones also know how to set a positive and inclusive tone. This was certainly my experience working with Catherine.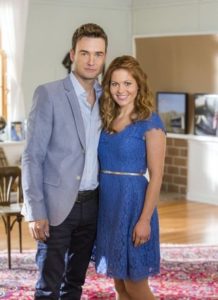 You played a very memorable character in Real Murders: An Aurora Teagarden Mystery. How did you land that role? What was it like playing opposite Candace Cameron-Bure and Marilu Henner? 
Once again, Martin Wood (who was one of the Executive Producers of SANCTUARY) called me and said he was directing one of the AURORA TEAGRADEN MYSTERIES and that there was a part that I was right for. For starters, the character's name was "Robin", so it was a no-brainer. (I jump at any opportunity where I have to remember only one name). I had a great time working on that show. I'd just gotten back from a very grueling shoot on location in Karachi, so to find myself on the Teagarden set was a welcome change. In addition to collaborating again with Martin, it was a lovely experience working with Candace. We got along quite well. She is fantastic. And, I couldn't help having a fanboy moment with Marilu Henner. One of my favorite films is L.A STORY. Also, I had the great pleasure of meeting and working with producer Jim Head on that movie. We have become very good friends since.
When you were in On the Twelfth Day of Christmas last year, I noticed you are listed as one of the writers of the script. How much writing did you contribute to the script? 
My pal Rob Vaughn – who is a producer at Chesler/Perlmutter Productions – asked if I wanted to collaborate with him on the script for one of their upcoming Christmas films for Hallmark. I had just written and directed my first film entitled A.R.C.H.I.E. and had loved the experience so much, that I welcomed the chance to collaborate on a script with Rob. Months later, long after we'd finished the script and submitted it to Hallmark, Rob called me and said, "Remember that script we wrote? Well, it's about to go into production. Do you want to play the male lead role?" Of course my answer was a resounding "Yes". When we'd written the movie I didn't put any thought into acting in it. But, it was a lot of fun performing in a movie that I had a hand in writing. Also, it was great to work with my friend Brooke Nevin. We'd known each other for years, but never had a chance to work together. Also, that was the first movie that director Harvey Crossland and I got to work together on. The second one, of course, being SOUND OF CHRISTMAS. Harvey is a dear friend and a passionate director. An actor's dream.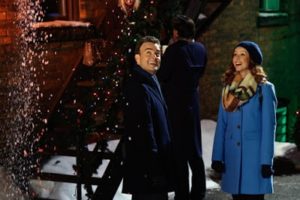 Hallmark audiences have just seen you in Sound of Christmas. How did this role come about? I notice your wife was also in this film. How was it getting to work with her yet again on a film? What have you come to love about working for Hallmark?
For my involvement in SOUND OF CHRISTMAS, once again, I have my friend Rob Vaughn (as well as producer Lewis Chesler) to thank. In addition to that, Harvey was directing again, and I'd be getting to play opposite the exquisite Lindy Booth. Before Rob was finished asking if I'd be interested, I was already at the airport. Lindy and I have done six movies together over the last two decades – TEENAGE SPACE VAMPIRES being our first (and the one we don't talk about). Lindy is the best. We're practically family.
Sound of Christmas is a special project for many reasons, the primary one being the exemplary company of actors involved – Jennifer Gibson, Derek McGrath, Damon Runyan, Kim Roberts, Dale Whibley, and… my wife Farrah Aviva! Also, the movie features the fine debut performance of Micah Kalisch. That kid is going places.
I feel very fortunate to be part of the Hallmark family. Hallmark is a company that has mastered the art of telling stories that have the innate ability to uplift and inspire. In this world that we live in, that is a very commendable and vital talent. And, I am constantly amazed at how these films transcend demographics. People of all ages and backgrounds, from all over the world, are touched by Hallmark movies. That is a special thing to be a part of.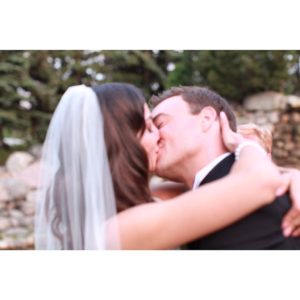 A fan asked specifically about the movie you made this summer where it appears that you got married to your wife Farrah while shooting the film. What prompted this idea, and how did it come about? 
This past summer I wrote, directed, and starred in a film entitled WELCOME TO NOWHERE for the production company Trilight Entertainment. It is the third film that  my friend and producer Shayne Putzlocher and I have worked together on. My (now) wife Farrah Aviva is also in the film. Farrah and I had been engaged for over two years at the time we started pre-production on Welcome To Nowhere. As we are both in the film business, our schedules are more than ridiculous. Over the past several years, I don't think we've been in any city for longer than two months at one time. It's an amazing and exciting life, but not one that's conducive to planning a wedding. Every time we'd make a tentative plan, something would come up and we'd find ourselves back at the drawing board once again. In Welcome To Nowhere, there is a scene where Farrah's character gets married to actor Matty Finochio's character. One day in the production office, as a joke Farrah said, "Wouldn't it be funny if, on the day we shoot the wedding scene, we took a break from shooting and actually got married?" The more we talked about it, the less crazy it sounded. When we floated the idea past Shayne, he jumped all over it. We immediately started making arrangements for all of our friends to fly out and be part of it. Now when you watch the film, all the extras in the wedding scene are mine and Farrah's family and friends. It was a very special day. And I think we may have been the first film production to have an actual wedding take place during production.
As you have done writing, producing, directing and more, is that something you intend to pursue in earnest in the future, or are you still focusing mainly on acting? 
Truthfully, I'm focusing on what inspires me. I love acting and I hope to always have the opportunity to do that. At the same time, when I first had the experience of directing, my mind was blown open. I love being immersed in a project and collaborating on every aspect of it. In a different way, I also love the quiet solitude of writing. Creating something from nothing. The way the film and television business has transformed over the last decade or so, I think it is important for a creative person to diversify their abilities. I feel lucky that I've had the opportunities that have allowed me to do that, and I'm going to continue on this path.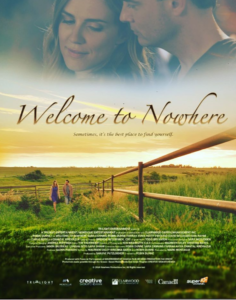 What other works do you have upcoming that you can mention?
My next film, as I mentioned earlier, is WELCOME TO NOWHERE, produced by Trilight Entertainment, Clairwood Capital Management, and Montague Entertainment. We're really proud of the picture. It features lovely, nuanced performances by a fine company of actors, led by the luminous Sara Canning. It was one of those projects that was graced with a kismet. Everything just came together beautifully. I'm excited to share it with people. It will be released this year.
Speaking as a reviewer, I am impressed with the vitality and refreshing, genuine spirit you bring to every one of your roles. You never appear to be out of place.  How are you able to connect so brilliantly with each one of your characters? Is there a process or a mindset that helps you?
My approach is pretty simple. I always try to portray the characters I'm playing as truthfully as possible. I feel that if you approach a performance with honesty, that is the best way to connect with an audience.
When you are not acting, writing, directing, etc., what do you do like to do in your free time? Also, are there any charitable causes that you actively support?
I really don't have much free time. I love working in this business so much that I seem to always be doing something in relation to it. In terms of charitable causes, with Trilight Entertainment, we have endeavored to support a charity with each film. On our first movie, we raised money for the Regina Children's Hospital Foundation. On our second we raised money and awareness for the Boys and Girls Clubs of Canada. We have found that using a film project gives a great platform for supporting good causes and we plan to continue doing so.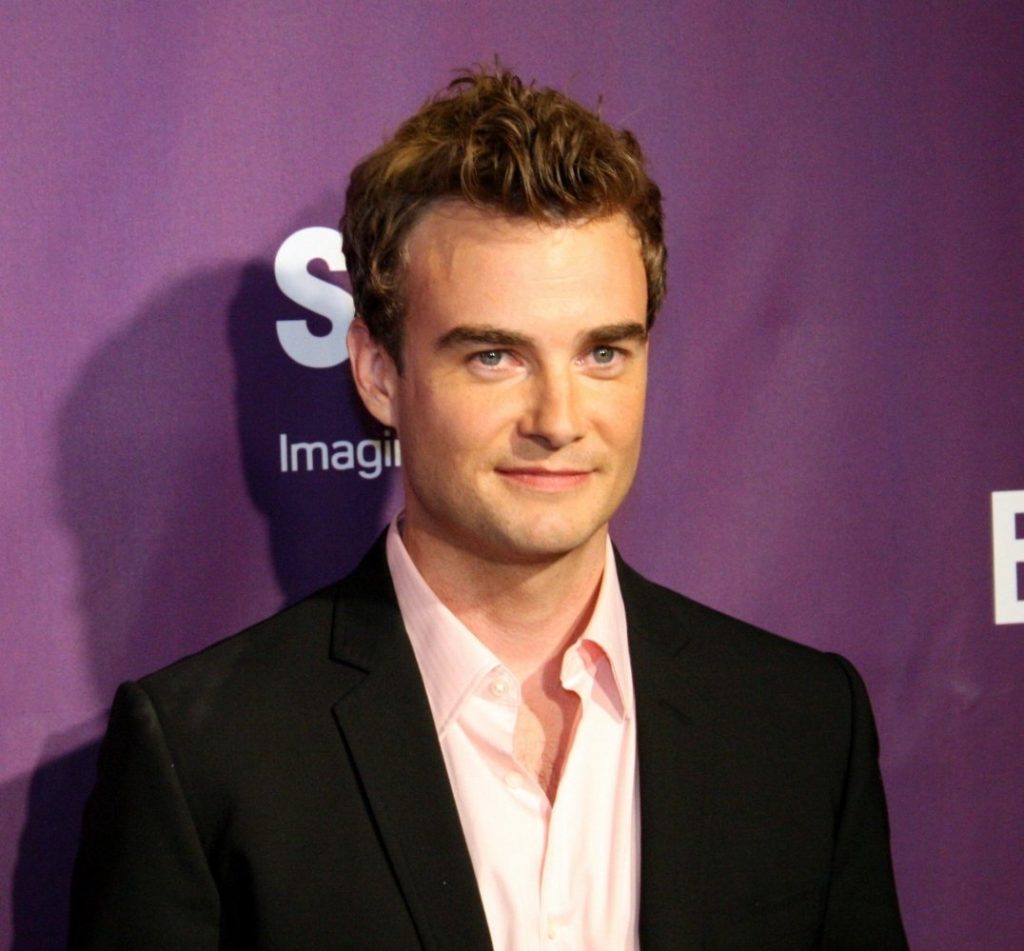 I know how busy Robin is, and that makes this interview even more special and dear to my heart. Until I reviewed his responses, I had no idea how vast and varied his experience has been within entertainment, and I find myself somewhat awestruck at his immeasurable talent that continues to intensify every time I observe his prowess on-screen. Some may consider him an underrated actor and may question whether he will ever become a household name. However, that is not the reason why Robin became an actor. Fame and fortune are not at the heart of what he does. He absolutely adores having the opportunity to relate a story in whatever medium he is given, and the fact that he can make a living doing what he is passionate about it enough for him. The awareness that his films are admired by countless throngs worldwide only solidifies the fact that he is precisely in the profession to which he is uniquely suited. For him, there is nothing like the knowledge that his attempts to entertain and inspire have touched so many throughout his years in this business. Moreover, he and his wife are committed to supporting charities by using these gifts that have been entrusted to them. In other words, they are exceptional stewards of the talents they possess, and they use those abilities to spread goodwill throughout this dark, hopeless and often pain-riddled world in which we dwell. Moreover, the kindness and humility that ooze from his innermost being are as authentic as one could possibly imagine. He artfully and realistically connects with each character he is blessed to portray, and he truly cares about his fans and the people with whom he comes in contact on a daily basis. While I have been a fan for but a brief moment in time, I definitively declare that I respect Robin even more so as he shared with my readers and me a brief but a candid glance into his very soul, and I cannot thank him enough for being sincere, benevolent, and unequivocally gracious with his answers and his time. I entreat my readers to check out all his links below (as well as the charity links in his final response). Additionally, you may consider exploring his many credits, past and present, as you may discover a few hidden gems with which you were not familiar heretofore. Furthermore, his next film, Welcome to Nowhere, should be out soon, and if we are vigilant, we won't miss one of the finest and most monumental films he has made to date. Robin is one who is committed to "raising the bar" every time he is privileged to present a film or TV show to his fans, and I have not doubt this film will be no exception to that rule and passion within his heart. It is actors like Robin who deserve every ounce of support we can muster, and I can promise you will earn his limitless gratitude in return.
FOLLOW ROBIN