A Deadly Éclair
BOOK #1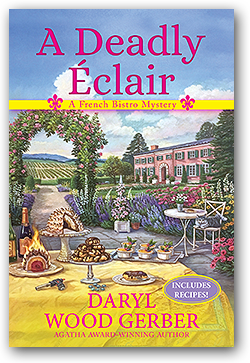 Available November 7, 2017
It's always been Mimi Rousseau's dream to open her own bistro, but it seems beyond her grasp since she's been chased back home to Nouvelle Vie in Napa Valley by her late husband's tremendous debt. That is until her best friend Jorianne James introduces her to entrepreneur Bryan Baker who enjoys investing in promising prospects. Now, with her own bistro and inn, Mimi is throwing the inn's first wedding ever.
The wedding will be the talk of the town, as famous talk show host Angelica Edmonton, daughter of Bryan's half-brother, Edison, has chosen the inn as her perfect venue. Anxious, Mimi is sure things are going to turn south, especially when Edison gets drunk and rowdy at the out-of-towners' dinner, but by the evening, things begin to look up again. That is until the morning rolls around, and Bryan is found dead on the premises with an éclair stuffed in his mouth. And the fingers point at Mimi, whose entire loan is forgiven in Bryan's will.
It's up to Mimi to clear her name and get to the bottom of things before the killer turns up the heat again in A Deadly Éclair, the scrumptious series debut by Agatha Award-winning author Daryl Wood Gerber.
A Deadly Éclair by Daryl Wood Gerber
My rating: 4 of 5 stars
I was sent a free copy of this book in exchange for my honest review. I was not financially compensated and all opinions are 100 percent mine.
I absolutely adore mystery books–cozy mysteries especially. There is almost nothing I enjoy more than cuddling up in a blanket and being whisked away to another place, another time and attempting to solve a delectable murder! (Okay, I guess it's okay to describe a murder as "delectable" since this is a cozy mystery, right??)
This is a brand new series from a very well-respected mystery author, and it was my first experience reading one of her books. And I have to admit that Daryl definitely lives up to her reputation! While I found the book a bit slow at first (I would give it a 4.5, not just a 4), that is to be expected when a new series. Characters have to be established just like what would be required when watching a new movie or television series. In fact, the fact that this is written in first person was refreshing but unexpected at first. I am not used to reading a mystery in this voice, but before long, I was in Mimi's corner, so to speak. And once I caught up with the characters and the situation, I was completely taken with the narrative.
About halfway through the book, I no longer found myself desirous of setting the book aside. I was so invested in the characters and stories that I longed to know who the guilty party was. I was unable to decipher the culprit, but Daryl did an expert job of setting all the pieces in place so that by the time the murderer was revealed, it made perfect sense.
I understand the importance of authors in this day and age establishing a series that causes the reader to long for more from the characters, and I am ready to read more from Mimi. There is more to the story than the murder–many elements that will keep avid readers coming back for more. I have no doubt that book two and following will be even better than this one. While I'm sure each mystery will be able to be read as a "stand-alone," I suggest everyone start with the first book in this series as I always find having the foundation makes further readings in the series a much more rewarding and enriching experience.
By the way, I could easily see this series becoming a movie series on a network like Hallmark. I don't have the movie cast in my mind, but I could see it resonating with their audiences!
FOR MORE INFORMATION
Visit Daryl's Official Website