About a year or so ago, I had the pleasure of interviewing the talented young man, Connor Stanhope. As he has continued to portray Logan Shannon, the son of Jen Shannon (played by the incomparable Lori Loughlin) and in light of the fact that Hallmark Movies & Mysteries is currently featuring a special limited edition mini-series with their most popular of the "mystery wheels" Garage Sale Mystery, I reached out for an updated interview to which Connor quickly agreed. In spite of his busy schedule, he answered a few questions about his current work on this popular series and more.
RH: What do you like most about appearing in the Garage Sale Mystery films?
CS: I really like working with the cast. Everyone is a lot of fun to work with and we have great times together. For these last four movies, we had the same director Neill Fearnley, who I've worked with a number of times. He's a great guy and it's always really fun to work with him.
How is your character Logan like you in real life, and how is he different?
Logan and I are quite similar in that we like technology and computers. We also both like to skateboard. He's probably a little more nerdy than I am though–haha!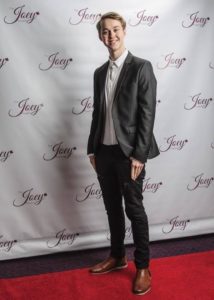 You won your second individual Joey Award last year for Garage Sale Mystery. What was that experience like for you?
It was great to win the award and I was really surprised and thankful. Hearties probably know I won my first Joey Award for my role as Bo Grady in When Calls the Heart.
Hallmark viewers will see four Garage Sale Mystery films during the month of August. Can you tease anything about what we might see from Logan in these upcoming films without spoiling the storyline?
Well, by now you will have seen the first two 🙂 As for the next two, I'm not allowed to talk about what's coming up.
What is your favorite Garage Sale Mystery film so far? Why?
Now that's a little hard to choose because I really like all of them, but if I have to pick one it would be The Novel Murders because Logan and Jason go on a camping trip together. Steve Bacic and I get along really well together, so it's always a lot of laughs when we work together.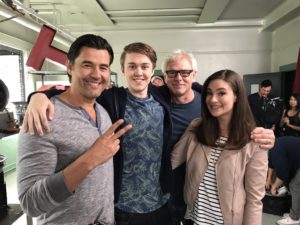 As Logan is now maturing, what do you hope to see from him as these films continue? Are you hoping he goes to college, falls in love, etc?
I think that Logan is still a little bit away from going to college, but it would probably make for a fun and interesting storyline if he had a girlfriend. Maybe Logan can do more stuff to help his mom out with her sleuthing. He always seems to come through with the right stuff for her.
Why do you think Garage Sale Mystery has resonated so much with the viewers?
I think that people like that it is good, clean television that the whole family can watch together. Also, who doesn't like trying to solve a mystery? People like that aspect of it, I think.
Any other upcoming works you can mention? Any chance we'll see you in another Hallmark work besides Garage Sale Mystery?
Nothing that I'm working on right now, but if you like a bit of a suspenseful/horror film you can catch me in my supporting role as Logan (haha! Who'd have thought I'd have the same name as my GSM character?) in The Hollow Child which is doing the film festival circuit currently. I'll post any links to where it's playing on my twitter page.
As you are an adult now, what are your current pursuits in addition to your acting? Do you have plans to do other jobs within the industry–writing, directing, etc?
At the moment I'm focusing mostly on acting, but I'd like to have a go at some of the other aspects of the industry maybe. I'm really interested in photography, so maybe I could combine that with the industry.
Why do you think that you have been able to maintain your positive attitude and reputation in this business as opposed to some young people in the business who become rebellious and get involved in negative things?
Well, my parents have been really instrumental in keeping me grounded and leading a very normal life away from any work I do in the industry. I'm very aware of the things that can bring a person down and keep away from it. I just keep my acting life and my normal life very separate and always have a positive attitude.
What are your current top five movie picks (in general)?
Super Bad
Her
Kick Ass
Interstellar
Spirited Away
Thank you very much for the questions and giving me the chance to talk a little about my role in the Garage Sale Mystery movies 🙂
While Connor is still a young man with an entire career ahead of him, there is no doubt that he has embraced every part of the world of film and television. His parents set him on the right road to positivity and success, and he has never veered off the path towards negativity. The fact that he has been recognized for his immense talent on more than one occasion is a testament to his natural abilities, work ethic, and determination to continue on the path to improvement. As it is apparent that Garage Sale Mystery is a fixture on the Hallmark Movies & Mysteries network, I believe we can anticipate many more films featuring the talents of the gifted Connor Stanhope, and here's hoping that more opportunities will continue to come his way as he matures and finds his footing in a world that he has learned to navigate in spite of potential cynicism, frustrations, and disappointments.
Be sure to tune in the next two Sunday nights (August 20th and 27th) to see the remaining chapters of this limited-edition run of Garage Sale Mystery on the Hallmark Movies & Mysteries Channel, and check your local listings for the encore presentations of any you may have missed. Additionally, please check out all of Connor's links below and follow him where applicable. There is nothing more exciting than supporting a capable young man with a good head on his shoulders like Connor!
FOLLOW CONNOR