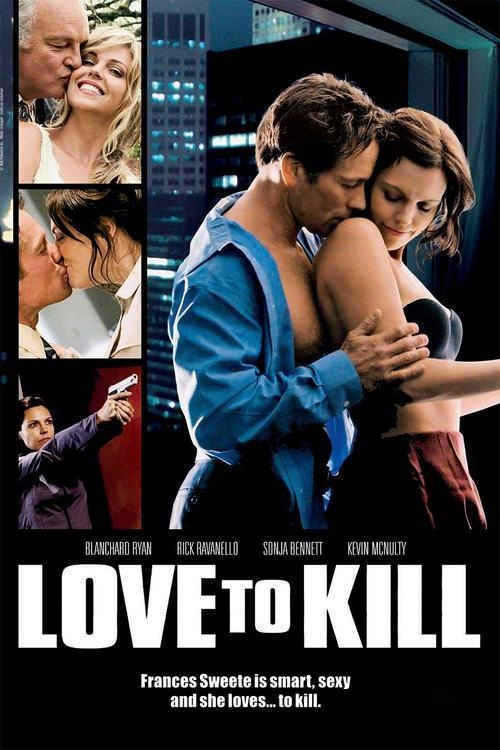 Francis is a mysterious attractive woman who catches the eye of Nicholas, a widower, and an aspiring politician. Nicholas falls head over heels, but he may have fallen for the wrong girl and he's not the only one. Is she deceiving him or is she worse…a black widow?
About a year and a half ago, I promised to review this film since it stars my good friend Rick Ravanello, but time got away from me due to my increased responsibilities. However, since this is a mainstay on Lifetime Movie Network, I figured now was as good a time as any to review this movie that seems to be somewhat of an undiscovered gem. As I scoured online resources, I discovered very few people have reviewed this film, and those who have taken a moment or two to share their thoughts have given the typical "Lifetime Movie" review. Personally, I believe that is a travesty.
Now, let me be the first to say that yes, I realize this is a Lifetime movie. Just like Hallmark, Lifetime has its own branding, and they have a certain formula for their movies that seems to work for them. Audiences know what to expect when viewing a Lifetime movie, and I feel they fill their niche quite well.
As I often say when reviewing a Hallmark movie that many have criticized for a wide variety of reasons, while the story is important, and everyone appreciates a movie with a few twists and turns, it will always be about the actors who are attached to the film. And Love To Kill is a perfect example of how quality actors (even if they are not "household names") can drive the story no matter how formulaic the plot may seem. Thankfully, with this film, there is a labyrinth of twists and turns that truly keep one guessing all along the way. So in many ways, this film is a cut above the norm, and it is one that I highly recommend to anyone who likes thrillers, Lifetime movies, or just wants to watch something that will keep you on the edge of your seat for a couple of hours.
Let's begin with the writer of Love To Kill, Joseph Nasser. At first, I wondered if I knew anything else he has written, but as I glanced at his credits, I was absolutely thunderstruck! Joseph's screenwriting and producing credits are extensive and diverse. While he's written and produced an incredible amount of Lifetime movies, he has also been a part of some lovely Christmas movies as well as inspirational ones. It is absolutely no wonder why the writing on this is so fantastic. I would invite all my readers to peruse his IMDB page for more information.
Also worth noting in the crew is the fine director of this thriller, Jason Bourque. I was initially alerted to his amazing work in the film Heart Felt, a couple of years ago, and I have been a rabid fan ever since. I will literally sit down and watch anything Jason has directed and/or written. This was his first collaborative work with Rick, and it is thankfully not their last (be on the lookout for Medinah, a science fiction Netflix show coming your way very soon). I have heard plenty of dazzling things about Jason from the actors I've been fortunate enough to interview, and hopefully, I'll be chatting with him before too long. But I am convinced that he is one of the prime directors in the business, and this movie is a testament to his prowess. While I believe his talent and directorial skills have expanded and strengthened over the years since this was filmed (the hallmark of a true artist), this one sets the bar high as far as I'm concerned. Jason is one who knows how to make the actors on set feel comfortable as he "effortlessly" draws a phenomenal performance from each individual actor.
Now, while I know of the works of some of the supporting cast in this movie, I will admit that most of these actors are either new to me or unfamiliar. Definitely, Josh Byer is a well-established Lifetime actor–he's played a wide variety of roles and as Detective Adam, he deserves an honorable mention. I am much more familiar with Tony Alcantar as Nabor as he has portrayed an assortment of Hallmark roles and Lifetime amongst others. As I researched the remainder of the supporting cast, I discovered that the vast majority of them have graced our screens in small and sometimes more substantial roles on Hallmark and elsewhere, so I would invite you to check all of the actors out on IMDB. However, a few of the actors seem to claim Love To Kill as their only screen credit.
In this movie, there are three principal characters: Francis Sweete played by Blanchard Ryan, Nicholas Landon played by Rick Ravanello, and Teresa played by Sonja Bennett. Sometimes casting in Lifetime Movies is dire–I don't ever talk about those films. There are a variety of reasons that casts don't seem to gel in this business, but I am here to state these three principal actors fit like the veritable glove. All embody their characters three-dimensionally, and all comprehend the place their characters occupy within the framework of the overall story. While the tale may be somewhat easy to decipher, the characters will surprise the viewers at times. And that is authentication of a dynamic cast.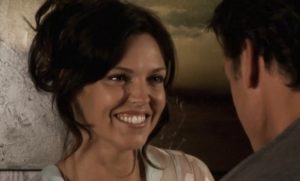 As the electrifying and sexy new bride of Rick's character, Blanchard is devious, conniving, but viciously sweet and enticing. Rick's character, Nicholas, has not a clue about her past. He has no idea that she has had a string of husbands who expired under suspicious circumstances. She appears as this capable, young woman who only wants to further Nicholas' career. She doesn't want to bring him harm; she only wants to show him the love and excitement he has never known heretofore.
Unfortunately, the audience knows better because we are given this vixen's back story, unlike poor, misguided Nicholas. We know almost from the get-go who this woman is, and it's all we can do to sit there and watch Nicholas being taken advantage of by a cunning woman who knows exactly what buttons to push to get her way. There are some intimate scenes between the two of them–standard fare in Lifetime movies–but nothing that reveals too much. This is 2008 after all, and this is still a network movie that has to follow a semblance of decency standards. Much is implied, but little is shown. I believe Blanchard completely immerses herself within this character. She knows how to endow Francis with just the right amount of respectability mixed with naughtiness. To that beguiling recipe, she adds the correct amount of cold-blooded psychopath who only uses these husbands of hers for her own purposes. She is never over-the-top; she keeps it fully believable.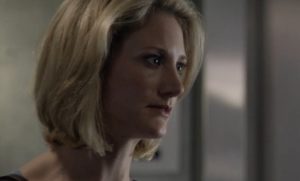 As the long-suffering secretary (I believe that's her title) to Nicholas, the role of Teresa is embraced exemplarily by Sonja. Again, an actress with whom I am not familiar, except for this film, she is the ideal foil for the crazy, sexy wife. She senses from the beginning that something is not right with this woman, and she desperately attempts to make her employer see the light. But Nicholas is a victim of the womanly wiles employed exquisitely by the voluptuous hussy who manages to steal away everything for which Teresa has labored so long. She knows that Nicholas is smart and has a bright future, and she knows that this interloper can easily bring it all crashing down in a matter of moments. To her detriment, she has fostered feelings for Nicholas for some time, but he never thinks of her that way. He has only seen her as an employee and a friend. And following his marriage to Francis, the relationship between these two becomes quite tenuous. But no matter what, she always has Nicholas' well-being as the topmost thing in her mind. Always.
As an actress, Sonja portrays this businesss-savvy woman with style, grace, and vulnerability. She wants to always appear in control, but her character's weakness is Nicholas. She would do anything to save him. The audience is on her side from the beginning, and Sonja takes us on an emotional roller coaster right along with her as much of the movie is told from her perspective. She is yet another actress who can totally throw herself into her role and portray her character to perfection.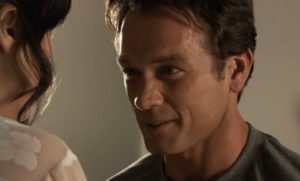 Speaking of Rick, the actor who gives life to the rising political aspirant Nicholas, I cannot say enough about his performance. The joke amongst those of who closely support him is that he "always plays a bad guy and/or dies." I don't believe it will spoil the plot if I say neither of these is true in this movie.
As a longtime supporter of Rick's, I recall this being one of the first of his movies I ever saw. Before this, I only saw him play "misunderstood characters," and all too often, he didn't even live till the end of the film or show. While Rick has the acting chops to brilliantly play a psychopath, a serial killer, a hit man, or any other unsavory characters you care to name, there is something pleasing about seeing him play a good guy for a change.
As Nicholas, his character is unimpeachable. He has a career in politics, and his actions are always above board. No one who knows him would ever question his motivation. He is the epitome of the politician who believes in serving the people and doing what he can to enact the right kind of change wherever and whenever he can. Nicholas is a character that viewers fall in love with the moment he appears, and that is a testament to the outstanding acting ability that Rick has painstakingly honed over the course of his extensive career.
The one chink is Nicholas' armor is this seductress named Francis. From the moment she steps into his life, his ideals begin to alter ever so slightly. He begins to cater to this woman and neglect some of his duties. He forgets Teresa who has stood by him when he was "nothing" as far as the world of politics goes. And regrettably, Nicholas is a typical man who suffers from the same pitfalls as other men often do–falling for strumpet who only wants to further her cause, not his.
As Rick has completely infused all of his humanity and best intentions into the character of Nicholas, the audience is sympathetic to his plight. What man in his position could hope to overcome a ruthless temptress like Francis? She has the perfect body, and she knows all the right things to say and do. She expertly casts aspersion on his long-time friend and co-worker, Teresa, and the audience hopes and prays that something will cause Nicholas to wake up before he becomes another of her unwitting victims.
I honestly don't know how Rick does it, but he consistently manages to work his magic on the screen. There is a conglomeration of good actors out there, and many of them are versatile, believable, and genuine. But Rick brings something special to each of his roles, and Nicholas is the consummate example. He brings just the right amount of frailty and insecurity to this character to make him believable and highly probable. He also provides that human touch that some actors omit from their on-screen performances. While the viewers condemn Nicholas' actions and often yell at the screen, yearning for his ultimate reclamation before harm befalls him, Rick has that rare ability to make us understand and empathize with his character. We put ourselves in that position, and we find ourselves understanding this flawed character and not passing such swift judgment on him. And all of that is due to Rick's knack for ceaselessly making his roles accessible and authentic, even at his personal expense. It's never about him when he is acting; it is always about the character he is playing. And it is this extra special quality that has caused Rick's popularity to surge as he has become a much sought-after actor all over the entertainment universe.
While I am not aware of the next opportunity for you to catch this film, make sure that you check out the Lifetime Movie Network–it may even be available for online viewing. For more information: