Within the past year, I have had what some would call a "crash course" in the horror film genre. Just like I used to abhor science fiction with a vengeance and now consider it a favorite of mine, I have found myself tempering my beliefs a bit on this beloved genre as I begin to interact with people who have contributed heavily to this category. Recently, I had the opportunity to interview an actress who actually began her very own horror film festival in LA, Denise Gossett. She took some time away from her hectic schedule to answer a few questions about her work within the entertainment business, and she enthusiastically shared her perspective on indie films as well her overall experiences as an actress.
RH: Why did you decide to pursue a career in entertainment? 
DG: You know, it was something I always wanted to do since I was little, and I don't remember anything that triggered it either.
What kind of training have you had? 
I have a BA in theatre and have privately studied with all kinds of teachers.
What are your memories of your earliest work in TV/movies?  
I come alive on a set and that is what I remember….the sheer joy when I'm performing….all the magic of it all.  I love it.  I remember the nerves and having to learn the tricks of the trade and loving it all.
How did you land that first job? 
My first jobs were in theatre and those were via auditions; actually, most jobs come through auditions. My first on-camera jobs were through auditions that my agents set up.
Please tell us about Chain of Souls. 
Chain of Souls is an indie horror film, my first starring role in a film.  It's cheesy at times, but still has some fun moments.  I look back at it and laugh at how far I've come with my acting.
How did that role come about?
I auditioned for this role through a Backstage ad.
What did you appreciate most about your work/role in that film?  
I enjoyed making this film; everyone who worked on it was great…a nice little family.  I loved learning things on set and seeing what it's like to be a lead in a feature film.
I understand that film led you to found the Shriekfest Film Festival in LA. Where did that idea come from? Why did you choose to do that?
Yes, I really wanted Chain of  Souls out there and I thought they should submit it to horror festivals, but there weren't any in the US that I could find and somehow I came up with the idea of starting one. I thought it would be something fun to do around Halloween. I had no idea how huge it would become.  🙂
In addition to your work with this festival, you have continued to be featured in film and TV. What are some of your favorite roles/experiences and why do they stand out to you?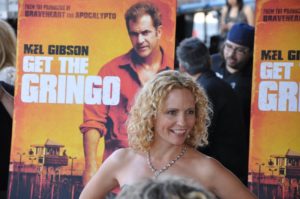 Oh my, there is not one set that I didn't love being on!  Even the lower budget films. I have loved every moment.  I loved working with Mel Gibson and Peter Stormare on Get the Gringo…just a blast.  I loved working with
Dennis Hopper in The Last Ride and Julia Louis Dreyfuss in The New Adventures of Old Christine, and
Tom Hiddleston in I Saw the Light…the list goes on and on.  I have been truly blessed to work with such amazing people.  I learn something on every set too; it's all very exciting for me.
Please tell us about your continued work with Shriekfest festival and radio. What is your current official involvement in both? 
Well, I am the Director of Shriekfest and extremely involved on a daily basis…we are now bi-coastal, so, there is a Shriekfest in Los Angeles and now one in Orlando! This is our seventeenth year!
As for Shriekfest Radio, I am the host and have been for over five years now!  I love giving our filmmakers/screenwriters free publicity and for some, I'm introducing them to interviews and how it works so they will be prepared down the road.
How successful do you feel these are and why do you feel that way?
Extremely…because I get emails constantly thanking me for helping and promoting, etc.  I feel both are successful because there is no ego involved.  I do what I do to help others and that truly makes all the difference.  I love helping to bring light to all of these talented filmmakers and writers.
Indie films seem to be what you are most passionate about. What are the benefits and challenges of indie film?  
I do love that Shriekfest focuses on indie films…studio films don't need more exposure, but indie filmmakers do and there is so much talent out there.  I love that indie filmmakers don't have to worry about studios telling them how to do their projects; they can run with their vision.  The challenges, of course, are usually money-related.  How to get your film funded is the number one question.   Although, when you have money restrictions, it forces you to get creative and that is a good thing.
What are your current/upcoming works?
I have a movie coming out soon directed by BAFTA winner Kenneth Glenaan called Dirt Road To Lafayette, I am also signed on to star in Cellar Door 2 as a psychiatrist to a serial killer, and I will play a nurse in the upcoming My Heart Dies with You.
Why do you believe horror films/shows are so popular in this day and age?
We all need a release and horror allows us to be scared without experiencing the pain and fear that comes with the real horrors of the world.
With your busy schedule, how do you balance your career and your personal life?  
It can be tough.  You have to really manage your time well.  I have a HUGE calendar with a breakdown for every day of what needs to get done.  I have a burning desire to do all that I do and that's what keeps me going no matter what.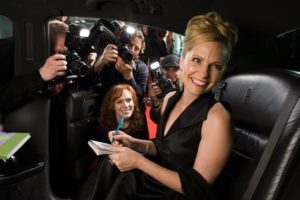 What is your advice to young, aspiring actors and/or filmmakers? 
Write those goals down; writing them down makes them real and then break them down into baby steps and work on some steps every day.  The time is going to go by anyway; why not end the year with a film or a script?  And most of all, Never, ever give up.
If someone were to make the story of your life, which actress would you like to have portray you?  
I would like to play myself and my daughter can play me as a child. I would love to work with her and she is my "mini me," so it would work out great!    🙂 I would like to see it as a sitcom….I laugh a lot and would love to have people laughing at a show about my story.  Not at it, but with it.
There is no doubt in my mind that Denise is a natural-born actress, but her skill set extends far beyond that. The very fact that she observed a need way back when and labored extensively to bring her vision to fruition demonstrates her drive and ambition to meet what she perceived to be a deficiency within the film community. Buried beneath her radiant smile, her vivacious personality, and her extraordinary giftedness is the heart and soul of an entrepreneur. This combination in the world of entertainment is not always as readily available as one might expect. Even within the TV and film world, far too many actors prefer to identify the "easy way out" rather than laboring intensively for something that may never turn a massive profit. There is no doubt in my mind that Denise continues her pursuits because she loves her career and every facet of it. Furthermore, it's not about ego nor having everything handed to you on a silver platter. Denise thrives on her goals, dreams, and aspirations, and at the heart of everything, she wants to be the one who helps to bolster the careers of deserving individuals within the indie film community. Furthermore, she still finds time to do some acting and have a family. Some might consider her "Wonder Woman," but I think she would deny that claim in a heartbeat. She is successful and fulfilled because she is doing what she loves, and I applaud her commitment to her ideals as well as her arduous work especially in the area of indie films. Please check out all of Denise's links below and consider following her via social media where you can. While you may not be a horror aficionado, rest assured that people like her merit our best support even if we are unable to watch every project in which they are involved.
FOLLOW DENISE