For the past year that I have been interviewing actors–especially Hallmark actors–I have perpetually heard a female director's name mentioned in such glowing terms that it wasn't long before I learned that name and grew to respect her and her work–Christie Will. I was quite pleased when Christie agreed to answer a few questions for me (I know the woman is insanely busy) about her work in the field of directing and beyond.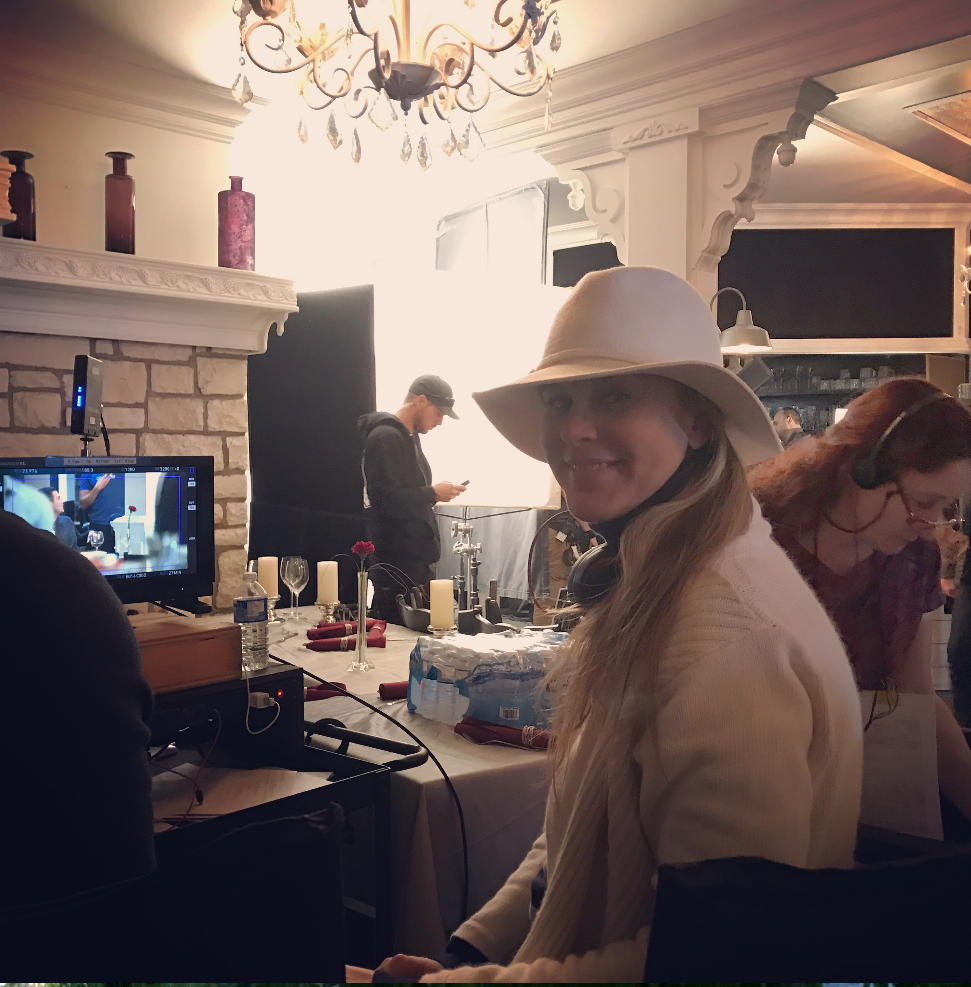 RH: ​Why did you decide to pursue a career in the field of entertainment? 
CW: I never really considered any other career path. My life, as far back as I can remember, has always been alive with singing, acting, writing, directing and producing. I can remember my father video-taping my siblings and me at a young age (maybe six) as we enacted The Wizard of Oz. I studied that movie intensely… captivated by how an entire make-believe world was created.   Throughout elementary school, high school and University, I was always writing, singing, directing or acting; it was my happy place. I became enthralled with creating something (a character, play, song) that could emotionally move another.
What kind of training did you receive?
I went to Emerson College in Boston, Massachusetts and studied musical theatre. Later, I attended the College of Charleston in South Carolina, where I was an acting major with a minor in art history. At this time, I was actively creating my own short films (writing and directing). And for graduate school, I got a joint MFA in Film and Creative Writing from University of British Columbia in Canada.
 It seems that holiday movies have become a mainstay with you. How did that come about?
I'm not entirely sure, but I suppose it's because I absolutely love Christmas, and making Christmas movies is a perfect fit. With that said, I'd maybe say that while I DO direct and write a lot of Christmas movies, I'm maybe known as more a Romantic-Comedy / Family movie-maker (although I also still enjoy writing and directing mysteries and thrillers). I think my strength in storytelling is capturing realistic family dynamic struggles. I try to be authentic in such storytelling by finding where the heart of the story is. My main goal when I tackle a movie is to ensure I tell a story that has a perfect mixture of  laughter, yet still has the fine tune of pulling on a heart string.
How did you develop a relationship with the Hallmark Channel? 
I worked (still work) with a lovely producer named Tim O'Johnson — he graced me into the Hallmark family (directing and writing a movie that he produced).
What was your earliest gig for them?
My earliest gig for Hallmark was A Cookie Cutter Christmas with Erin Krakow, Miranda Frigon and Alan Thicke — and a TON of kids 🙂
What do you like about working with them?
There is so much I like about working for Hallmark. At the top of the list is that they really treat their writers and directors as part of the Hallmark family. And making a movie with them is a collaborative effort — the executives are "hands-on" the entire way during development of the script, the shoot, and of course in post-production. Hallmark cares about each and every one of their movies — and it shows.
I love making movies that my elderly family and my two little daughters can all watch. Further to that, it's fantastic to make movies that have a meaningful and positive life message (as all Hallmark movies do).
What are your memories of working with the late Alan Thicke?
Alan was a lovely man to direct. He was respectful, funny, and of course, talented. One memory that stands out was a scene he had with Erin (Krakow), Miranda (Frigon), and David (Hayden-Jones) up on the stage (in A Cookie Cutter Christmas). He improvised a large part of that scene, and all the actors were in awe of how easily he remembered his improvisation for cutaways (where we shoot different sizes of the same scene). My other memory was what a loving father he was to his son Carter (who came to set for the shoot). He most certainly will be missed — my heart goes out to his family.
How would you describe him as a person?
Further to what I said above, he was also very laid back.  Easy going and relaxed, would be the best words to describe him. He made everyone laugh.
While I wouldn't ask what your favorite work was, please describe one or two projects that were especially memorable for you.
I co-wrote and directed a movie called Baby Bootcamp starring Kavan Smith, Danielle Ackles, Peter Benson, Miranda Frigon and more. I was working (shooting scenes) with over seven babies at a time — it was insanity. During the "baby bootcamp" workout scenes, I'd tiptoe through the actors snapping their babies into their Ergo baby carriers, I'd quietly nod to the crew to start to rolling, and very softly whisper "action". Further to that, the male lead (Kavan) also had his own baby (in the movie), so I'd say about seventy-five percent of the movie was working with a baby! We additionally depicted  two (2!) birth scenes in that movie, and that was a known awesome challenge. One of those births was an underwater birth — which was absolutely hilarious and fun to create.  I not only loved the challenge of making that movie, but I was equally thrilled with how it all turned out in the final cut — a really funny and emotionally-evoking movie. It still remains one of my favorite little movies.
In addition, I'd have to say that A Wish For Christmas was a particularly memorable movie. For starters, Lacey Chabert starred in it, and she was in my very first feature film Slightly Single in L.A. Since that time, she and I worked on another movie and became close friends. Working with her pregnant was a beautiful thing… And to top it off, my eldest daughter played the role of little Amy. And Lacey has known her since she was in my belly, so it was pretty perfect. Paul Greene was the male lead, and his fantastic mother Fran came to set. Given that Lacey was pregnant, my daughter had a small part — well, it really became this "family feel" set.   All in all, it was a movie I'll always remember fondly.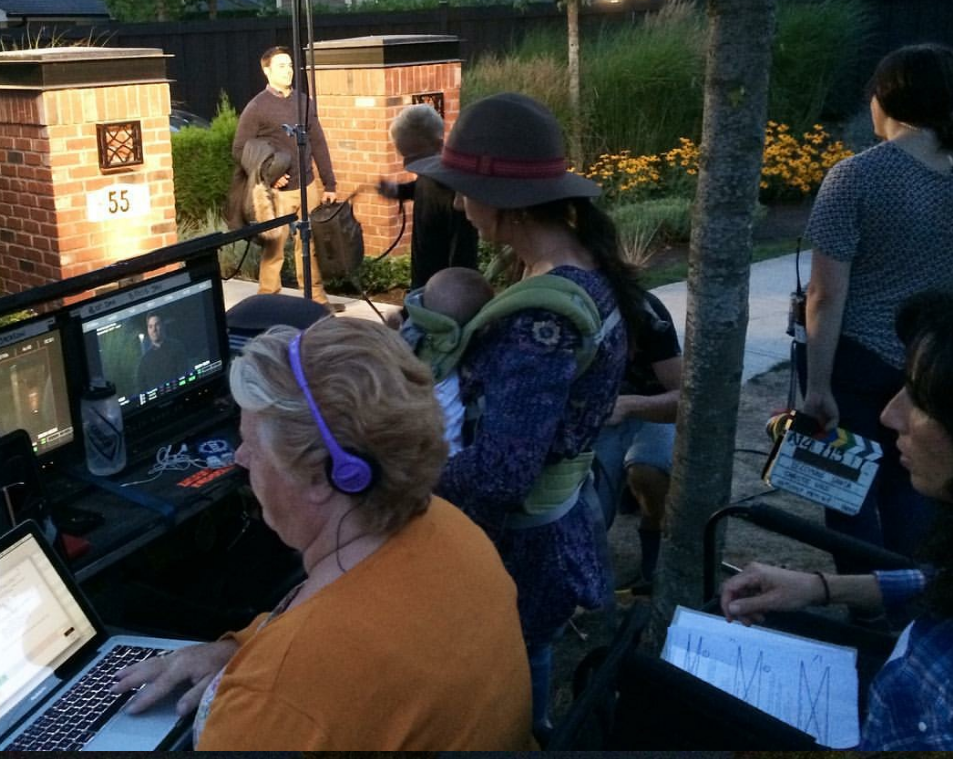 What are the unique positives / challenges of each individual role you have done within the entertainment world?
Early in my career, I was an assistant to some well-known directors and high-profile entertainment professionals.  Working as an assistant for Paula Abdul provided me the opportunity to realize that with hard work and perseverance, one can take a low-level job and turn it into something more career goal-minded. With her, I decided to use my creativity and pitch her show ideas, one of which developed (her one and only personal reality show).
After that, I convinced any producer that would listen to allow me to make "making off" movies (electronic press kits) for their movies. Inevitably, I started getting work and proved myself to be invaluable. Proved that I knew how to create entertaining movies. I did everything on these Electronic Press Kits — from shooting to editing them.
What was it like working with the very pregnant Lacey Chabert on A Wish For Christmas? 
Lacey was a dream to work with — she always is. Without exaggeration, she is a consummate professional, and a director's dream. Given we had an existing relationship, our dynamic was very easy-going. Meaning, we do how each other works, and what to expect.  We have mutual trust.
Please tell us about any other upcoming works that you can.
I have a new Valentines Day movie coming up in February called A Dash Of Love premiering Saturday, February 11th. It's a romantic comedy starring Jennifer Lilley (whom Hallmark fans I anticipate will LOVE), and Brendan Penny (who is another fantastic human being and actor). I'm very excited about it, and can't wait for fans to see it.
As a woman in the business, have you experienced bias/discrimination?  How have you overcome that?
I have, unfortunately. I've felt that some people still can't wrap their heads around a female in charge. There is still an innate hesitation in having full confidence in a female. For example, I've been told that I can't handle particular bigger (famous) actors or projects or genres (even though I'm already doing them). And normally I don't receive an explanation — it's just an unexplained push back. I might add, that the bias and discrimination are felt when my male colleagues — whose movies have fared equally (or worse) than mine–ARE given these opportunities. While it might not be the case, it's certainly hard not to feel that it's because of my gender. But hey, that's the world we live in, and I only hope that I continue to prove that I am indeed capable. And how? Well, by gracefully tackling such bias and discrimination head on (with integrity), I feel that I have (and continue to) overcome particular scenarios.   Luckily  I've been fortunate to work for producers who see no gender and hire based on the "work"; I try to work for such producers.
If you could have dinner with three people, living or dead, whom would you choose and why?
I would have dinner with my Mom, my Dad, and my Nana. My Dad died when I was ten years old, my Mom when I was fourteen years old, and my Nana when I was nineteen years old. To see their faces again and feel their love would be bliss.  To ask them all the questions a child has that I never had the opportunity to ask.
What is your advice to women who wish to enter the entertainment business as a career?
My advice would be to pursue your passions with gusto and with confidence. Pursue all opportunities that might provide experience for your interest. Be tenacious.  Study your craft. Avoid comparing yourself to others; we are all distinctly unique — and it is that uniqueness that makes a creative person interesting. Trust your intuition. Work (or be mentored) by people you respect, trust, and who are honest. Stand up for yourself.  Also, always look at situations from the positive, rather than the negative. Most importantly, be AUTHENTIC.
How do you manage your personal life in the midst of your professional responsibilities?
With lots of support. I'm a mom to two beautiful little girls, so carefully planning and organizing my time is essential.  My friends, family, and nanny are very hands-on when I'm on a movie. Essentially, it's all hands on deck. With that said, my daughters admire my work ethic, and they get excited when I'm on a new movie. I'm very fortunate to do what I love for a living, and it makes me happy to work. And a happy mom, makes for happy kids…. so there is a trickle down effect.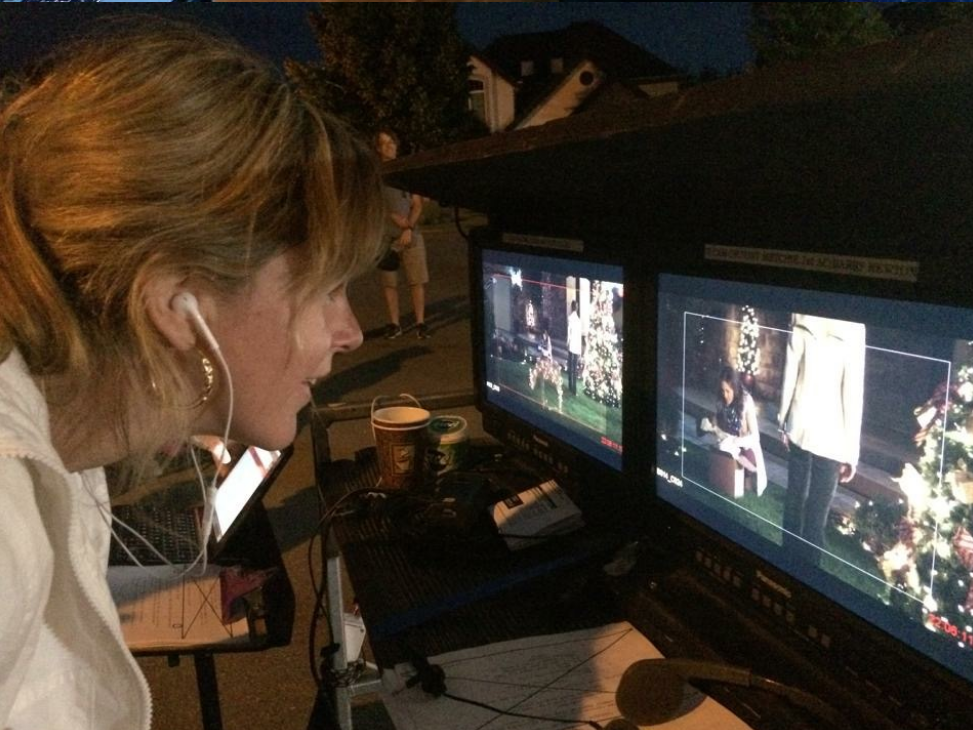 What an authentic gem Christie is! Yes, I can report that what I have been told about Christie doesn't even begin to scratch the surface of her as an industry professional nor as a woman, wife, and mother. She was incredibly open about everything I asked her, and she never belittled any of my questions nor refused to give a thoughtful response. Without even meaning to, she was quick to highlight others with whom she has worked over the years–many of whom I have interviewed. The reason that Christie is so doggone phenomenal is that she pours her all into everything–her work, her personal life, and just being a humble and lovely person. There is no doubt in my mind that Christie is an effective leader and the very embodiment of the following quote by Sheryl Sandburg, Chief Operating Officer of Facebook.
"Leadership is about making others better as a result of your presence and making sure that impact lasts in your absence."
Christie is a true asset to every project on which she serves in some capacity, and I am staunchly convinced that Hallmark understands and recognizes what a jewel she is within their network. Be sure that you turn your channel over to the Hallmark Channel tomorrow night (February 11) to watch her new "Countdown to Valentine's" movie A Dash of Love. Since she speaks so highly of the two leads, there is no doubt in my mind that she is one hundred percent accurate in her assessment of the caliber of their acting and professionalism (and Hallmark audiences are already familiar with Brendan Penny from Chesapeake Shores). Furthermore, she directed the film, so it's bound to be stellar, right? I would also invite you to follow Christie at all the links below. Her indomitable spirit and strength of character is something of which we are in dire need in today's society, and as she is a woman who is in the industry and has no problem standing up for herself when necessary, she is a tower of strength that I find inspiring and even hope to remember and to emulate as I go in my career as well!
FOLLOW CHRISTIE
Interested in subscribing to all my site's updates? Subscribe below!