Sometimes when a new series comes out, I might be a little wary and not ready to jump on in and support it, especially if I am not familiar with the cast, crew, etc. But after interviewing one of the minor characters in the Greenleaf series (Zachary S.Williams), I checked out the show on the OWN network and was pleasantly surprised. Recently, I was able to ask one of the actresses on the show–Kristin Erickson–a few questions about her career, her time on the show, and her future aspirations.
RH: What inspired you to become an actress? What kind of training have you had?
KE: I first fell in love with movies and TV when I was about twelve. I remember wanting to be an actress after watching the movie The Fifth Element. HaHa! I loved Milla Jovovich's performance and I remember asking my Dad after, "How do I do that?" I then started taking acting classes at a local theater and in school. I began acting in plays and after a long period of time researching how to get an agent, I finally got one and eventually transitioned into film and TV.
I see that you were on four episodes of The Originals.  How did you get involved with that show? What was that experience like? 
I did a self-tape audition for The Originals and then I did a Skype callback because I couldn't make the in-person callbacks–they were in Atlanta. I had to use a British accent for the character; I remember using the accent with the director and casting director before starting my scene, so they didn't think I was a Cali girl trying to do British. At the end of the audition, they asked where I was from and in my best British accent, I said, "I'm from California. HaHa!" The casting director and director laughed. They probably knew I wasn't from England, so I wasn't really fooling anyone. HaHa! I LOVED that role so much! Playing evil is SO much fun! I also loved everyone I worked with and have made lifelong friendships from that shoot.
You have been playing Alexa on Greenleaf.  How were you selected to play that character?
I also did one self-tape audition for this. I was on my way to Vegas when I got the audition notice, so I had to tape it in the Flamingo hotel. The ONLY plain background that was available was a hot pink curtain! My sister even said, "Who knows, maybe it will stand out!" Well, it MUST have stood out because I booked it off that one audition! Maybe Oprah likes pink 🙂
What was it like filming Greenleaf?  What was the atmosphere like on set? Any interesting stories behind the scenes that you can share?
It was wonderful filming Greenleaf! The atmosphere felt like family. Everyone was so welcoming and happy to be there. Keith David gave me some really good advice.  He said, (I'm going to butcher it) "Don't worry about what you look like 'cause nobody cares. Everyone else is worried about what they look like." Something to that effect 🙂 It was perfect! And he is so right. I also remember Merle Dandridge (Grace Greenleaf) doing a really lovely thing. She treated the cast to a nice dinner so that we can get to know each other more. It was so thoughtful and wonderful; she has such a beautiful heart. I was happy to be amongst such grateful and amazing people.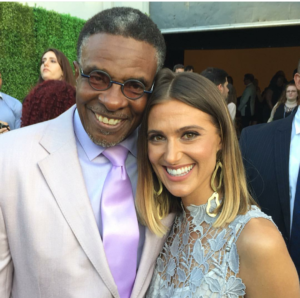 How would you describe Alexa? How do you view her role on the show? 
Alexa is a hussy! HaHa! No, just kidding. Well, not really kidding, ha! But I think Alexa has other layers to her. I don't think it's just sex for her. I think she actually loves Jacob (Lamman Rucker), but she knows he will never leave his wife, so she just enjoys the connection while it lasts. I think she is a hard worker and was grateful for the job opportunity to be working for the Bishop. I also think she didn't always agree with the way the Bishop handled his business, sometimes maybe getting frustrated because she would do things differently if she could.
Why do you think Greenleaf has struck such a chord with the viewers/fans?
I think it is a show that reveals how broken we all are, and I think everyone can relate to that in some way.
I am a Christian, and I think sometimes people perceive Christians to be perfect, but we're not. We are human and broken, and that's where God comes in; we need His grace.
Any other upcoming works you can mention?
I have a little role in Billy Lynn's Long Halftime Walk, which is coming out this fall.
I know you have produced at least one work. Any plans to do more producing or maybe writing/directing?
I am currently writing, producing, and starring in a webseries I created with my writing partner Jenna Finley called #SOsingle. We are currently editing, so it should be released soon. Also, I have a feature film I have been writing called Adult Section. I plan to produce and star in that as well.
 As you were growing up, who were your role models that you looked up to? What do you think makes a good role model today? Who do you see as positive role models that young women can look up to in this day and age?
My role models growing up were Julia Roberts, Milla Jovovich, Gwyneth Paltrow, and Sandra Bullock. They were my favorite actresses, and I wanted to do similar roles that they did. I also liked their personal stories of who they were before becoming famous actors. I think what makes a good role model is someone who can influence other women in a positive sense. Someone who can inspire others to do great things like spreading kindness, giving back, following dreams, and owning who you are as a unique individual. This day and age, I think young women can look up to Oprah–that's the obvious answer (I'm not just saying that cause I'm on her show, haha!). She is a great role model to so many people, not just women. She is all about spreading love and light, which is so beautiful and definitely embodies the qualities of a great role model. Another person who I believe is super influential, and my role model currently is, Lena Dunham. She is so unapologetic for who she is. She is breaking the rules of Hollywood's standard of beauty; I admire that SO much! This business is so brutal towards what an ideal woman should look like. It needs to change, and Lena Dunham is changing it! Yay!!! She also is super involved in women's rights and giving back to her community. She really inspires me. I definitely think Hillary Clinton is a great role model as well, showing young women that anything is possible, even if you want to become the President of the United States of America one day! So wonderful not to limit ourselves.
In today's somewhat distorted society, oftentimes finding positive young women–especially in an industry that is plagued with negativity like entertainment–can be extremely difficult, but I knew when I saw Kristin in this show that there was something about her that was instantly captivating. Even in her role of a "hussy," as she describes her character of Alexa, there is a certain aura about her that just radiates throughout her being. While she may enjoy playing characters that are totally opposite of her genuine disposition, her credibility in these roles is merely a testament to her splendid abilities as an actress. Be sure that you tune in tonight for the gripping finale of Greenleaf on the OWN network (you may want to catch up online or on demand first). Even though Kristin's character isn't featured tonight, she does play an integral role in the series as a whole. Also, be sure that you follow Kristin at all the links below so that you can keep up with this vivacious and resplendent woman throughout all of her pursuits and projects because there is no doubt that all of us, regardless of our circumstances, could always use a little spark of positivity in our lives!
FOLLOW KRISTIN
Interested in subscribing to all my site's updates? Subscribe below!