CEDAR COVE – BATTER UP – Olivia and Jack attempt to reconnect, but when Paul's prying sister Liz arrives in Cedar Cove, she perceives her brother may be in denial about his true feelings for the judge. Then, Grace dives into wedding planning with a surprising lack of enthusiasm from Maryellen, Alex approaches Jack with a very personal question and the whole town gathers together for a charity baseball game that will prove the community's most heated rivalry is happening off the field.
Potential Spoiler Alert: Although I do my best to keep my reviews spoiler-free, I cannot guarantee that I won't reveal something you didn't know about the show.  If you are concerned about spoilers, please stop reading here and go no further. If, however, you're not worried, let's play ball.
Let me say from the outset that this episode is so chock full of humor and dazzling entertainment that I almost don't know where to begin my review. Therefore, I shall begin with the character who usually closes my reviews–Cliff. It is no secret that Cliff Harting has been my most treasured character from the moment he appeared on the screen, and the sensational Sebastian Spence (also a dear friend) portrays this chivalrous, cherished cowboy with sincere heart and soul. In this episode, Cliff fans will be ecstatic to see him being his charming and supportive self.  Now that he and Grace are engaged, you might expect to see him more involved with the series, but it behooves all of us to celebrate his time on screen whether miniscule or substantial. For the minute or so that we see Cliff this week, Sebastian illuminates the screen as only an actor of his caliber can. Again, he is a solid actor who never discards any opportunity whether small or big to make his character dynamically engaging.  Gratefully, he does have one absolutely brilliant line this week (no spoilers but it was positively perfection), and wait till you see the chemistry between him and Grace–spot on as we have come to expect. As pictured above, Cliff does participate in the softball game, but Grace sends a "curve ball" his way that distracts him to the point of confusion. Safe to say, wedding preparations may cause conflict that whether real or imagined puts a damper on what should be the happiest time in a couple's life.
Lest Cliff and Grace fans despair, don't let any worries cross your mind. After all, this picture should enthrall us beyond belief. Grace (Teryl Rothery) is off and running with these wedding preparations, and we can only imagine what a resplendent bride she will make.  And in her usual fashion, Teryl plays Grace with elegance, sophistication, and overall mellifluence. Teryl has indeed become the Grace of my dreams so that even when she acts a bit uncharacteristically, I can forgive her.
After all, it's not every day that an enchanting woman of her disposition gets a second chance at love. And Teryl has fully mastered the endearing but sometimes perturbed Grace. There could be no one else who could play her with such finesse or ebullience.
Unfortunately, not everyone is so euphoric about the upcoming nuptials. Enter "Gloomy Gus" otherwise known as Maryellen (Elyse Levesque). In this episode, Elyse has completely embraced this disconsolate woman pining for her man who has returned to New York. In fact, on more than one occasion, I found myself quite impressed with the artistic but subtle (and not so subtle) ways that Elyse was able to project credible emotion into her portrayal of Maryellen.  I won't spoil anything for you as to what Maryellen's issue really is, but just know that she is going through a hard time that is going to  potentially put a damper on her mom's wedding plans.
Permit me to say that Cindy Busby absolutely blew me away in this episode! While I have always been intrigued and sometimes agitated by the aggressive ADA Rebecca Jennings, this is one of the episodes where Cindy has the opportunity to sparkle and shine, and she expertly milks this opportunity for all it's worth.
While I haven't always been a Rebecca fan, I have never doubted the talent of the lady who brings her to life. Whenever she and her two roommates are in a scene together, she always steals the show (not intentionally, it's just what her character does). However, in D.A. Paul Watson, I think she may have found her match. I stated earlier in the season that I simply adored the interactions between Colin and Cindy, and I can say this episode gave me more of what I love. There is some magnetizing tension between these two, and the interplay is often quite humorous. Rebecca may be able to hoodwink Eric, Warren, and others of Cedar Cove, but when it comes to Paul, the battle of wills is incredibly entertaining. Yes, Olivia was able to begin the process of penetrating the thick skin of this arrogant girl, but I do believe Paul will complete this task (and not with the same gentleness Olivia did).
As far as Paul goes, I have fully embraced this character. It took an open mind and a bit of humor and kindness on Colin Ferguson's part, but I have determined that he is an exceptional and fun addition to Cedar Cove. Don't get me wrong–I did not say I wanted him and Olivia to become an item, but I am thrilled that he is a part of the cast. His disarming sense of humor and down-to-earth manner on the screen has made me a firm supporter of his, and this week he got his chance to demonstrate his prowess both here and on the softball field (which we shall get to in a moment).
Okay, please do not panic. I know this looks like a romantic scene between Olivia and Paul, but I promise you it is not. As we have come to discover, Olivia and Paul have become great friends, but they still maintain the professional working relationship when they need to. The way I see it, Olivia doesn't see Paul as a romantic suitor, but I do believe she may be unintentionally falling for him without her knowledge (or maybe she just refuses to admit it). Paul, on the other hand, is biding his time and seeing just how far Olivia will let him go. There is no doubt he is taken with her.  Isn't it amazing that Andie and Colin can convey exactly what I said through their remarkable acting and easy, genuine interplay and even a bit of casual chemistry? I always say Andie can get along with anyone and bring the best out of each of the actors with whom she shares a scene. It would seem that as Colin has truly embraced and deepened his character of Paul, these two appear to effortlessly work together. In fact, if there were no Jack to worry about, I'd tell Paul to go ahead and court Olivia at once. But I will not forget Jack because even in this complicated relationship situation, I still believe she and Jack are destined to be together. I can only hope that the writers have provided another romantic interest for Paul.
And the question of the hour is–who on earth is that other girl with Olivia and Paul? Thankfully, if you read the summary, you know that Paul's sister Liz has come to Cedar Cove, and I won't divulge any more than that except to say that you can surmise the worries that might be playing on her mind after meeting Olivia and seeing the way she and Paul interact. We don't see Emily Holmes that much during this episode, but it would appear that this is not the last time we will see her. So again, I'm reserving judgment on her and her vivacious character. Oh, but there is a delectable scene involving her, Paul and Jack (watch the preview and you'll get a vague idea of that scene–sheer rapture).
Well, our "judge with heart" certainly has a lot going on in this episode. Indeed the writers have kept Andie's character engaged with issuing copious advice and fixing every problem that comes her way in the community (in a small way, I seem to know that feeling of late).  In this episode, it is Andie's alluring acting that brings such sweet credibility and mesmerizing strength to the storyline at hand.  And this is also an episode where Andie gets to display her slick sense of comedic timing at which she is an absolute master! When I said this episode was nonstop entertainment, it is Andie who is probably the driving force behind that fact. (That shouldn't surprise you since she's the fearless leader of the town, right?)
Now before I jump to the softball game, where most of the action happens, let me mention a couple of other items .  If you remember the end of last week's episode, it was evident that Warren was up to no good. I refuse to spoil anything, but let me warn you–"nice Warren" is probably not going to be found in this episode. In fact, I will admit to yelling out the word "snake" when I realized just what our dear villain had done.  Then I had to remind myself that kind of behavior had to cease–I am a "Warrenite" after all (and a fairly prominent one according to some). So as the episode continued, I made certain not to blurt out "weasel" or any other names in reference to our poor, misunderstood rapscallion (not that the temptation was not there). While Warren may be reverting back to the Warren we always knew he was, what would you expect? Like a leopard cannot change his spots, Warren can't suddenly become an ethical and upstanding citizen.
As far as the character of Warren goes, if you have been following my reviews, you know exactly what I think of the consummate Brennan Elliott who brings him to life each week. And the scenes that Brennan has this week are so phenomenal that at one point towards the end of the episode, I had quite the reaction. I absolutely adore seeing him go head to head with Andie–those two are simply explosive together, and they constantly spur each other on to be even better than their best (and here's a secret–they accomplish that feat with relative ease). In addition to this, his interactions with the three roommates–oh my goodness, that is my absolute favorite scene in the episode! Rebecca (Cindy Busby), Justine (Sarah Smyth) and Linette (Anna Van Hooft) are having a "pleasant" conversation, and Warren crashes this girl-time (kind of like he crashed the party a couple of episodes ago). I will say no more, but I can't even tell you how funny that scene is. Everyone brings their a-game to that exchange. However, later when Justine and Warren have another impromptu face-off, I seriously struck the table next to me and exclaimed something about how good Brennan is in this role and I don't know how he does it so perfectly. Every week, Brennan just gets better and better as he displays the many facets of this complex character through the expert use of humor and heart. Whether dealing with his "mean" father (who comes back to town for the softball game), crashing parties, or verbally attacking the strong people (especially women) in his life, Brennan has completely poured his heart and soul into this diabolical, devious, but thoroughly delightful character, and that is why he continues to draw in the hordes of fans. Never question the joy this role brings Brennan, and his devotion to his fans is absolutely mind-blowing. As my mom has told me, if Brennan continues to be as nice as he has been to me and the rest of his fans, she's going to have a hard time "hating" Warren.
Oh, isn't this just a sweet picture?
And this one too. So gratifying to see Jack and Olivia back together. At least in these pictures. Please don't expect "happily ever after" during this episode.  Because I'm here to tell you while this episode is lighter, this relationship is still a work in progress.  I can assure you that last week's cliffhanger has a perfect resolution right at the beginning of the show, and it involves Paul and Alex. It was great to see interplay between Colin and Rebecca Marshall (Alex). In fact, I am of the opinion that Colin is now so comfortable in his role of Paul , he can play any scene with ease.  And it made me wonder if perhaps Colin and Alex have a future together–time will tell.
As to Alex (Rebecca Marshall), I fall in love with her character more every time I see her on-screen. There will be some conflict between her character and Olivia, and Rebecca just delivers every line with such precision and skill.  I anticipate seeing where the writers take Alex in the rest of the season, and I know Rebecca will continue to compel her character to rise to the occasion.
For Beldon fans, you will see a bit of Peggy (Barbara Niven) and Bob (Bruce Boxleitner). Bob is there to provide the counsel that Jack still needs to listen to, and Peggy is there to cheer on her softball team. Whenever Bruce or Barbara appear on the scene, they always act to perfection and with great prowess. Don't despair that they are not there long for this episode because as we know, they have had some fantastic scenes this season.  And just like Sebastian and others who appear for a relatively short time, they deliver their lines so skillfully and with such magnificent heart and soul that their talent is always unquestioned and far exceeds the standard.
Based on the title, you can imagine that the town softball game is the center of most of the action during this episode. I'm not going to spoil anything for anyone, but I just have to give a special mention to Moon. As much as I adored everyone, Timothy Webber got some absolutely rhapsodic dialogue that was so "moonish" and delivered with such expert comedic timing that I was entranced. While I always love Moon, this is probably my favorite scene with him so far, so make sure you watch for it–you won't be sorry.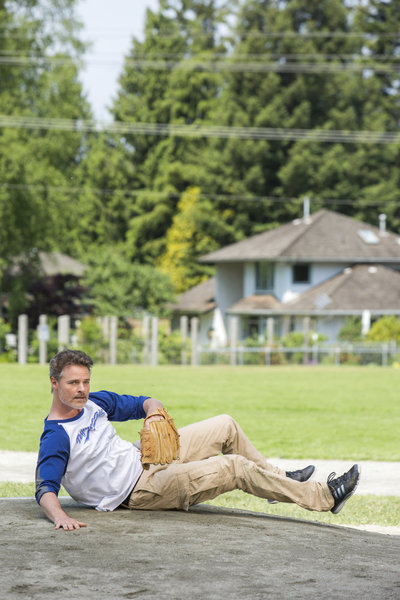 The question everyone seems to be asking is–why are Jack and Olivia on opposite teams? Well, I'm not going to divulge this heavily guarded secret, but it provides some seriously delightful entertainment.
Uh-oh–looks like Paul is on the same team as Olivia. And Alex is on the same team as Jack. And wait till you see the drama of the softball game. Talk about tension!
I can't even begin to tell you how much I laughed over the softball game. When I say it's uproariously funny, that is the understatement of the year. And maybe you can guess why.
Now I bet you've seen this photo, and oh my goodness, hold onto your hats. As the game continues to play out, the tension rises higher and higher. Seeing Jack and Paul at each other's throats is not only amusing, but it is also skillfully executed. Up to this point, there really haven't been any scenes between Colin and Dylan. As you can probably guess, their characters are "fighting" over Olivia. Remember when I said a couple of episodes ago that I thought Warren and Jack were going to fight? Let's just say that if Olivia hadn't broken these two up….
Oh and for the record, Warren is at the game too. That's all I will say.
For me, this is season three's most entertaining episode so far. While it ends with a different kind of cliffhanger than last week, this episode is nonstop hilarity, absolute frivolity, and pure poetry in motion. Finally, people aren't hiding their true emotions. In fact, I believe every character demonstrates who they really are (even if those emotions are unpleasant). While the dramatic elements of this episode get lost in the shuffle (the storyline concerning Jesse's buddy seems a bit out-of-place but will probably make more sense in later episodes), I think after the dramatic rollercoaster this season, this lighter episode is exactly what is needed.
For more information:
http://www.hallmarkchannel.com/cedar-cove
https://www.facebook.com/CedarCoveTV