Story about Amber Hagerman who was 9 years old when she was abducted while riding her bicycle, prompting her mother to seek out a system that alerts the nation of abducted children, we know that to be called an Amber Alert today.
Before seeing this film, I'll be honest–I didn't know the origin of "Amber Alerts." I remember hearing about them, but I had little to no idea where they originated nor what they meant. Pretty bad since I was living in Texas probably about the time Amber Alerts began, but I honestly paid little attention to the news back then. I was pleased to find this Lifetime film based on a true story and starring an actress with whom I was familiar thanks to Cedar Cove.
In discussing content advisory, the profanity is quite minimal, and the violence is not too bad. It's disturbing to see some of the violence being perpetrated on children, but this is standard Lifetime violence. Viewers won't see anything that they probably have not seen before.
One additional note. As I did the research for this film, I found that the reviews of this film were typically unfavorable. I am unfamiliar with almost all of the actors in this film, and I have not researched the authenticity of the film.  I am coming into this review with very few preconceived notions, and this is the first time I will be reviewing Teryl Rothery in a movie review (it's about time for me to do so).
The main star of this film is Elisabeth Rohm who plays Donna Whitson. She is the mother of Amber, and I have never seen her act in anything else. I found her authentic–nothing fake about her in my opinion. After all, her role is central to the theme of the entire movie.  Maybe her accent was not genuine, but I lived in Texas many years, and I heard all sorts of unusual accents. And in truth, she sounded like some I came across during that time. Regardless, an accent is not a reason to put down a wonderful performance by a seasoned actress like Elisabeth. I felt she played the part with feeling and confidence.
Also worth noting is Myron Natwick who played the creepy Glen Park.  Safe to say, he played his role brilliantly (I was "freaked out" more than once). This actor has had an extensive career, and of course, there is a Sebastian Spence connection (oh dear, there always is, isn't there?). He was in First Wave (I remember that one as it was the pilot), and he was also in Ice Blues (haven't seen that one yet).
In this film, he plays his role so effortlessly that I believed he was this horrendous character. No spoilers but all I wanted to do was knock him for a loop, and the ending gave me great hope in spite of this nefarious character.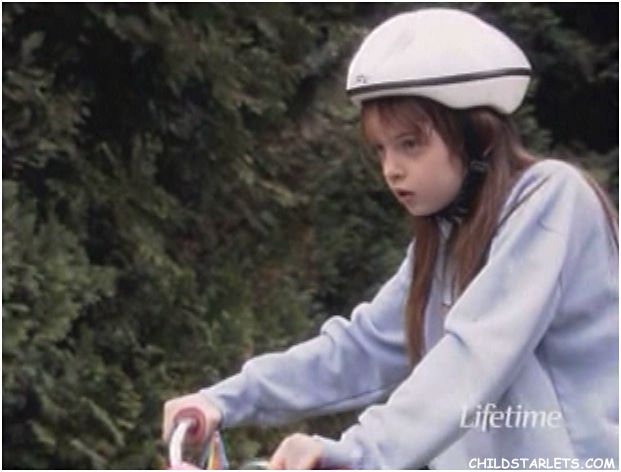 I have never seen the young actresses who played the girls in this film, but both are definitely skilled and play their roles with credibility.
Now to the entire reason I even watched this film.
When I found out that Teryl Rothery was in this film, I made a special effort to watch it. I was afraid that I might not recognize her or might miss her in the film, but she doesn't make an appearance until the second half of the film. Thus my worries were unfounded.

And oh my what an dynamic role she has!  She is the mother of a girl who is abducted after the Amber Alert system has finally gone into effect. Amber's mother campaigned hard to get this missing child alert system started, and Teryl plays Sharon Timmons, a single mother who has a man (the Glen Park character) watch her daughter after school. A difficult situation to be sure.

Teryl's performance had me completely captivated. From the busy single mother to the distraught mother to the horrified mother, I found myself so immersed in her and her daughter's story that the tears almost flowed freely when the unthinkable happened. I love Teryl anyway (I mean who doesn't?), but this role gave her the opportunity to play a strong, dramatic character. And she was positively brilliant. I didn't see Teryl, the actress. I saw Sharon Timmons, the mother who didn't know where to turn and was so grateful that the Amber Alert system was in place.
One of  my favorite parts of the movie was at the conclusion when her character thanked Amber's mom for this system that rescued her daughter from a fate possibly worth than death. Indeed a powerful moment that just pulled at my heartstrings, and no one could have played this role as well as Teryl (in my humble opinion). I look forward to seeing more films/shows with Teryl as she is a strong, sensitive actress who can play anything from comedy to drama. Indeed, if I wasn't a fan before (which I already was), I certainly am now.
One additional note of interest. After watching this movie, I was driving my daughter home from school, and the Amber Alert came across the radio. I listened to it, and I was able to tell my daughter what was meant by this and a little about this story. And I am happy to report that almost immediately, the children were recovered from the man who abducted them.  Thank God for this mother who tirelessly campaigned for this system!
For more information:
http://www.imdb.com/title/tt0840999/?ref_=fn_al_tt_1
Interested in subscribing to all my site's updates? Subscribe below!