When Katniss destroys the games, she goes to District 13 after District 12 is destroyed. She meets President Coin who convinces her to be the symbol of rebellion, while trying to save Peeta from the Capitol.
My Review:
A few years ago, I made the decision to read the Hunger Games book series.  I honestly thought these books would never interest me, but once I began, it was almost impossible to stop.  Furthermore, I got my mom interested in the series, and she actually finished the books before I did!  I know that these books provoke strong emotions amongst everyone with whom I have ever discussed them.  The movies often seem to evoke the same emotions.  But for me, there was never any question. This was a must-see movie for me just like the other two were. And my mom accompanied me for this amazing experience.
Right from the beginning, I was immersed into the action of the film.   If you have not read the books nor seen the other two movies, you are going to struggle to understand the action and storyline. I do not believe this could be a stand-alone film. Even with the flashbacks and descriptions, it would be too complex to follow, at least in my opinion.
Say what you will about Jennifer Lawrence (I know I sometimes overhear things that are not very nice, but let's face it–that's Hollywood), she is an unbelievable actress, and extremely versatile.  She is the quintessential Katniss Everdeen, and there is sincerely no other actress who could play the role as authentically as she does. This is the third film, and she has embraced the part so well that I struggle to envision Katniss any other way than with her looks and mannerisms.  She is strong yet vulnerable; fearless yet troubled.  And the Capitol knows her weakness.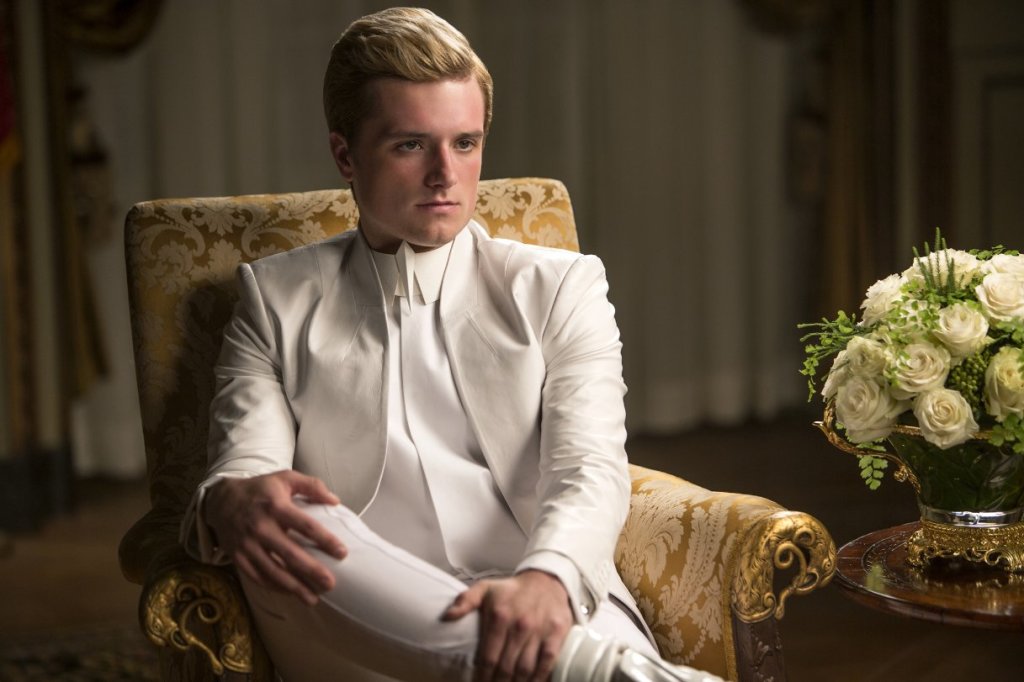 And this is her weakness–Peeta Mellark (played by Josh Hutcherson).  I have heard many young ladies call him one of the current Hollywood heart-throbs, and maybe he is. But his strength rests in the fact that he plays Peeta to a fault. in other words, I never questioned that he was Peeta.  And Peeta has intensely diverse scenes in this film–from calm to ferocious. Be sure to look out for the last few minutes of the film–his scene is disturbingly astounding.
Liam Hemsworth (Gale Hawthorne) definitely deserves some recognition in this film as well. In the other two films, he tends to always fade into the background, but not here. To see this actor portray the man who truly loves Katniss but only wants the best for her is indeed a treat for the heart, soul, and mind.  And in this film, the audience is invited to make more of a connection with this character. Of course, I was always a Gale fan.  I am more so now.
To be honest, I could go on and on about the fine performances in this film–too many to count. Of course, there's President Snow (Donald Sutherland) who is featured above as well as:
One of the biggest debates about the movie concerns the ending. I don't remember everything about the book, so I don't recall the differences between film and book. I do realize that they made the decision to split this into two films–smart idea  in my opinion.  This is a very dark and heavy book.  It would make sense that the conclusion of this film would be unsettling.   If it had been up to me, I agree I would have stopped the film five minutes sooner. But my reasons may not be for the reasons that others might conclude this.  I know why they ended this film as they did.  If they had stopped the movie five minutes sooner, there would have been an incredible amount of unanswered questions.  Perhaps too many.  Adding the five minutes to the movie gives the audience some hope. However, at the end of the movie, there was a collective whine from many in the theater–I found that rather amusing.  I have read the books.  If you have not, you may be disappointed.  However, don't despair, dear reader.  The next film will answer your many questions.
As to any content advisory, there was no profanity (how refreshing). There was plenty of violence, but nothing gratuitous or overly gruesome.  Oh, I jumped a few times–the special effects were dynamic.  Just don't overlook the message. One person can change the world.  In addition to this, it is wise to question potentially improper laws within a country.  Much of the world could easily be headed the way of this dystopian tale.
In conclusion, this is my favorite so far of the Hunger Games films. I highly recommend reading the books and then watching Hunger Games and Catching Fire before watching this one.  If you are interested in learning more about the movie, please click here.