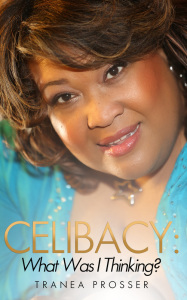 Celibacy, What Was I Thinking? by Tranea Prosser
My rating: 3 of 5 stars
As one who take the issue of celibacy very seriously, I was quite intrigued to read this title. As it was additionally written by a Christian, I greatly anticipated it. And I can honestly say that the author's reasoning for remaining celibate until marriage is Biblically and experientially supported. And this author has been on both sides of the issue, so she should certainly know. This should certainly resonate with the author's targeted demographics.
Honestly, my only complaint with the book is that it seemed a bit disjointed at times. I appreciated the author's openness in sharing her experiences, but I sometimes felt that this would have resonated better on the stage in a book. At least as far as the style goes. There were a couple of words in the book that I am not accustomed to seeing in a Christian book, but not everyone has the same views on that point.
If you have never thought about celibacy or you wish to know why you should consider it, I would say that this book is a good place to start. It never does get overly preachy, and this book can definitely speak to both Christians and non-Christians alike.
I was sent a copy of this book in exchange for my honest review. I was not financially compensated, and all opinions are 100 percent mine.
Be sure to check out the author on facebook, twitter, youtube, and website.
Interested in subscribing to all my site's updates? Subscribe below!