(The Lily Sparrow Chronicles #1)
by Kristee Ravan
YA Urban Fantasy
Paperback, 367 pages
March 17th 2014
Fairy tales are naturally non-mathematical. That is a fact, and fifteen-year-old Lily Sparrow loves factual, mathematical logic. So when her mother confesses that Lily's deceased father is (a) not dead, (b) coming to dinner, and (c) the ruler of a fairy tale kingdom accessible through the upstairs bathtub, Lily clings to her math to help her make sense of this new double life (1 life in the real world + 1 secret life in the fairy tale world = a double life).
Even though it's not mathematical, Lily finds herself being pulled into a mystery involving an unhappy Cinderella, a greasy sycophant called Levi, and a slew of vanishing fairy tale characters. Racing against the clock, with a sound mathematical plan, Lily attempts to save her fairy tale friends while proving that normality = happiness.
Calling for Reviewers!
We're looking for reviewers! You don't need a blog to sign up, but you do need to at least post a review on Amazon. Other sites (blog, Goodreads, etc.) are also appreciated. Reviews must be completed by the end of November. To sign up, please fill out 
this form
.
Author Interview
What authors have most influenced your writing style?
Whatever I'm reading at the time, usually! When I wrote the scene in my book where Lily starts talking "correctly" because of the Quest Clause, I was reading an Amelia Peabody book, by Elizabeth Peters (which has an advanced vocabulary and a more formal tone). I was just as surprised as Lily that all these "strange" words were coming out of her mouth. Then I thought, "What if it's intentional? What if the magic is making Lily sound a certain way?" Since then, I try to be a bit more careful with what I read while I'm writing. I recently discovered that I can't read present tense books while writing (thank you, The Hunger Games) because the switch in tense really messes with my head. (I write in past tense.)
As far as long term influences, I stole the idea for the footnotes in The Cinderella Theorem from the Ruby Oliver books by E. Lockhart (love those books!). The first book I ever read in one day was Starring Sally J. Freedman, as Herself by Judy Blume. I was about seven or eight then. I loved that book and that Judy Blume did something different with it—the imaginings from Sally's mind. I generally prefer books that are funny to ones that are super serious, and that certainly influenced me. I think of my book as a comedy. And, of course, the tension and conflict between Lily and Calo comes from a favorite book of mine: Pride and Prejudice. I somewhat modeled their quarrelsome relationship after Elizabeth and Mr. Darcy's.
What is the most difficult part of the writing process for you and why?
The physical appearance of my characters. My husband has an art degree and offered to draw pictures of the characters for me. But first I had to tell him what they looked like. I'm terrible at this. Probably because I don't care. I just want more of the story. Even when I'm reading, I think, "Skip this boring description. If her blue eyes don't impact the plot, I don't need to know about them!" I realize that this is not true of everyone, so my husband kindly pointed out some places where descriptions would work. The fact that you can now know what color Lily's eyes are is truly thanks to him.
Do you have any "guilty pleasures," and if so, would you share them with us?
White Chocolate Peanut Butter Reese's Cups. I could eat the whole bag by myself. I try to limit it to twice a year. My husband will buy some for my birthday and my mother-in-law puts some in my stocking at Christmas.
Candy Crush. I had to make a rule that I can only play on weekends. I'm pretty faithful about sticking to that rule. My other CC rule is that I do not spend any money on the game. I up to level 143 and I haven't paid anything.
Dance Moms. Why is there so much yelling? Why do the moms keep bringing their kids back to a teacher who screams at them? I give fair warning that this is not for everyone. It's a bit too much drama for my husband. Also, there are plenty of examples in this show of why it's a good idea not to become impaired by alcohol.
What kind of research (if any) do you do for your books?
Because math and fairy tales are so important in these books, I try to keep them in my mind by following blogs about fairy tales and math. I also read books about math and fairy tales. (Women in Mathematics and The Witch Must Die are what I'm working through now.) I've found that I'm faster at writing if I don't stop to research in the moment, so I've started jotting down post-it notes of things to look up later. I've got some math friends that I ask questions of when needed. My friend, Kelly, helped me think of a math poster to be in Lily's bedroom. I also use the internet quite a bit.
With which character from your book do you most identify and why?
It's hard to pick because I think I'm in all of them. I like order like Lily and I'm a writer like Ginnie. I'm a good listener like Grimm and I can fall apart over stupid things like Morgan Le Faye. Maybe I'm most like Calo? He's traditional and doesn't like to change how he does things
.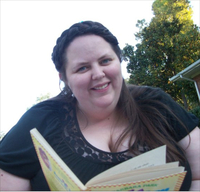 Kristee Ravan lives in Oklahoma with her husband, daughter, and pet fish, Val (short for Valentine). She wanted to be many things as she grew up including a general, an artist, and an architect. But she never bothered to say, "I want to be a writer when I grow up." She was always writing stories and thought of herself as a writer anyway. She sent her first story to a publisher in the sixth grade. (It was rejected – in a nice way.) When she is not making up stories in her head, she enjoys reading, juggling, green smoothies, playing dollhouse with her daughter, and hearing from her fans. You can contact Kristee at the facebook page for her Lily Sparrow books: The Lily Sparrow Chronicles.
5 copies of The Cinderella Theorem (print for US winners, ebook for international winners)
Ends August 31st