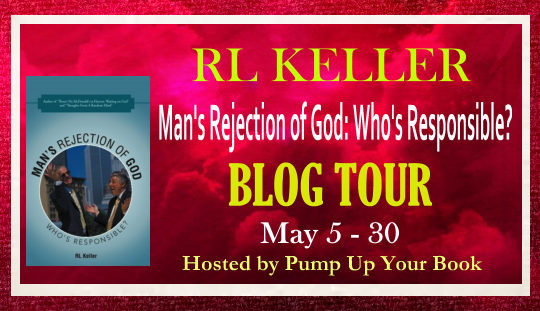 Pump Up Your Book is pleased to bring you RL Keller's Man's Rejection of God: Who's Responsible? virtual book tour May 5-30!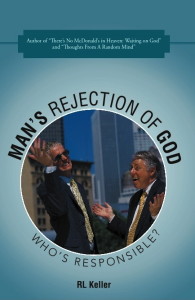 Title:  Man's Rejection of God: Who's Responsible?
Author: RL Keller
Genre: Religious/Spirituality
Paperback: 200 pages (printed)/161 (digital)
Publisher: WestBow Press, a division of Thomas Nelson Publishing (March 2014)
Paperback ISBN-10: 1490821481
ISBN-13: 978-1490821481
Hardcover ISBN-10: 149082149X
ISBN-13: 978-1490821498
Kindle: 9781490821474/ASIN: B00I5076TU
Indian nationalist leader Mahatma Gandhi has been quoted as saying "I like your Christ. I do not like your Christians. Your Christians are so unlike your Christ." This is a sad indictment of the Christian community as a whole.  Is it true?  Are believers in Christ the reason people keep their distance from Judeo-Christian beliefs and the God we embrace?  I feel there's no question that we're partially to blame.  In this book I touch on a wide variety of topics, but in the end call out Christians to immerse themselves in a time of reassessment as we all strive to be more genuine and consistent in our faith.
Discuss this book in our
PUYB

Virtual Book Club at

Goodreads

by clicking HERE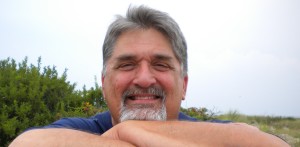 Richard Louis Keller was born in Newark, NJ in 1955 and grew up in Middletown Township (NJ).  He graduated from Montclair State College in 1978 with a degree in Broadcasting.  Rich gave his life to Christ in 1979.  Since his conversion he has spent time ministering for the Lord in various capacities. God gave Rich the gift of communication.  He uses that gift by writing a daily devotional blog and has had two other books published.
Visit Rich online at www.breadoflifemin.net and his blog at www.minidevos.blogspot.com
Rich text editor, editor1, press ALT 0 for help.
Man's Rejection of God: Who's Responsible? by Rl Keller
My rating: 5 of 5 stars
First of all, do realize that this is not written as a theological treatise. This book does not use "Christianese," and the reader will not find scholarly terminology nor a deep exploration of Apologetics. This is written on a basic level, and the author is able to write in such a way that he will not be easily misconstrued. Do know that this is written for Christians–I do believe that non-believers would be baffled and offended. The book covers an amazing array of topics concerning the rejection of the gospel, and each is handled fairly well. I honestly have no criticism concerning any of the sections nor chapters.
The best portion of the book to me was the realization that Christians are not called to judge non-Christians. This is something I did long ago, but I have found that in recent years, I have not. It was a definitive validation for the author to back up what I believed with Scripture. I probably would have appreciated a bit more scholarly work, but I appreciated that he referred to one of the greatest apologists in Christendom–C.S. Lewis.
I was sent a copy of this book in exchange for my honest review. I was not financially compensated, and all opinions are 100 percent mine.
Be sure to follow the entire tour!
Interested in subscribing to all my site's updates? Subscribe below!