From Clint Eastwood comes The 15:17 to Paris, which tells the real-life story of three men whose brave act turned them into heroes during a highspeed railway ride. In the early evening of August 21, 2015, the world watched in stunned silence as the media reported a thwarted terrorist attack on Thalys train #9364 bound for Paris—an attack prevented by three courageous young Americans traveling through Europe. The film follows the course of the friends' lives, from the struggles of childhood through finding their footing in life, to the series of unlikely events leading up to the attack. Throughout the harrowing ordeal, their friendship never wavers, making it their greatest weapon and allowing them to save the lives of the more than 500 passengers on board.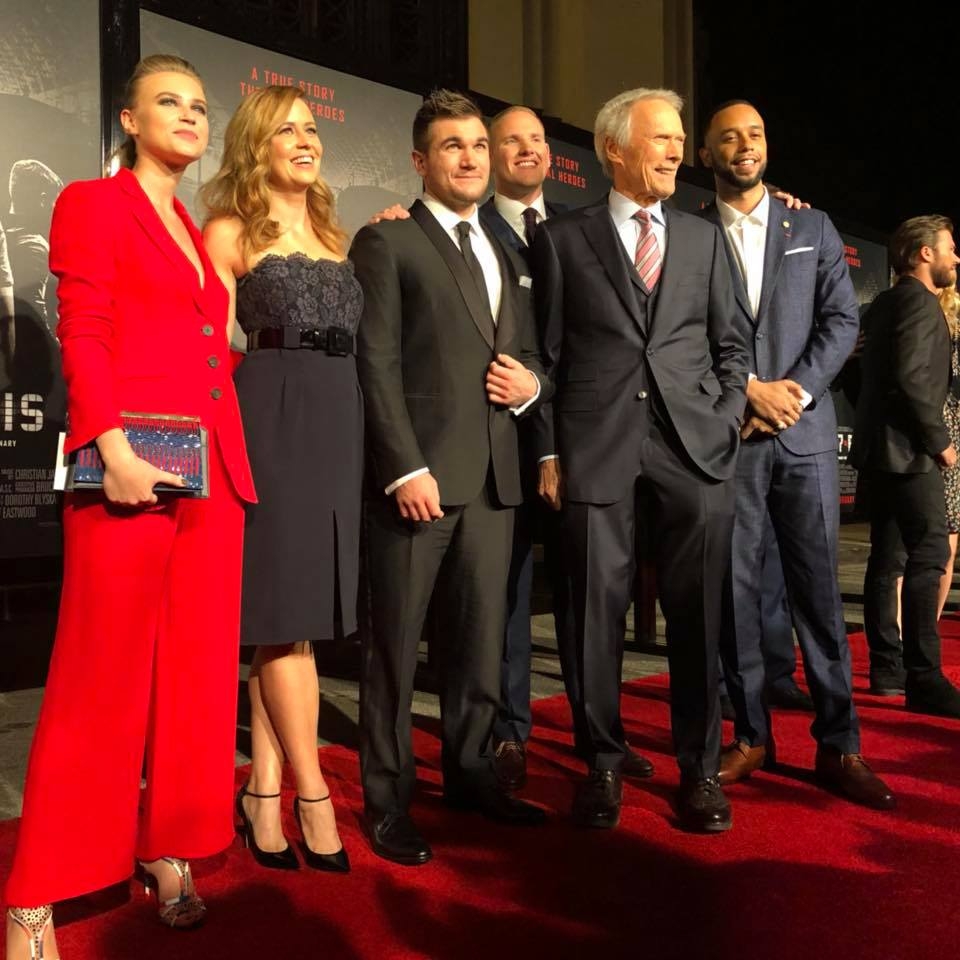 The heroic trio is comprised of Anthony Sadler, former Oregon National Guardsman Alek Skarlatos, and former U.S. Air Force Airman First Class Spencer Stone, who play themselves in the film. Starring alongside them are Judy Greer (War for the Planet of the Apes); Jenna Fischer (Hall Pass, TV's The Office); P.J. Byrne (The Wolf of Wall Street); Tony Hale (TV's Veep); and Thomas Lennon (Transformers: Age of Extinction). William Jennings plays the younger Spencer, Bryce Gheisar plays the younger Alek, and Paul-Mikél Williams plays the younger Anthony.
Eastwood (Sully, American Sniper) directed from a screenplay by Dorothy Blyskal, based on the book by Anthony Sadler, Alek Skarlatos, Spencer Stone and Jeffrey E. Stern. Eastwood also produced the film, along with Tim Moore, Kristina Rivera and Jessica Meier. The film's executive producer is Bruce Berman. Behind the scenes, the creative team includes frequent collaborators Tom Stern, who served as cinematographer on 13 of Eastwood's previous films, and Deborah Hopper, who has served as Eastwood's costume designer on 17 prior films; editor Blu Murray, who most recently cut Sully, and that film's composer, Christian Jacob. Kevin Ishioka, whose work can be seen in Sully and in Dunkirk, serves as production designer.
Warner Bros. Pictures Presents, In Association with Village Roadshow Pictures, A Malpaso Production, The 15:17 to Paris. It will be distributed worldwide by Warner Bros. Pictures, a Warner Bros. Entertainment Company, and in select territories by Village Roadshow Pictures.
The film has been rated PG-13 by the MPAA for bloody images, violence, some suggestive material, drug references and language.
It will be released February 9, 2018.
I had the honor of interviewing these three heroes who play themselves in this film. These men have kept an extremely busy schedule in their promotion of this film, so the fact that they took a little time to answer my questions means an imeasurable amount to me.
RH: What can you tell us about being contacted by Clint Eastwood to play yourselves in the film? How were you approached and what was your immediate response?
SPENCER: Never in a million years would we have thought that we would've been involved in the terrorist attack and then two years later be playing ourselves in a movie about what happened, directed by Clint Eastwood. None of us saw that coming.
ANTHONY: Working with Clint Eastwood and taking his direction every day, being on one of his sets, that was a once-in-a-lifetime experience. We wouldn't have expected us to ever be in a film like that.
Since you are not professional actors, what was it like your first day on set? How did the cast and crew response to you? How did you feel on set?
SPENCER: We had enormous trust in Clint Eastwood and the people that work with him. Everyone was extremely invested in the story and getting everything right. That's something we really appreciated.
ANTHONY: The fact they even asked us — would check in with us while we were shooting – asking "how do you feel?" "Did this happen?" "If it didn't happen this way, tell me and then we'll change it." That made us more comfortable throughout the whole process. We kept thinking, "we actually do have input. He does want to get the story right."
What was it like reliving this experience? Thankfully, it had a positive outcome, but what were your emotions/feelings after wrapping the film and reliving this day?
SPENCER: I was raised in a Christian home, my entire life. Went to church every Sunday with my mom and brother and sister and Wednesday night church too. I believed my entire life. GOD for me is someone that is always there and always will have my back, whether it's a good or bad situation. And it's in the Bible, HE's not going to put you through anything that you can't handle.
I think that's what I fell back on in the moment on the train. I didn't necessarily at that second think, "GOD's got my back," but I knew it. There was an opportunity to do something good. I believe those are the times where we're vessels to be used by HIM, to do HIS work. And it was an honor to do something that good.
ANTHONY: I've been going to church all my life. My dad is a pastor. He became a pastor when I was older. We were a strong Baptist household. We went to church every Sunday, all the services. My family is Christian, faith-believing and, I've grown up that way. As far as on the train that day, GOD had HIS hand on us, because so many things could've went the other way for us.
The fact that they went the way they did, it's divine intervention. We knew HE had HIS hand on us, because of the calm that we had us as we were falling into our different roles that day – looking back on it in hindsight. That calm, I know where that comes from now that I've had a chance to evaluate that day. I'm thankful that HE had HIS hand on us that day.
ALEK: I've grown up next to Spencer's family. We went to the same church for the longest time. We all met in a Christian school. I've been to church pretty much ever since I can remember. If you look at the statistics of everything that happened, the odds of being in a terrorist attack are astronomical, the odds of surviving it, the odds of surviving it and being the ones that stopped it.
There's so many little circumstances. The odds of our exact situation happening to us are too astronomical to believe that it was purely chance, especially when you look at the fact that we were thinking about staying in Amsterdam another day and we didn't. The fact that we moved seats from coach to first class. So many different little things that are hard for even us to remember – all the different circumstances that put us there in that exact time and place. It's too coincidental to be chance. GOD had a hand in it because we shouldn't be here today, to be honest.
The fact that all three cite a relationship with God as being the key that got them through this ordeal is something that resonates with me on a profound level. There is no doubt in my mind that the hand of God was in not only this memorable event, but the fact that Hollywood has chosen to tell the story in such a unique and realistic way only engenders even more enthusiasm and awe for a movie that is certainly unique in its retelling of a true story. What a novel idea! I commend Cint Eastwood and all who confidently stepped outside the confines of what might be considered the norm and attempted something just a little bit different. I hope that everyone considers going to see this epic motion picture!
CONNECT WITH THE 15:17 TO PARIS
Once you begin to discover who you are, then you will really realize how you have been given authority over your life.