A few weeks ago, I had the opportunity of being on a guest on the fantastic Hallmarkies Podcast where we discussed our top 2017 Hallmark Non-Christmas Movies. Rachel and Amber are the creative ladies who created this fantastic show, and this was my second time to be their guest. We agreed on some of the movies, but regardless of our personal reasons why we chose the ones we did, we had a blast discussing Hallmark movies!
Things have been insanely busy, but I decided it was high time to break my list down a bit for those who perhaps didn't see the podcast. And the original podcast can be accessed at the end of this post.
10. Eat, Play, Love
A young veterinarian returns to her hometown and realizes that her former high school sweetheart, now engaged to an insufferable diva with whom he plans to move to New York in a month, is the only guy she's ever really loved. With the urging of his sister, Dr. Carly Monroe has just 30 days to make him see what she sees – that they are perfect for one another.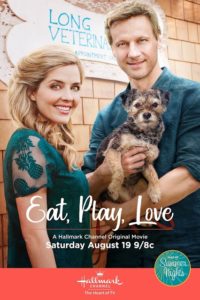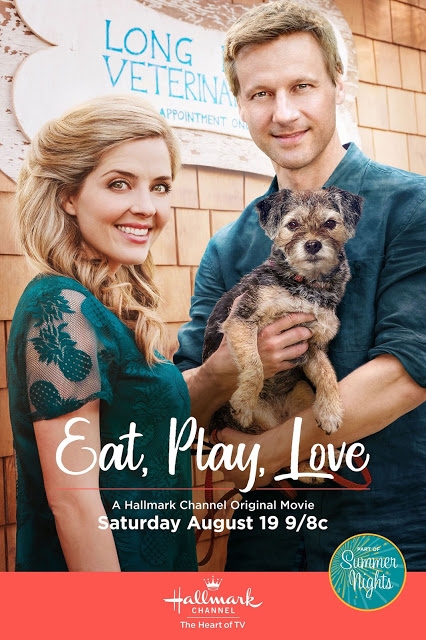 This one was special for me in so many ways. The best part of this one was it was Jason Cermak's first lead role with Hallmark, and as one who has followed his career since he was on When Calls the Heart, this was so special.
Also, this one stars Jen Lilley, and I was able to connect with her during this film in a very special way. Additionally, Christie Will directed it, and we also saw a reunification of Lee Majors and Lindsay Wagner (The "Six Million Dollar Man" and the "Bionic Woman"). Oh, and Lucie Guest was in this one too. Did I mention it was a cute storyline with lovely dogs?
9. All Of My Heart Inn Love
When Jenny and Brian inherited a quaint bed and breakfast called Emily's Inn the last thing they expected was to fall in love, especially since they are complete opposites. She's an easygoing, caterer from Connecticut with a touch for conjuring up delicious dishes while he's a hard-driving, Wall Street type with a knack for wheeling and dealing.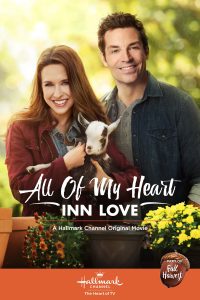 I understand the criticism this movie experienced, and I have not had the opportunity to review this film yet (I will), but anyone who knows me should not be surprised that I placed this one in my Top 10 offerings. I absolutely adore Brennan Elliott professionally and personally, and he and Lacey Chabert have such incredible chemistry that it reminds you of the classic actor match-ups from old Hollywood (Fred Astaire/Ginger Rogers, William Powell/Myrna Loy, Spencer Tracey/Katharine Hepburn). Additionally, I was one of the original fans who helped the campaign for a sequel to the first All of My Heart, so how on earth could I not revel in this fantastic film?
I did have the opportunity to interview one of the up and coming young stars as well.
8.  Darrow & Darrow
Claire Darrow is a small-town lawyer with a passionate commitment to standing up for the little guy so she steps up without hesitation to defend a local donut shop owner accused of an after-hours jewelry store robbery. Proving his innocence is an uphill battle and Claire's only hope is to uncover evidence exonerating her client.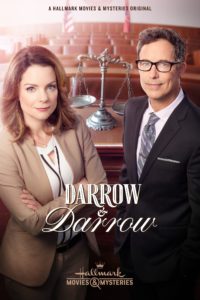 This movie was just so different from the typical mysteries series that are currently found on Hallmark Movies & Mysteries, and the fresh, original take definitely made this a winner for me. And the cast–absolutely fantastic! I am so glad that another film has been shot and another one has been greenlit. Oh, and it helped that Lilah Fitzgerald, Alison Wandzura, and Sidney Grigg were in it. Oh, and recently, I chatted with the writer, Phoef Sutton, as well.
7.  Concrete Evidence: A Fixer Upper Mystery
When home renovator extraordinaire Shannon Hughes (Jewel) finds a human skull in the basement of her current project, she sets out to discover who is behind the mysterious death by piecing together clues left behind in the victim's hidden diary. With the help of her new client, famous crime reporter and author Macintyre "Mac" Sullivan (Ferguson), together they follow the trail to Shannon's old high school to nail the culprit.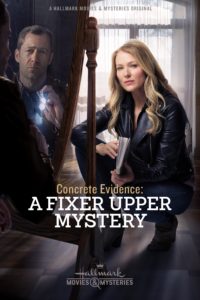 Who would have to sell me on a movie with Jewel? No one! And when you add Colin Ferguson, Jason Cermak, and Colin Lawrence to the cast, how do you improve upon that? Everything worked so well in this film, and Jewel and Colin made such a terrific on-screen duo. I am glad more are on the horizon.
6.  An Uncommon Grace
An army nurse returning from Afghanistan discovers her purpose in a rural Ohio farm community, along with a deep connection with a neighbor whose conservative Amish sect strictly forbids relationships with those outside his church community.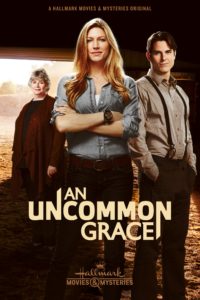 I am probably just a bit obsessed with the Amish, and adding in a murder mystery to boot made this one quite memorable. Oh, and of course, there was Cory Scott Allen who hoodwinked me, and there was also the phenomenal Pamela Daly. This is one of those mysteries that is beautifully shot and incredibly memorable. I hope more in the series are made into films!
5.  Hailey Dean Mystery: Dating is Murder
Hailey Dean (Kellie Martin), an acutely observant former prosecutor turned therapist, is introduced to her friend Pam's (Michelle Harrison) brand new boyfriend, and then Pam suddenly vanishes in the midst of the sale of her late parents' wealthy estate and home. At the same time, Hailey is repeatedly haunted by memories of a past tragic incident, and seeks help to understand why she is reliving the nightmare — so she can finally move forward.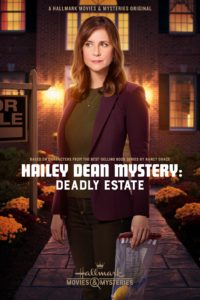 I love Kellie Martin, and I love mystery. And in this latest offering from Nancy Grace, I was mesmerized. For me, this one was the edgiest of the mysteries Hallmark had produced to date, and the story truly made you stop and think. Well, I love Viv Leacock, Matthew MacCall, Giacomo Baessato, and Toby Levins too!
4.  Garage Sale Mystery: Murder Most Medieval
Garage sale shopper extraordinaire and amateur sleuth Jennifer Shannon (Lori Loughlin) follows the trail of a killer after discovering a dead body in a suit of armor purchased for her client.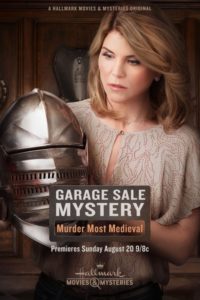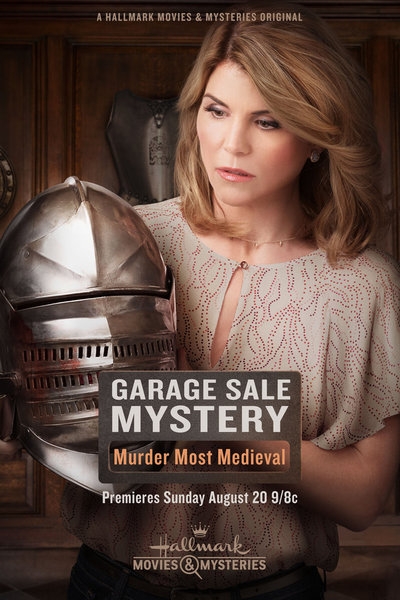 No one who genuinely knows me would be surprised to see this movie featured here. I would say Garage Sale Mystery is easily the most successful of the TV franchises in Hallmark history, and this one featured a very dear friend of mine in addition to the regular cast.
Of course, there was Connor Stanhope, Kevin O'Grady, Jay Brazeau, but we also got to see Aren Buchholz and Andrew Dunbar. But it had one of the most amazing guest stars ever–my friend Sebastian Spence. (For the record, I did recommend he take the role when he said it was offered to him. While I wasn't probably all that instrumental in his ultimately accepting the role, I'd like to say I had a hand in convincing him! 🙂
3.  My Favorite Wedding
Tess Harper, a bright and resourceful young doctor, who can seemingly handle any problem, is paired with the best man time after time during the week leading up to her best's friend's wedding to save the event from one impending disaster after another. By the time the bride and groom say "I do," however, Tess realizes that perhaps her own longtime boyfriend may not be the right guy for her "to have and to hold" after all.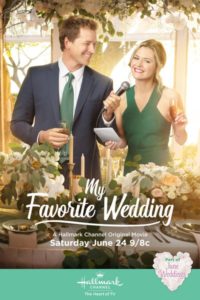 So, again, I doubt I need to defend why this one is towards the top of my list. Just say Paul Greene, and nothing else need be said. Of course, there are so many stories associated with this one. But as I told Peter Benson, he got the girl for a change, but poor Giles Panton had a difficult time getting his intended as per normal. This one was cute, fun, and quite entertaining as Maggie Lawson and Paul bantered on-screen. I was delighted!
2.  The Perfect Bride
Fitness trainer/former marriage counselor Molly White (Pascale Hutton) runs Bridal Boot Camp: classes combining fitness and yoga with pre-marital counseling exercises to brides and grooms before their big day. While struggling with marital issues from her own past, Molly meets the handsome Nick Dyson (Kavan Smith), a talented photographer who seems to be having doubts about his upcoming marriage to Molly's client, an overbearing perfectionist. While helping couples find their happiness and begin their new lives together, Molly discovers she, too, needs to learn how to forgive herself for the past so she can move forward with life and love in her future.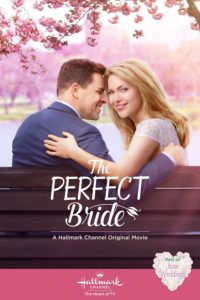 I have had the supreme joy of meeting both Kavan Smith and Pascale Hutton, and again, these two are an on-screen match made in Hallmark heaven. This movie is so incredibly delightful that every time I turn it on, I am sucked in even more. Oh, and Debs Howard was a personal favorite for me! As was Anna Van Hooft! Here's hoping that sequel happens!
1.  Signed, Sealed, Delivered: Higher Ground
After Hurricane Katrina, New Orleans handyman and blues singer-songwriter Gabe Recolte (Keb' Mo') was bereft. Left homeless and heartbroken, he had been forced to evacuate and relocate before he could tell club owner Hattie (Holness) how much he cares for her. Gabe poured his deepest feelings into a letter but how will it reach her now, in a city where so many addresses no longer exist? It's an unusual challenge for The Postables, dealing with a still struggling, post-storm New Orleans.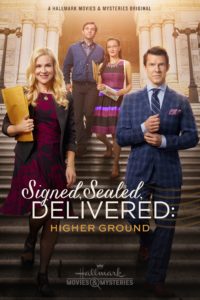 Sometimes people doubt my devotion to the Signed, Sealed, Delivered franchise because I do not post about is 24/7. I honestly throw my support behind all things Hallmark, and that is what I shall continue to do as long as they remain the family-friendly network they are currently. However, Postables always hold a very special place in my heart, and as I have interviewed all four lead actors (as well as many of the supporting characters), I cannot begin to tell you how much this show has personally impacted me. I will forever remember how Eric Mabius was an impetus for my even getting into interviewing, and Kristin Booth has continued to branch out (along with her husband). This movie was one of the best ever of the series as the story was relatable and heart-rending at times.
It is perfectly all right for people to disagree with me (as you will see in the video podcast below), and I would love for all of you to submit your own Top 10 lists on this post or on social media. I love getting to read a variety of perspectives, so please jump on in! And feel free to watch what has become a top-rated episode for this fantastic Hallmarkies Podcast!