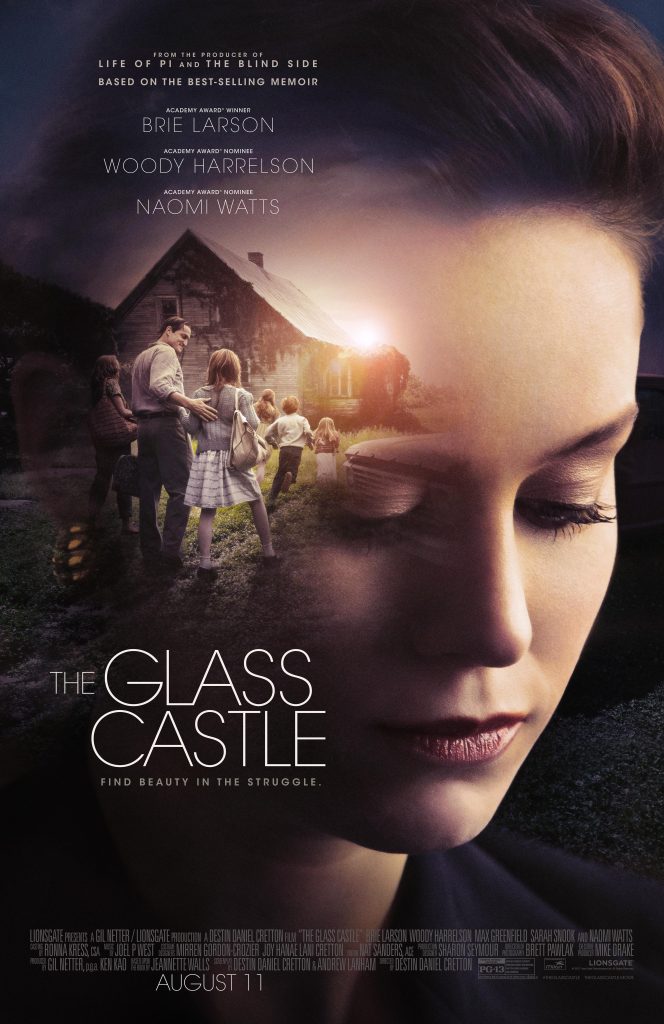 Based on the best-selling memoir written by Jeannette Walls, Oscar® winner Brie Larson (2015, Best Actress, Room) and Oscar® Nominee Woody Harrelson (2009, Best Supporting Actor,The Messenger) star in The Glass Castle, on Digital HD and Blu-ray™ (plus Digital HD), DVD and On Demand NOW from Lionsgate. Hailed as "one of the must-see movies of 2017" (Vanity Fair), The Glass Castle chronicles the adventures of a young girl growing up in a dysfunctional family of nonconformist nomads. From the producer of The Shack and The Blind Side, the film also stars Oscar® Nominee Naomi Watts (2012, Best Actress, The Impossible) and Golden Globe® Nominee Max Greenfield (2013, Best Supporting Actor – Television, "New Girl").
Chronicling the adventures of an eccentric, resilient and tight-knit family, The Glass Castle is a remarkable story of unconditional love. Larson brings Jeannette Walls's best-selling memoir to life as a young woman who, influenced by the joyfully wild nature of her deeply dysfunctional father (Harrelson), found the fiery determination to carve out a successful life on her own terms.
Directed by Destin Daniel Cretton (Short Term 12) and written for the screen by Cretton & Andrew Lanham, The Glass Castle features all-new bonus content including a behind-the-scenes featurette and deleted scenes, and will be available on Blu-ray and DVD for the suggested retail price of $39.99 and $29.95, respectively.
BLU-RAY / DVD / DIGITAL HD SPECIAL FEATURES
9 Deleted Scenes
The Glass Castle: Memoir to Movie
A Conversation with Jeannette Walls
Making of "Summer Storm" by Joel P West
Scoring The Glass Castle
I was sent a copy of the DVD and a lovely paint-by-number kit inspired by the film in exchange for my honest review. I was not financially compensated in any way, and all opinions are 100 percent mine.
First of all, please note that this is based on a true story, and there are many disturbing details that more sensitive viewers may find offensive. There are multiple times in which some profanity is used, and while the "F" word is never used, about everything else is used, including the name of God. I wasn't overly bothered by these words. While I don't choose to say them, I realize that this is based on reality, and a good share of people use these terms in colloquial, everyday language. There were some references to sex, but nothing was shown that was offensive as far as that goes. Many times, I found myself moved and angered by what I saw, but I am a mother, and seeing how these children lived at times truly bothered me.
As far as the actors and the way in which the film was shot, I couldn't find fault. In fact, Brie Larson portrays Jeanette incredibly well. I honestly connected with her character immediately. As her father, Woody Harrelson plays the character almost too well. I never found myself on his side. I wanted to see him turn his life around and stop living what I felt was a pretty selfish life. I cannot see how it was ever a good thing for him to force his family (especially his children) into a nomadic existence. I understand that he is promoting free thinking, but I couldn't see the benefits.
For me, the story was not nearly as engaging as I would have liked. It would have been nice to have seen a backstory for her father and mother because I felt I never understood them. If her father was sexually abused as was implied, I would have liked to have seen that explored on a much deeper level. And the ending was quite confusing for me. I couldn't understand how and why the father's death reunited everyone.
As for what worked, it was a reminder that judging people by exterior things and hiding behind a facade is never a wise or healthy thing. It also demonstrates how change is possible, but one should never sacrifice who he/she is in order to attain something as superficial as social rank, power, or money. Always be true to yourself, and at the end of the day, family is the most important thing on this earth. Or at least one of the most essential.
While I am not overly enamored with the story, it does not mean that this movie does not have merit. I was happy to give the paint-by-number kit to my daughter, and she was amazed at how intricate it is. She will probably paint it at some point. If I had to rate this movie on a scale of one to ten, I would give it a five or a six. Evidently, the real Jeannette was fairly pleased with the film and the way it depicted her family story.