Since I had the honor of attending the third Hearties Family Reunion in Vancouver in October of last year, I was one of the first to hear about the now soon-to-be-released devotional entitled When God Calls the Heart: Devotions From Hope Valley. I was well aware of Brian Bird from his TV and movie works, but Brian did not write this devotional alone. At the convention, Hearties were introduced to Michelle Cox, who co-authored the book with him. Until that point, I admit I had not heard of her nor her writings, but I quickly rectified that situation as I purposed to preorder my own copy of this highly-anticipated book. And Michelle was kind enough to agree to a brief interview in anticipation of this upcoming devotional. Accordingly, I now feel as though I have gained a bit of insight into this amazingly gifted and godly woman that I now share with my lovely readers.

RH: What inspired you to become a writer/speaker? 
MC: I actually never planned to become a writer. I was deep into politics and loved it, but as so often happens, God had other plans. I'd compiled a cookbook to welcome my son's fiancé, Lydia, to our family, and invited our family and friends to submit their favorite recipes. I wrote stories about the folks who submitted them and then finished with letters to my son and future daughter-in-law.
After the bridal shower, I gave a copy of the cookbook to my pastor's wife. My pastor called me soon after that and told me I needed to do something with my writing. Long story short, those words led to me attending the Blue Ridge Mountains Christian Writers Conference where I got my start. The rest is history. It's amazing what God can do in our lives when we bring Him nothing but a willing heart.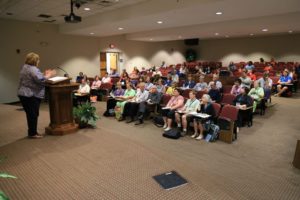 What kind of training did you receive?
God sent me some wonderful mentors who shared from their vast experience in the writing world. I attended sessions at conferences for writers, and studied everything I could find—and over the next few years, I also came to realize that God had already equipped me with many of the skills and talents I would need for the new job assignment He'd given me.
How has your faith guided your decisions and pursuits within the world of writing and speaking?
My faith guides everything I do—but especially in the world of writing and speaking. I'm totally dependent on Him and I want to be sensitive to His leading. One of the first things I did as a new writer was to put together a prayer team to pray for me and my writing, and I couldn't do what I do without them praying me through.
Before the upcoming When God Calls the Heart: Devotions From Hope Valley, what were/are some of your most well-known pursuits/works?

Just 18 Summers, Mothers Who Made a Difference, and Simple Little Words: What You Say Can Change a Life are probably some of the better-known books. I have a syndicated parenting blog (just18summers.com) with a staff of wonderful writers, and would also love for folks to join me each Monday and Thursday on Guideposts.org for my "Life with a Southern Grandmother" column.
Before When Calls the Heart, how would you describe your viewing relationship with Hallmark programming?  And since WCTH came along, how has your viewership (if any) changed?
I've been a long-time viewer of Hallmark programming. I watched (and loved) Love Comes Softly and have been a huge fan of When Calls the Heart from the first episode. It's extra fun watching the series now that I've been on the set and met the cast and writers of the show.
How long have you known Brian Bird? What sparked the idea for your collaboration on this Devotional? 
I guess you could say that it all started with pizza. Both of us were on faculty at the Blue Ridge Mountains Christian Writers Conference last May. Some of the faculty went into town for pizza at the end of the sessions one evening, and Brian and I just happened to sit next to each other that night (or so we thought).
We met at a film conference about seven or eight years ago and have been on faculty together at conferences numerous times over the years. I've been a huge fan of Brian's TV show When Calls the Heart since the first episode, so I was glad for an opportunity to spend a little time with him.
I delivered my seven-year-old granddaughter's message that she "just loves it when Jack and Elizabeth kiss" and that she wanted him to make that happen more often on the show.
We talked for a bit, and then Brian mentioned that he'd always wanted to do a devotional book based on the series, but that he knew there was no way to get the book done in time for the new season in 2018. I've written quite a few devotional books and I told him I thought I knew one publisher who might be able to make that happen.
We kept talking, and before the evening was over, we'd decided it made sense for the two of us to work together on the book. I emailed my publisher and asked if he'd be interested, and two minutes later, I had a reply with "Yes, we want to do this book!" We had our first conference call the next day and had When God Calls the Heart finished by the end of July. We have 40 devotions based on episodes of the show, quotes from some of the favorite "citizens" of Hope Valley, Bible verses, and questions for reflection—and the book is filled with photos from When Calls the Heart. It's so clear that this is God's project. Only He could have pulled this together so quickly, and I love it that His fingerprints are all over what we're doing. (Folks can get more info at WhenGodCallstheHeart.com.)
Once you decided to go forward with this project, how long did that process take? Any notable stories you'd like to share from that process? 
Everything with this project has moved at warp speed. We first talked about the idea on May 23. I emailed my publisher that night. We had our first conference call the next day, turned the manuscript in at the end of July, and received a release date of February 1. I think the speed with which everything moved was probably the most notable part of this, especially since both of us had numerous other projects at the time.
What do you hope readers will gain from this devotional?  
We hope they'll become aware that God-moments can be found in every day if we'll just look for them. We hope they'll leave the pages of the book with hearts that have been drawn closer to God and with a deeper determination to serve Him. And we hope they'll discover what Elizabeth Thatcher did when she left her life of luxury and headed West to teach school in Coal Valley: When God calls the heart, we can expect an adventure.
Any other books/speaking engagements/etc coming up that you'd like to mention? 
We have two more books coming up in the When God Calls the Heart series. When God Calls the Heart for Christmas (a combo devotional and keepsake book) and a companion journal will release in September 2018, and Love from Hope Valley (working title) and a companion journal will release in February 2019.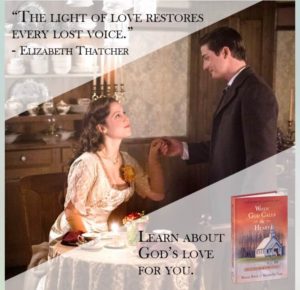 Since you are a Christian, what do you see as your role/ministry on your time remaining on this earth? What would you like God to ultimately and uniquely accomplish through you?
I want to use up every scrap of talent that He gave me, and I want to leave behind a legacy of a mom/grandmama/woman who loved and served God, my family, and others.
Do you have a lifetime verse/quote? 
Proverbs 3:5-6 have been my life verses. As far as a quote, I don't know who the author was, but one of my favorites is "Have you prayed about it as much as you've talked about it?"
Speaking of devotionals, do you have any long-standing favorite or go-to devotionals or Christian reference books?
I love Streams in the Desert. I've read it numerous times and get fresh insights every time I read it.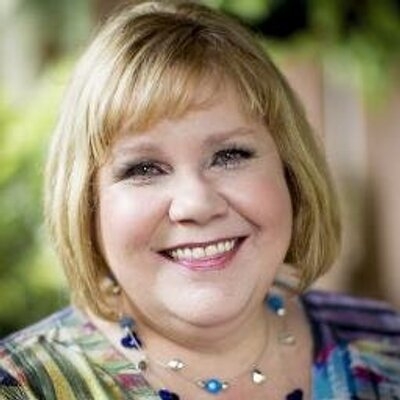 What impresses me the most about Michelle is her simple but strong commitment to God in everything she does. Sometimes, Christian authors and speakers will coercively seek to inject God into everything they do and say, and the result is rather affected–not organic or sincere. Unfortunately, some authors and speakers will race to the other extreme, waxing eloquently about psychology and scientific concepts, while only inserting God as a mere afterthought. Finding authors, writers, and ordinary Christians who genuinely follow God in every part of their lives can all too often be a struggle in this post-modern world of ours. While I certainly don't claim to be perfect (another pitfall some Christians encounter which only leads to hypocrisy and Pharisaic tendencies), I believe that the intent of the heart is paramount and should guide all decisions and plans, even if a believer's judgments are once in a while misguided.
In my humble opinion, Michelle seems to emit that same aura that I perceive from other creatives who write from a sincere place of faith and grace. There is no doubt in my mind that God permeates every portion of Michelle's life, and the fact that she has so readily accepted the calling God has placed on her life is an inspiration to someone like me who also was propelled into a world she never expected to join. Being in any kind of position of leadership or having people look to you for spiritual inspiration can be rather overwhelming and daunting at times. But Michelle's focus is such that God is her anchor, her rock, and so much more, and I, for one, can hardly wait to read this devotional that I know the Lord birthed within the hearts, souls, and imaginations of Michelle and Brian.
So please take a moment to check out all of Michelle's links below and consider following her where applicable. Additionally, I would invite everyone to follow the link below to order your own copy of what I am confident will be a devotional that will immediately become one of my favorites. As I have loved When Calls the Heart from the very beginning, this is clearly an extension of that beloved show commingled with spiritual insight that has become a necessity in our society today. In a world plagued with darkness and sin, I am exhilarated that Michelle has followed the Lord's leading and shared the one and only Light of the World in a creative, motivational, and artistic way!
FOLLOW MICHELLE