In my ever-vigilant quest for new family-friendly fare that is offered on a variety of accessible networks, I was quite ecstatic to discover that one of the stars of the upcoming UP premiere this weekend, Runaway Romance, was eager to answer a few questions about her career and her experiences with this film as well as her works with Hallmark and elsewhere. While her name was unfamiliar to me, once I investigated her credits, I realized I had seen her more times than I had realized.
RH: Why did you decide to become an actress and what kind of training have you had?\
GS: Acting was a hobby for me for as long as I can remember. I auditioned for my first play in kindergarten. It wasn't until college that I began taking the steps needed to turn it into a career. I have a bit over a decade of formal training in scene study and improv. I've also been a teacher and coach for The Michael Woolson Studio in Los Angeles for four years.
Please tell us a little about one of your first professional roles and what was most memorable about it.
One of my first roles was playing the live-action version of a cartoon superhero, Gwen Tennyson in Ben 10: Alien Swarm. It was an honor to play a beloved character with a loyal fan base, and although she was only fifteen, she was a smart fighter and protector. Definitely a strong female role and I'm still friends with people I worked with on that project.
I believe you have been in only one Hallmark film Operation Cupcake. What did you enjoy most about that role? In general, what do you like about working with the Hallmark network?
Yes, that's true. It was the same production company (Larry Levinson) as the one for Pixl though which was nice. It's always good to work with the same folks. In that move, I played the daughter of Dean Cain and Kristy Swanson… so being the kid of Superman and Buffy the Vampire Slayer was awesome! I also met Mike Manning, who played my boyfriend in that movie. He's still a friend today. I like doing Hallmark movies because they make you feel good. You know they will turn out to be uplifting and are a safe bet when you need a nice escape. I also like that they have a code of decency that means I can share it with anyone, without worrying about adult themes, nudity, and language.
Please tell us about how your experience with The Middle. What do you enjoy most about your character and your time on that show?
I love playing Cassidy Finch and I love everything about The Middle. It's run by women and they create great female characters. It's funny and well-written. It's a true family show and it can be hard to find those on networks these days. I'm very proud of my time on The Middle.
I believe you were a part of Law & Order: True Crime that premiered this fall. Since this is based on true events, what was it like portraying a real person? What can you tell us about your role?
Yes, I was in multiple episodes of True Crime – The Menendez Murders. I played Annie, who was one of the real jurors on Erik Menendez's jury.  Not much is known about most of the jurors, with the exception of one who wrote a book. All that is public about Annie is that she was twenty-five, so I had free reign to create her how I chose. The details of the case are such that I didn't have to prepare much – murder, abuse, lies, pain. Just listening and reacting genuinely fit. It was really tough to sit through some of that testimony. I can only imagine what it would have been like to actually have sat on that jury for all those months.
You are also in a Pixl film called A Moving Romance. What can you tell us about that film and your role in it?
 I played Lily. In that movie, my friend is trying to set me up with her best guy friend. But of course, we don't work out and they realize they are in love with each other. Classic love story!
Recently you finished filming Runaway Romance. What do we have to look forward to in this film? 
 Runaway Romance was an amazing experience. The director was a dream, my co-stars were amazing, and the producers were top-notch. I play Sarah, an Amish widow who is torn between two worlds… running the inn that she had shared with her husband, but that the elders in her community disapprove of, or remarrying and accepting a traditional wife role to make everyone happy. This movie will mix the world of Hollywood and cell phones and magazines with the world of the Amish. I think it will turn out really nice.
And I developed a great friendship with my costar Dani (Danielle Chuchran).
 Any other upcoming works you can mention?
Nothing else I can talk about at the moment! A couple things in the works I'm excited about.
Do you have any plans to eventually write/direct/produce?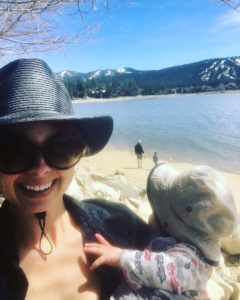 I am a writer, although since I've had children (I have two young boys) it's taken a bit of a backseat. I'm not ambitious with it; I write because I enjoy it and I think I'm good at it. If it ever turns into something professional, that would be OK. Sometimes I just like to create things and put them out there and just see where it takes me. I don't have ambitions to direct or produce, but I think if an opportunity was right and was important to me, I'd consider it. Those are both so difficult – just as tricky to get work as actors. I don't want to downplay those professions! At this point in my career, I don't think I'm qualified.
What is your favorite season of the year and why?
Fall! I love Autumn. We don't get as much of the weather here in Southern California, but I pretend with candles and snacks. I think I love fall because of all the family time – all of our birthdays fall between September and December. Then you have Halloween, Thanksgiving and Christmas right in a row! I'm definitely the type to decorate early and listen to Christmas music by October.  In fact, before October even comes around, I am typically planning on getting out my Halloween decorations!
As I came into the interview with very limited knowledge of Galadriel, she completely overwhelmed me with her professionalism, positivity, and overall enthusiasm. She is quite an accomplished actress with a wealth of assorted credits to her name, and as I began to reflect on the movies in which I had seen her, it was easy to discern why she is such an amazing industry professional. Not only that, but she is a young mother who maintains a well-rounded lifestyle and a sense of balance between her acting career and family life. There is no doubt in my mind that this woman is grounded, and I believe we can expect even more incredible works from her as the months and years proceed.
I know that the weekends are often busy with Hallmark films, sports, and more, but I hope that everyone will tune in this Sunday (January 7th) to the UP Network and watch (or at least set your DVR) for the premiere of an engaging movie, Runaway Romance, that blends two worlds that couldn't be more diverse–the world of the Amish and the world of Hollywood. Furthermore, seizing the opportunity to witness the dazzling, beautiful and vivacious Galadriel in a role that is certain to entertain and enchant all viewers is one of the things I anticipate the most. I would also invite my readers to check out all of Galadriel's links below and follow her where applicable. I don't know about you, but I believe I have added a new actress to my "watch list" because if I don't miss my guess, Galadriel possesses everything that a young actress should have in order to be truly successful in this all too often capricious business: poise, grace, elegance, beauty, talent, charm, but above all–modesty and a reliable work ethic. In my humble opinion, Galadriel is one of the brightest of the young starlets I have observed in some time, and I can hardly wait to watch her star continue its steady upward spiral towards the attainment of all her hopes and dreams!