Up and coming talent is something I relish featuring in my interviews, and so when Corey Woods was brought to my attention through her fantastic agent, I immediately jumped on board and agreed to interview her. After all, she has a supporting lead in Hallmark's Love On the Slopes, the first of the Winterfest premieres happening today (January 6th)! It was a pleasure and an honor to discuss Corey's career with her as well as to learn a bit about her passion and drive.
RH: What were some of your earliest inspirations that caused you to want to pursue a career in acting?
CW: My very first inspiration to become an actress had to be Amanda Bynes. I started watching The Amanda Show when I was eight and I fell in love with her playful personality. She always looked like she was having so much fun! When I found out that you can do that as a career and get paid for it, I was in! As I got older and my taste in films and TV shows became more, let's say, "matured", I was captivated by the works of acting gurus such as Cate Blanchett and the beloved Meryl Streep. Even so, I still have a sweet spot for feel-good shows.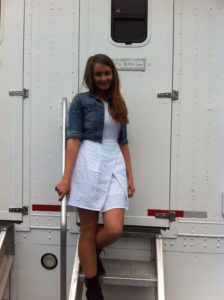 Since you come from a small town, what was it that encouraged you to pursue your dreams beyond your small town and head towards Vancouver?
When I was five years old, my mom put me in community theatre. I suppose it was cheaper than daycare! There were no boys in our little theatre group, but they decided to do a play of Peter Pan with an all-girl cast. Being the youngest thespian in the group, I naturally played the role of Michael Darling. My mom would tie my hair up under a cap before every show and would cheer me on after our curtain call. I was such a hit that they asked me to play the Christmas Tree in their Christmas musical. Even though there were no lines, I accepted the role.
Later on, my mom put me in dancing class where I fell in love with musical theatre. She made all of my costumes and drove me to all my lessons. I would say she was the one who encouraged me the most to not be afraid to go up on stage and face my fears. As my passion for the performing arts grew and I started drama class in high school, I knew there was no future acting career in my small town, so my mom suggested I look into Vancouver. She was so supportive of me moving there and pursuing my dreams.
Please tell us about your first professional acting job and what you remember most about it.
My first professional acting job was on The Unauthorized Saved by the Bell Story. I remember going to set and freaking out that I had my own trailer. I must have taken about a hundred photos and sent them to my most loyal fan – my mom – who was just as excited as I was. I also remember seeing Sam Kindseth, who plays Screech, on his skateboard cruising around the trailers. I told him that I could never skateboard but I wanted to learn how, and he said he would teach me! After nearly falling after the first five minutes of my lesson, I decided I'd better not risk breaking any limbs before my big moment on screen.
You've appeared in some Lifetime biopics of famous people. What have you enjoyed about being a part of these casts that tell true stories about icons in the industry?
I've really enjoyed learning more about the stories of these icons behind the scenes – it's allowed me to discover things about them that I never knew. In Britney Ever After, Britney and I go to spy on Brad Pitt's mansion. I had no idea that this really happened, but there's an interview of Britney confessing to getting a star map and driving up to his place! This is just one example.
Reading the script of Britney Ever After brought back memories of growing up and listening to her music. I was the biggest Britney fan as a young girl, so when I was cast as her hometown best friend, it was a dream come true!
You've been involved with some short films. What have you enjoyed most about working on these independent films?
I absolutely love working on independent films. As an actor, I find that you have a bit more freedom with your character and how you perceive them. You can explore ideas and take risks with the choices you make. On most of the films I have been part of, the directors have been heavily involved with my process and have given me ideas and feedback every step of the way. I find it to be extremely helpful knowing exactly what the director's vision is for my character before we go to camera. I also like that we can take our time with each scene. I can do a line ten different ways and I walk away from set knowing that I gave them lots of possibilities to choose from.
Your first Hallmark work was on Garage Sale Mystery: The Art of Murder. What did you appreciate about being on set with this cast and crew? What do you like about the Hallmark network?
The cast and crew on Garage Sale Mystery: The Art of Murder were absolutely wonderful! Sarah Strange was a pleasure to work with and so was Matty Finochio. Everyone was so nice. As I was in the makeup trailer getting ready to go to set, Lori Loughlin walked in and we chatted a bit about what she was going to do with her day since she was wrapped early. She was so sweet and very down-to-earth. I love the Hallmark movies because they tell heartwarming stories that I think most people can relate to.
Hallmark viewers will be able to see you in the first Winterfest film this weekend Love On the Slopes. What can you tell us about your role and the story without giving too much away? Any special behind-the-scenes moments you can share?
My character, Sarah, is the best friend of Cole (Thomas Beaudoin). She's very intuitive and can sense that he's starting to open up with Alex (Katrina Bowden). Knowing how reserved Cole can be with his feelings, she does what she can to bring the two of them together. At heart, Sarah is a simple, laid back, "go with the flow" kind of girl who loves adventure. She'll try anything once, twice if she likes it, and three times to make sure.
Sarah was a very interesting character for me to play. As someone who grew up doing competitive dance and gymnastics, the athletic side of Sarah was something that came somewhat easily for me. What made Sarah especially challenging for me to play is she is also an extremely talented artist, which you'll see in the movie! Drawing and painting have never really been my strong suits, so I prepared for the role by painting and drawing as much as I could before we started filming.
Once we went to set, I would doodle on my scripts while I waited in my trailer. I'm no Picasso, but I definitely got more comfortable with it.
All in all, I learned a new skill set and had fun exploring Sarah's different interests and hobbies. I'm excited for audiences to see her and the movie.
Any other upcoming works you can share?
Yes! I currently have three feature films in the works: Filthy Swine, Braindead and 13 Miles.
I think that Hallmark fans will really enjoy 13 Miles. It centers around a triathlete who devotes all of his time and energy into training, but I play a journalist who shows him that there's more to life than being an athlete. It's an uplifting story of people discovering themselves and growing in their own skin.
As a young woman coming into this business, whom do you see as your role models and those you look up to? Why?
I would have to say Cate Blanchett is at the top of my list. I just watched her film, Manifesto and boy, can that woman act! She plays numerous characters and her ability to morph into such broad and diverse characters is fascinating. She brings a truth to her work that is utterly captivating.
What kind of sports do you like to watch? To participate in?
I grew up as a competitive dancer from when I was four to sixteen so that took up a lot of my time. I still do like to take the odd dance class every now and then when I'm not filming or doing plays. I love watching shows like So You Think You Can Dance? – the routines on there are so creative and inspiring. It really makes me miss my dancing days.
I also really enjoy watching gymnastics. The things they can do are mind-blowing! I was in gymnastics for a few years, but I was too scared to jump from the low bar to the high bar! I definitely have a special admiration for gymnasts.
In your free time, what do you like to do?
In my free time, I like to go to the gym or take fitness classes. It's extremely important to me that I take care of my body and keep it in good shape.
I also love reading! I'm always asking people what they're reading and one of my friends lent me The Glass Castle by Jeannette Walls, which I just finished. It's a true story about her early life and the struggles that she faced before breaking free of that and becoming a successful writer. When I find a good book, I can't put it down and this was one of them!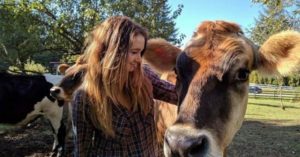 What causes/charities do you feel strongly about and how do you support them?
There is a farm just outside of Vancouver called The Happy Herd Farm that I volunteer with. It's a rescue sanctuary for animals saved from the meat trade. I volunteer at the SPCA, as well. I'm also a huge elephant lover and I'm planning to visit Thailand in April to work with a rescue organization called The Elephant Nature Park where they provide homes for distressed elephants used for tourism.
If it's not obvious yet, I love animals so much and the more I can be around them, the happier I am!
I honestly don't know what I appreciate about Corey the most. Perhaps it is her youth, vigor and fresh enthusiasm for the industry and the place she is carefully carving out for herself within this sometimes volatile world. Maybe it is her eagerness to throw caution to the wind and chase a dream that brought her to a new city where many arrive with massive dreams but very few actually invest the time and energy required to attain success. And then again, her expertise, her beauty, her training, her humility, her love of animals…I suppose it's safe to say that all of these attributes unite in a winsome way to create the joy, delight, and talent known as Corey Woods, and I couldn't be happier for the direction her career is heading. This is a young woman who is willing to do whatever it takes to accomplish her dreams without sacrificing her intrinsic values and essence. And for that, she earns my highest acclaim.
Please tune in to the Hallmark Channel tonight (January 6th) for the premiere of Love On the Slopes, the first of the four Winterfest premieres this month, and keep a sharp eye out for this charming young lady who plays an integral part in tonight's illustrious tale. I would also encourage my readers to visit all of Corey's links below and consider following her where applicable. This industry professional is on the precipice of virtual and authentic success, and I am enthralled to be a tiny part of it. I hope that everyone will join me as we watch her star extend its upward spiral in the days, weeks, months and years ahead!
FOLLOW COREY