I was sent a copy of this movie and some additional swag in exchange for my honest opinion. I was not financially compensated in any way and all opinions are 100 percent mine.
ALL-NEW MINI-MOVIE, MINION MOMENTS & MORE!
AVAILABLE ON DIGITAL NOVEMBER 21, 2017
4K ULTRA HD, BLU-RAY™, DVD AND ON DEMAND ON DECEMBER 5, 2017
FROM UNIVERSAL PICTURES HOME ENTERTAINMENT
The characters beloved by everyone – Gru, his wife Lucy, their three adorable daughters—Margo, Edith and Agnes—and the Minions provide hours of family fun in this heartwarmingly subversive comedy from Academy Award®-nominated producer Chris Meledandri (Despicable Me Franchise) and directors Pierre Coffin (Despicable Me Franchise) and Kyle Balda (Minions 1 & 2, The Lorax). Hailed as "the best Despicable Me movie yet," by Ali Plumb of BBC Radio 1, with over $949 million in global ticket sales, Despicable Me 3 is the ultimate holiday gift, with almost an entire hour of exclusive bonus features including an all-new mini-movie, a never-before-released deleted scene, and much more!
Illumination, the studio that brought you Sing, The Secret Life of Pets and the Despicable Me franchise, continues the adventures of Gru and his family in Despicable Me 3. After he is fired from the Anti-Villain League for failing to take down Balthazar Bratt (Trey Parker, "South Park," Team America: World Police), the latest evil mastermind to threaten humanity, Gru finds himself in the midst of a major identity crisis. But when a mysterious stranger shows up to inform Gru that he has a long-lost twin brother — a brother who desperately wishes to follow in his twin's despicable footsteps — the former super-villain rediscovers just how good it feels to be bad.
Academy Award® nominee Steve Carell (Foxcatcher) reprises his hilarious role as reformed criminal mastermind Gru, as well as his newly discovered twin, Dru. The all-star voice cast also features Kristen Wiig (Bridesmaids, Despicable Me 2), Miranda Cosgrove (Despicable Me 1 & 2, School of Rock), Steve Coogan (The Secret Life of Pets, Philomena), Jenny Slate (Zootopia, The Secret Life of Pets), Dana Gaier (Despicable Me 1 & 2) and legendary singer and actress Julie Andrews (The Sound of Music, Mary Poppins).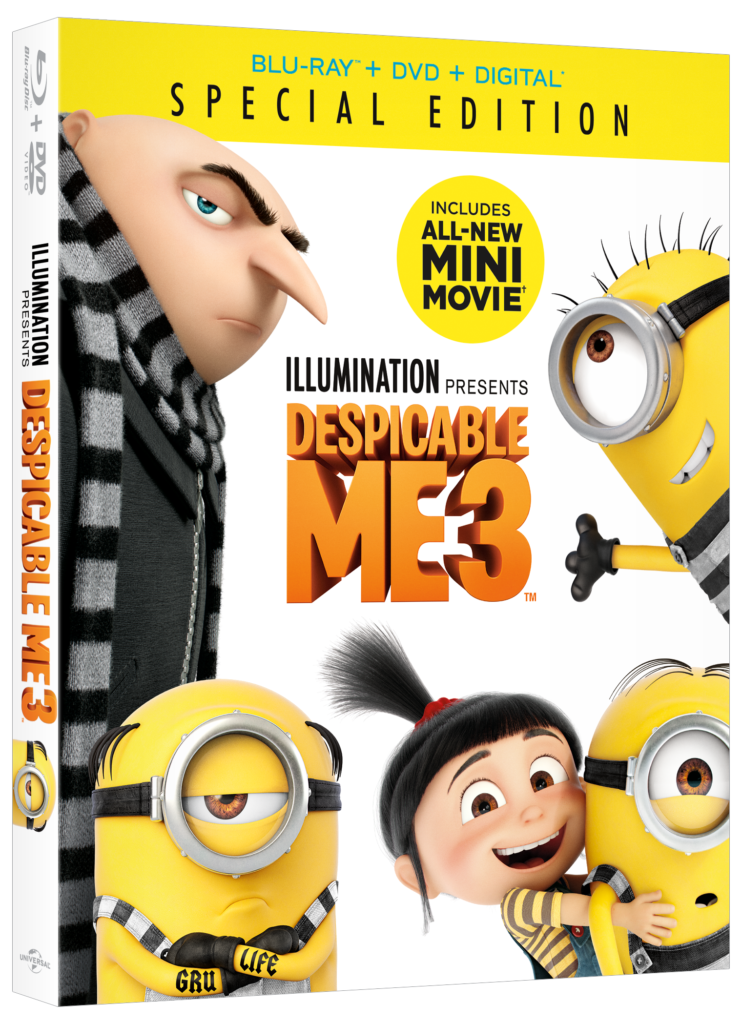 BONUS FEATURES EXCLUSIVE TO 4K ULTRA HD, BLU-RAYTM, DVD & DIGITAL:
⦁ All-New Mini Movie — The Secret Life of Kyle
⦁ Minion Moments — Watch the Minions cause more hilarious mayhem with Gru
⦁ Deleted Scene — With intro by Dana Gaier, the voice of Edith
⦁ Character Profiles — The inside scoop on the most popular characters, from the actors who play them
⦁ The Making of Despicable Me 3 — A behind-the-scenes look at the making of the movie
⦁ Developing Dru — Behind the scenes character development of Dru
⦁ The AVL Files — Through the lens of the Anti-Villain League's hi-tech database, this ultra secret, interactive surveillance briefing showcases all of the agency's amazing creations and top agents
⦁ Freedonia Visitors Guide — Welcome to Freedonia! See all that the town has to offer with this interactive map. From its world class cheese, to its beautiful coastline, Freedonia has it all!
⦁ Despicable Me TV — Tune in for some fabulous fun with these Despicable Me 3 infomercials. Includes "Balthazar Bratt Action Figure," "Bad Boy Bod by Balthazar Bratt" and "Agnes' Super Cute, Incredibly Amazing Toy Sale."
⦁ "Doowit" Sing-Along — Sing along with Pharrell Williams as the Minions plot their escape from prison
⦁ "Yellow Light" Music Video — Official music video by Pharrell Williams
⦁ Minion Mugshots — The Minions add to the long list of celebrity mugshots in their very own "rogues gallery."
⦁ Wanted Posters — Have you seen these Minions wanted for various crimes?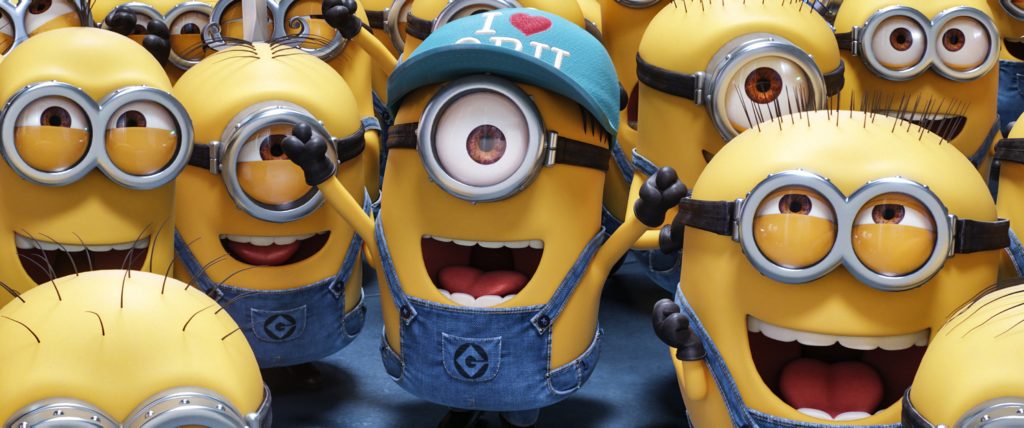 Okay, I admit it. There is something delightful about the character of Despicable Me. I fought against the franchise when it first appeared, but how could I not love the minions?? My daughter was younger when the first movie came out, and we did not make the trek to see it in the theater. But by the time the second movie came out, I was hooked!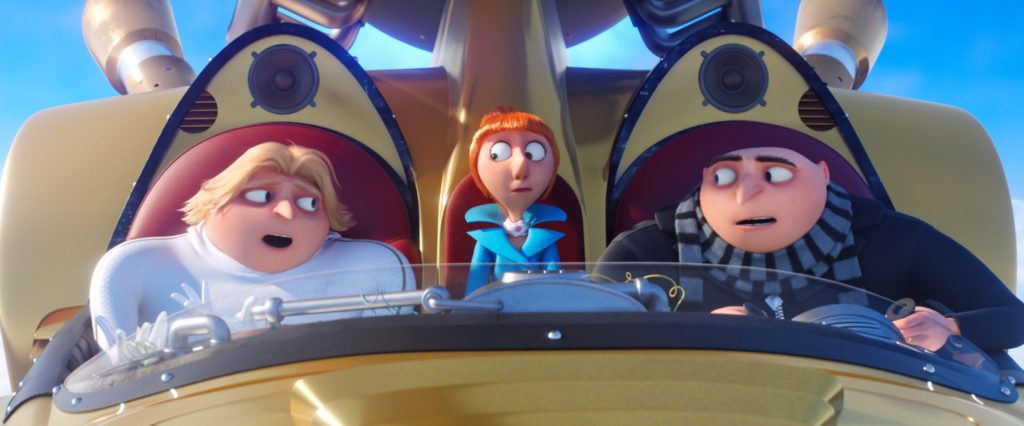 I was not overly excited by the storyline of the last movie, but there is no doubt that this third one in the series hit a grand slam in every way! From the lovable, adorable minions to Gru discovering he has a twin brother he never met, to the sweet moment when the family begins to blends and accept each other for who they are. It was enchanting!
The best part for me was when I heard the incomparable voice of Julie Andrews! Sometimes I just don't pay attention to who does what voice, but the moment her character began speaking, I was in love with the way she portrayed such a different character instead of "Miss Nice Woman." It was a standout moment for me.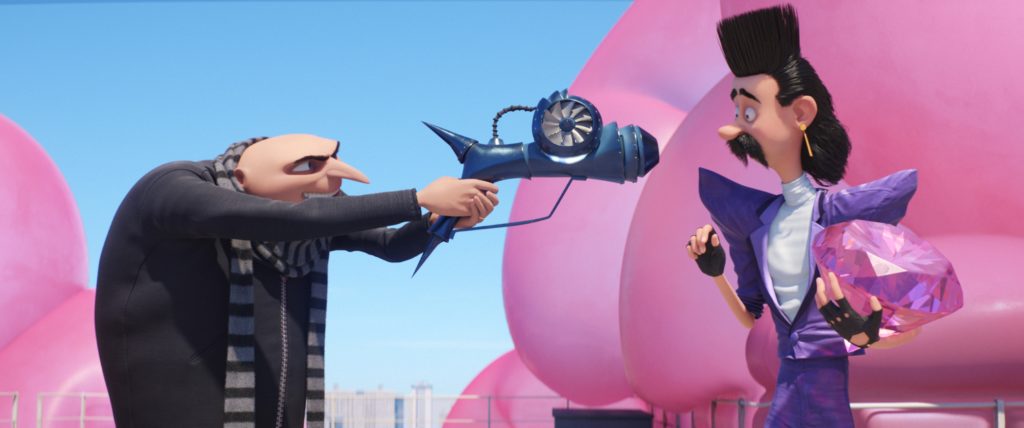 The thing I enjoy the most about these films is that they do not cater to merely the young set. My daughter and I had the distinct disadvantage of going with her friend to see Trolls, and the three of us were incredibly bored. My daughter and her friend are teens, and we realized that movie was intended for younger kids.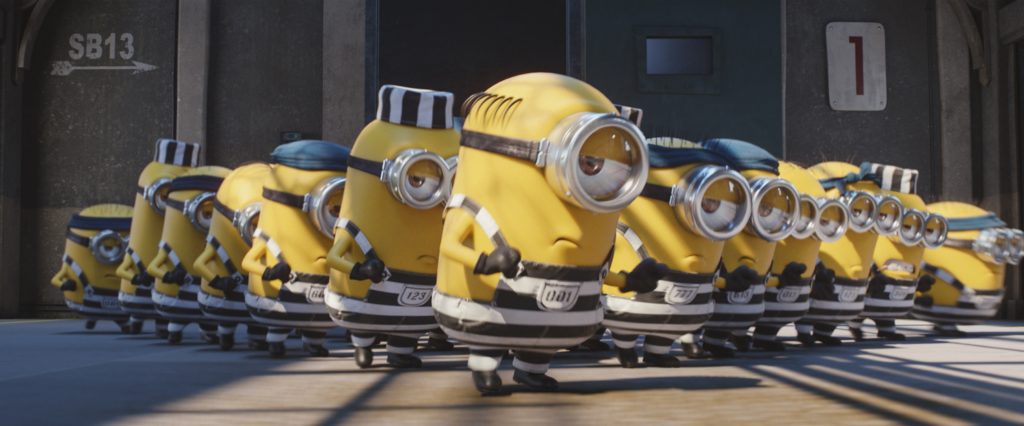 But with the Despicable Me franchise, there are jokes that appeal to all ages. They have the perfect blend of bathroom humor (that is not too bawdy), teenage and pop culture interest, slapstick comedy, and allusions to things that those in their twenties, thirties, and forties will connect with. So often, my daughter would be laughing, and she didn't bother to explain the joke. And then I would laugh, and she would look at me like, "What on earth is so funny?" Sometimes I attempted to explain the joke.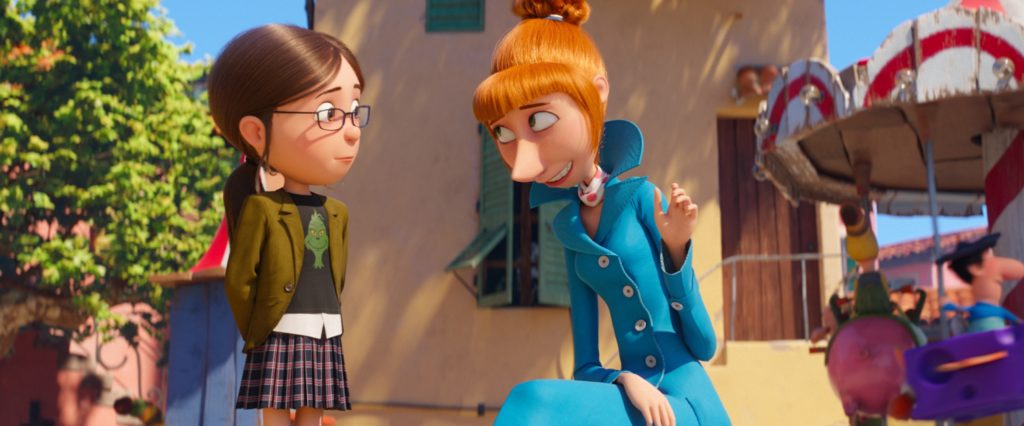 I was touched by the sweet scene between Lucy and Margo where Lucy really stepped in as the mother Margo needed. Margo is maturing, and she is right at that point where she needs a mother's advice. It was nice to see the family truly gelling in this film, and in spite of the off-the-wall humor, the characters always manage to inspire hope, kindness, decency, as well as joie de vivre.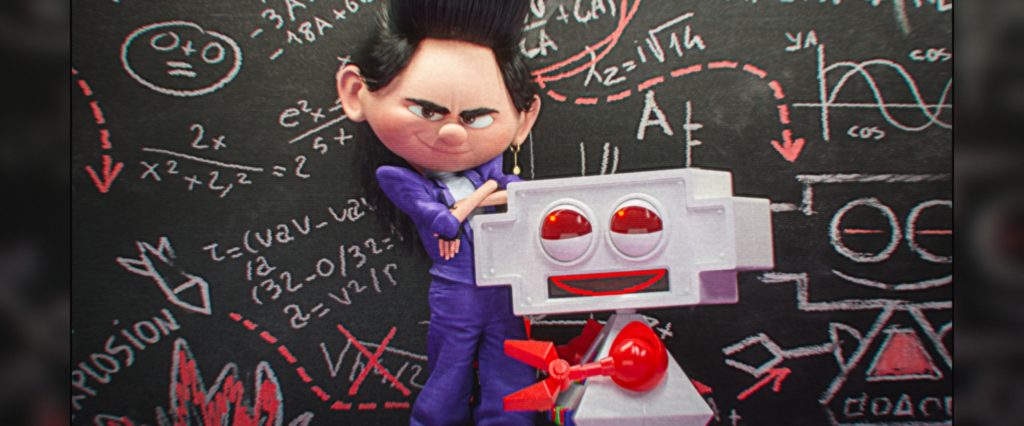 Yes, there is a touch of the evil. Bad guys are compulsory in films like this. But we can rest assured that all will be well in the end. Somehow…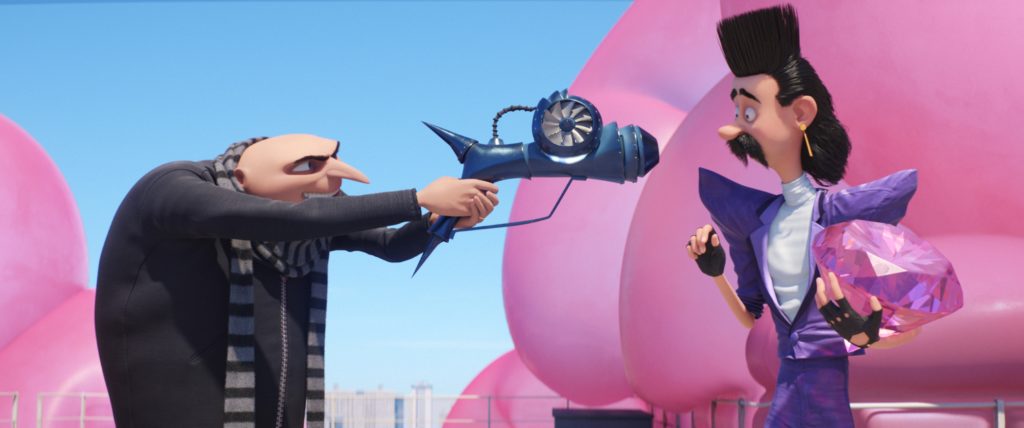 If you are looking for a family movie to enjoy and escape from the sorrow and madness that is brought on by January doldrums, this is the perfect movie to watch! It is a modern-day classic for sure that you will proabably want to watch more than once!
Website
Facebook
Twitter
Instagram
YouTube
Hashtag: #DespicableMe3
Illumination's upcoming films—featuring creative contributors from an unparalleled collection of writers, artists, voice talent and musicians—include Dr. Seuss' The Grinch in November 2018, The Secret Life of Pets 2 in June 2019, Minions 2 in July 2020, and Sing 2 in December 2020.