Gabriel "Gabby" Messinger, a Guardian Angel who has trouble following the rules and is known for meddling in the love live's of others, is tasked by the Angel Michael to help the town of Angel Falls find its Christmas spirit again.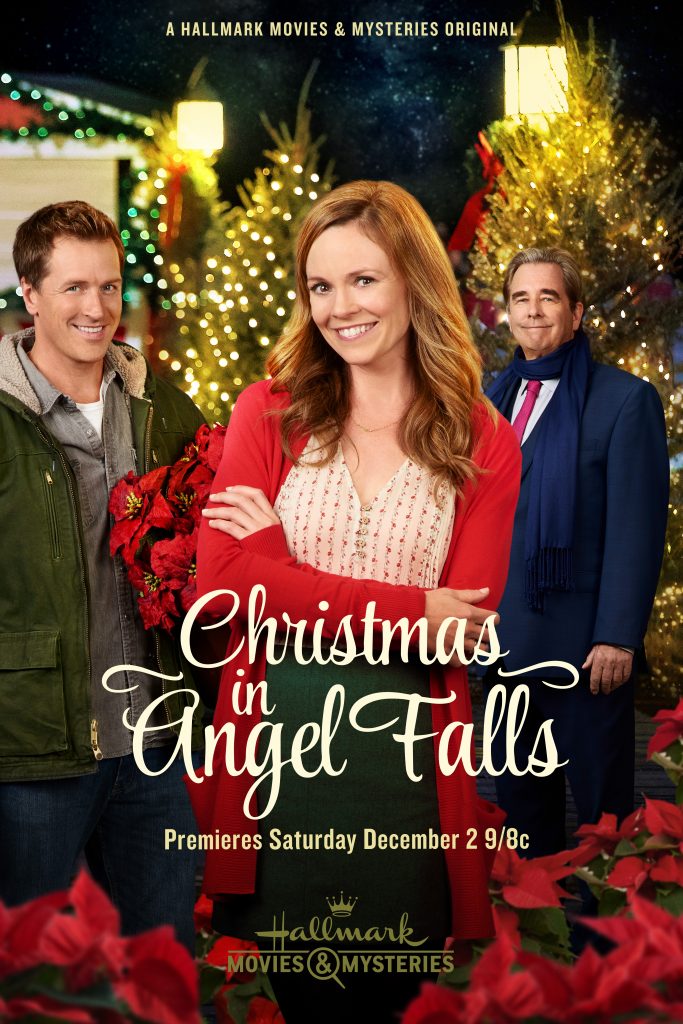 First of all, I want to say that this film surpassed all my expectations. Sometimes, I am hesitant when it comes to "angel films," but because of who the three stars are (and especially because of the male lead), I was determined to give this film a chance. Furthermore, it is airing on Hallmark, and how could I not watch it? If you are looking for a film that follows the Scriptural teachings of angels, this might not be for you. I could speak to all the reasons why the theology of the movie is unsound, but that is not why I watched this film. The film is so uncommonly well-written and acted with such depth that I could care less whether the story could ever happen or not. The values of the film are intact, and if nothing else, I applaud Hallmark for emphasizing the concept of "free will" (something most Christians and church people esteem) and including the Lord's Prayer (how often do we see that on network TV?). I did not plan on becoming emotional during this movie, but I literally spent the last twenty minutes or so crying off and on because the story was remarkably poignant (and I wasn't certain how it would end) and the three main actors–Rachel Boston, Paul Greene, and Beau Bridges–are such phenomenal artists!
Note: For the purpose of this interview, I will be highlighting the three lead actors, but I have to admit that the cast and crew for this film are extraordinary! And I don't usually notice the way the director shot the film, but this one is gorgeous in the extreme! I was mesmerized by the beauty of nature and the pristine nature of so many scenes. Kudos to Bradley Walsh for the festive nature of the film, and to Melissa de la Cruz for the marvelous story! At present, there is no cast list online, so I will place a cast list here for reference. If you care to investigate the actors listed below, you will probably discover that even if you do not recognize their names, you may be familiar with their other works.
Gabby Messinger: Rachel Boston                      Stan Wilson: Jeff Geddis
Jack Avery: Paul Greene                                       Barbara Wilson: Natalie Lisinka
Michael D'Angelo: Beau Bridges                       Jenny Wilson: Hattie Krasten
Gloria Chambers: Allison Hossack                  Alice Lake: Bayley Corman
Pastor Howard: Bill Lake                                    Young Man: Michael James Regan
Tommy Carlson: Ehren Kassam                       Adam Chambers: Reece Presley
Joe Crosby: Andrew Moodie                             Carol Lake: Giovanna Moore
Ellen Price: Jill Frappier                                    Alice's Dad: Chris Renaud
Darla Becker: Lisa Repo-Martell
---
As Michael, the Archangel, Beau makes an impression that remains with the viewer through the entirety of the movie. He consistently explicates that he is in charge and will follow the rules, but as he deals with his somewhat wayward angel, Gabby, who thinks with her heart much more than her head, he is never cruel nor austere. Surely, he's Gabby's mentor, but he has gone the extra mile to attempt to understand her and bend the rules when feasible. He is the one who establishes the overarching theme of free will that governs the course of the story. He emphasizes again and again that Gabby needs to avoid getting overly involved in the affairs of humans. She has a mission to achieve, and once she attains and exceeds that goal, she will need to come back and be ready to embark on the next mission.
In so many ways, Beau portrays Michael as a fatherly figure who only wants the best for his daughter. He invariably, but gently, brings out the humor in his character which adds levity to what might otherwise be a heavy, somber film. In truth, when Michael's emotions bubbled over, that's when I could no longer keep my composure. I mean, when an actor of Beau's caliber demonstrates the rawest of emotions, how can the viewer not be affected? His scenes with Rachel's character, Gabby, are absolute cinematic perfection and decidedly, an actor's dream. But what else would one expect from a veteran like him? I would unconditionally love for this movie to become a series where we can see more from Beau as Michael, for he makes the consummate archangel!
As Gabby, could there be anyone with a more infectious smile or joie de vivre than Rachel Boston? Absolutely not! For her character, life is a huge celebration, and she jumps heart-first into her special mission, full speed ahead. The requisite work and time commitment may be daunting to others, but not to Gabby. The most difficult thing for her is that she has been handed such a difficult assignment steeped in a myriad of intense, distressing emotions experienced by all members of the Angel Falls community. People are far too busy to respond to her message, and at times, she feels that the task is almost insurmountable.
However, Gabby rises to the task, and enshrouded with Rachel's signature style, grace, wittiness, and determination, Gabby thrives and discovers ways to meet and exceed the assignment with which Michael has entrusted her. Gabby's one desire in life is to experience the feeling of being in love, and although that may be forbidden for angels, Gabby doesn't always play by the rules. Rachel immerses herself fully in the role of Gabby, and she easily makes one of the most illustrious and credible angels that I have seen in recent years. And watching Gabby utilize the Lord's Prayer in a moment of crisis was one of my all-time favorite moments in the movie. The viewers experience every ounce of her emotions as Rachel invites us on her character's journey from start to finish. Her simple faith and meekness shine throughout the film, and I hope that Rachel has the opportunity to bring us something this stirring and impactful again as this movie is definitely my favorite of hers to date!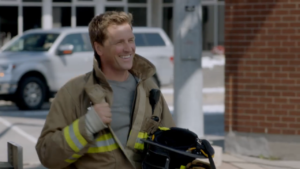 And as for Paul Greene as Jack, what could I possibly state except that Paul is one of the most exceptional actors alive today, and I don't say that flippantly. I have only followed Paul's career since he starred in The Perfect Match opposite Danica McKellar, and then his performance in A Christmas Detour completely entranced me. As I have followed his career closely since that time and made extra effort to promote his work, I have consistently been impressed with the level of abilities he brings to each and every role. He does nothing halfway, and the fact that he can take a romantic comedy to a new status of art form is something that baffles me. Not all actors have that aptitude. Furthermore, his inclusion in When Calls the Heart is something that enlivens my Heartie heart to the maximum.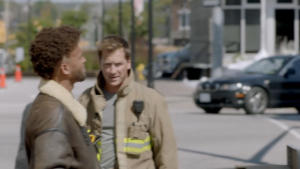 Notwithstanding, I have been waiting for Paul to have the opportunity to embrace and immerse himself within a character with a profundity that I knew he possessed but hasn't always been able to demonstrate to Hallmark fans. And in the role of Jack, Paul has been awarded that opportunity to raise the bar in his signature fashion. Jack may seem a simple character at first glance, but like Dr. Carson Shepherd in Hope Valley, Jack has many entombed issues that don't surface easily. There is more to him than meets the eye, and Gabby notices that truth immediately. This is the ideal role for Paul, and I hope that Hallmark will continue to provide him opportunities, whether in a continuation of this story or something even more extensive as this is the kind of role in which Paul excels, and it places him a predominant category above so many of today's mediocre actors who either cannot or will not rise to the occasion.
As a couple, the chemistry between Paul and Rachel is effortless and distinctive. Whether a scene of heartfelt emotion that tugs at your heartstrings almost to the breaking point to a tender scene of true love where the eyes can say it all or even to the lighter moments when they share a smile, a laugh, or a dance, Paul and Rachel are unadulterated charm on screen. While I knew the pairing of these two would be beyond the ordinary, even I didn't realize just how peerless their partnership would be. Rarely, if ever, have I seen such harmony between an on-screen couple, and the respect these two have for each other in addition to the fun and genuine way they interact is a testament to the casting directors and, of course, to these amazing human beings themselves. I hope Hallmark will cast these two again in a film, for what has been captured on screen is something enchanting, winsome, and utterly exceptional.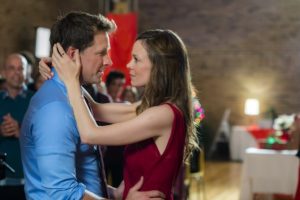 Christmas In Angel Falls premieres in the U.S. on Hallmark Movies & Mysteries on December 2nd, and it premieres in Canada on the Bravo Network on December 3rd.
For more information:
http://www.hallmarkmoviesandmysteries.com/christmas-in-angel-falls