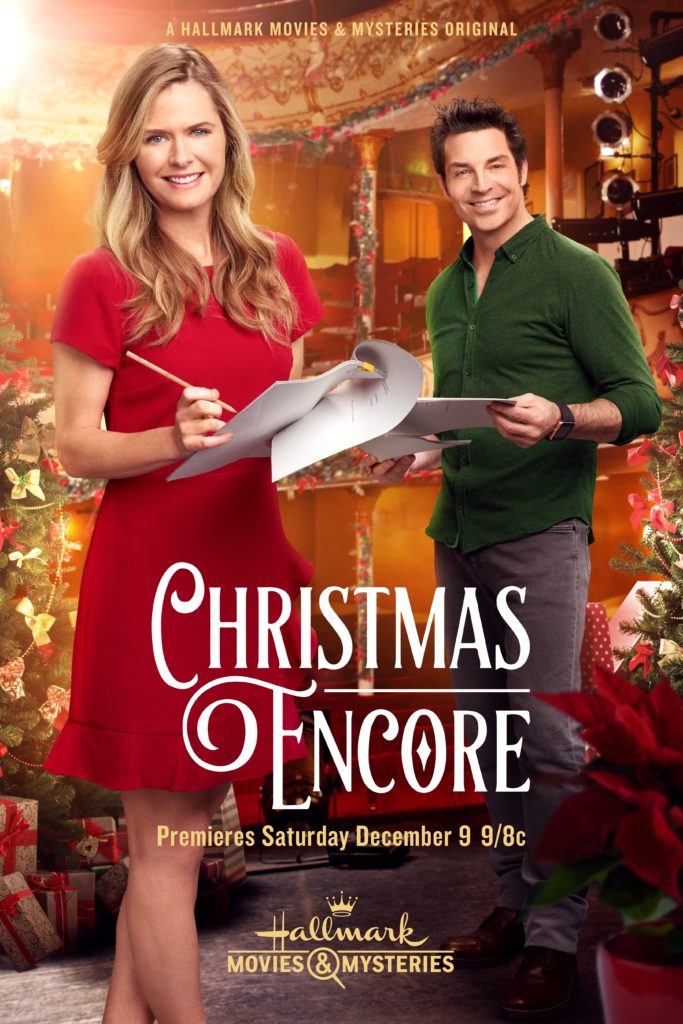 An aspiring New York actress who is considering abandoning her dream and taking a real job in Chicago following years of near-misses and bit parts, lands the role of a lifetime in a new production of A Christmas Carol. However, the play's director is a successful TV actor, and the one she blames for her biggest professional disappointment.
First of all, let me applaud the myriad of people involved behind the scenes because there are several things I noticed that set this movie apart from the typical Hallmark holiday fare. I congratulate the writer (Jennifer Notas Shapiro), the director (Bradley Walsh), and the production team (Brad Krevoy) for stepping outside the box to make a Christmas film that is singularly delightful and diverse in scope and story while still maintaining the elements of Hallmark holiday films that we love. At the end of the day, it is about following your dreams and passions even if it is not the easiest path. Additionally, it is about making sacrifices for that one person who complements you to perfection. Family and friends always surpass monetary success, societal influence, and consequential supremacy. Even though this tale does not take place in a small town (it actually happens in the heart of Manhattan!), the film celebrates family values, nurturing community, and old-fashioned values in a delightfully entertaining way.
Special shoutouts are also extended to Bradley Walsh, Maggie Lawson, and Brennan Elliott, who daily collaborated to polish the storyline, dialogue, and so much more. As the old adage states, "art imitates life," this saying is unquestionably accurate in regards to Christmas Encore. As Brennan told me in our interview, he experienced firsthand the actual crafting, rewriting and reworking of this film as this skilled trio labored together to present a masterful product of which the entire cast and crew could be proud.
Interestingly enough, although this character did not have a name per se, there is something memorable about the casting assistant that Benjamin Robitaille portrays. Maybe it is his youthful features, or maybe it is the freshness of his talent, or perhaps a combination of the two. Regardless, he is at the inception of his career, and I hope that Hallmark and other networks begin to utilize him in their productions on a more regular basis because I do believe even in this small role, he shows great promise.
Playing the role of the unfortunate, but definitely too-sure-of-herself girlfriend of Julian's (Samantha Cross) is the demure but captivating Mélanie St-Pierre. As the former girlfriend of the international sensation (played by Brennan), she perfectly embodies that girlfriend you love to hate. It is evident that poor Julian cringes whenever she appears, so my guess is that she has been a bit of a control freak who assumes they are both on the same page regarding their respective careers. As he has broken away from this lover of the limelight, I believe she has followed the pattern of attempting to clasp him even tighter than before, thus driving him further away.  I am sure Melanie is an enchanting woman because she interacts so effortlessly with Brennan (but then again, who doesn't?), and as this is her first Hallmark film, I absolutely hope it will not be her last. While her character only appears briefly, she makes an indelible impression on everyone who knows her or even knows of her.
Decidedly no stranger to film and TV, Murray Furrow makes his Hallmark debut as the unpopular Dennis Yates. Although Dennis is only doing his job, he is the perceived "villain" in this Hallmark film. Murray embraces his role with the sort of deference and decorum one would expect, but it just may be that Charlotte (Maggie) can break down the barriers he has erected over the years. His austere exterior may be an expert disguise for a soft heart. One can only hope. Murray injects himself perfectly into this role, and I hope to see him on my screen again soon.
In another interesting role, David Tompa makes his Hallmark debut as Gary. This character is remarkably important to Charlotte as he understands the artistic temperament. He never dictates to Charlotte what she must do, but he does encourage her to follow her dreams. As her employer at the cafe, he works regularly to ensure she has a flexible schedule, and she can always count on his support no matter what. David is integral to the film because he continues to be that creative voice of reason (which seems to be an oxymoron), and I think Hallmark has found another actor who definitely has earned the right to return to future productions.
As one of Charlotte's good friends who earnestly desires to help her get a new start in life, we are treated to the talents of Sabryn Rock as Rachel Plummer.  Again, she is new to Hallmark, but not new to the Canadian TV scene. I appreciate her natural effervescence and smile, and I am so glad Hallmark has introduced her talent to us in this film. I hope she is able to return as well.
In the role of the woman who may completely redirect Charlotte's life, viewers get to see Marie Dame in her inaugural Christmas film for Hallmark. Here, she plays Charlotte's potential employer, Ellen Lambert, and while her screen time may be short, her role is anything but insignificant. Here's hoping Hallmark recognizes her impact and brings her back for more in the future.
As her two friends Morgan and Liz, Hallmark audiences get to see some Murdoch Mysteries alumni. Bea Santos (Liz) was also seen this year opposite Greyston Holt in A Very Country Christmas. And Erin Agostino (Morgan) has a hilarious scene that involves Brennan's character. Both are solid actresses in Canada, and now that they have made their Hallmark debut, it's time to see more of these delightful, vivacious actresses!
In the first of her two Hallmark Christmas films this year, Joy Tanner plays the role of Sandy, Charlotte's hard-working agent. Just last week, we saw her in the delightful Jesse Metcalfe Christmas film Christmas Next Door as Dana. So it would seem that Joy is definitely making her mark in the Hallmark world.
In the role that is somewhat of a naysayer, we are entertained by the talents of Mercedes de la Zerda. As Naomi, she attempts to explain to the members of the theater company why making ambitious changes may not be a good idea. We can only hope that in the end, Julian's charm and hard work will win her over. Of course, social media and impressive numbers can certainly be a benefit as well. Mercedes is a true veteran actor, and Hallmark is blessed to have her grace their screens as her talent speaks for itself.
As Sid, we are honored by a Canadian screen legend, Art Hindle. I believe this is his first Hallmark film, but here's praying it won't be his last. From the moment he enters to his final scene, his role is exceptional and significant. Had it not been for him, Charlotte may have given up on her dreams for good.
Hopefully, Good Witch fans, as well as Love's Complicated fans, will remember Sherry Miller. In this Hallmark offering, she is playing Charlotte's mom, and what ideal casting it is! She is gorgeous and such a flawless fit. She appears to be the calm and collected mother, but there is no doubt she cares quite deeply for her daughter and cheers her on more boisterously than anyone else. Nice to see Hallmark's loyalty in bringing back yet another screen legend!
In a role that captured my eye and captivated my soul,  Tracey Hoyt as Franny Forman overwhelmed me with her prowess. She is on Julian's side from the very beginning, and she is the proof that you're never too old to attempt something new! So many times, older people are categorized as "stick-in-the-muds," but not Franny! And Tracey is an exemplary fit for this role. I would welcome seeing her in many more Hallmark productions in the years to come.
Lest one forgets, at the heart of the story is our two stars, Brennan and Maggie as Julian and Charlotte respectively. There is honestly not much I can state that will do justice to their impeccable performances in this film, but I will attempt to give them a fair, honest, and creditable review.
First of all, while Brennan always exudes immaculate chemistry with all of his leading ladies, he makes it a point to interact with each one uniquely and vibrantly, based on who they are as a person and a professional. And this film is no exception. While he had never met Maggie prior to this production, he was well aware of her powerhouse work and incomparable skill, and so working with her was a distinct privilege that he enjoyed to the fullest. And my understanding is that the feeling was thoroughly reciprocated on her side. And that is the secret of their chemistry.
Chemistry between couples in movies is always a somewhat mystical and sometimes complicated thing to define and pinpoint. It's invariably built on mutual respect, a willingness to work together, and conceivably a bit of fun along the way. And in the case of Maggie and Brennan, all three elements are present in remarkable abundance. Nothing is counterfeit between them; it is unfailingly authentic, natural and unspoiled. Whether they are enjoying a snowball fight, reworking the Christmas play, or sharing a romantic moment, the chemistry is effortless and unblemished. The viewer is transfixed by the sincerity displayed by both actors.
Furthermore, the viewer is not merely a passive spectator in this film. Instead, the viewer is invited to experience every element of the story right along with the actors involved. Whether Charlotte is experiencing the joy of her success or Julian is experiencing the agony of his potential personal and professional loss, Maggie and Brennan invite the viewers to join their world in such a way that they become active observers and an integral part of the unfolding action. It is the closest thing to theater one can encounter without attending a live show, and due to the nature of this story, it is exactly what should be anticipated.
I will admit that prior to this summer, Maggie Lawson was merely a name I had heard in passing. I believe I had seen one episode of Psych, but due to a variety of reasons, I never had the opportunity to watch it regularly (something I am planning to rectify in 2018, as Hallmark Movies & Mysteries is going to be replaying the show on its network). Seeing Maggie with Paul Greene this summer in My Favorite Wedding was my introduction to the wonder and marvel that is Maggie Lawson, and this movie was an extension of that adventure.
As I watched Christmas Encore, I attempted to identify what it is about Maggie that prompts so many of us viewers to instantly connect with her character, and I can assert that it is a bit of a mystery. While she is decidedly gifted, stunningly beautiful, and incredibly pragmatic in her approach to acting, I can name hundreds of other actresses who possess similar qualities. However, Maggie has that distinctive sparkle and dynamic prowess that sets her apart, and the moment the viewers see her in this film, they immediately connect with her character, Charlotte.
Possibly I found myself relating to her much more easily since I am a creative type and I understand her story. But then again, haven't we all had those instances when we grow weary of chasing our dreams, and some of us may, unfortunately, take that fateful step towards ceasing our pursuits. I cannot even count the number of times that I nearly gave it all up. Some days, I still find myself considering drastic measures. After all, being a teacher would be a safe thing to do. There's always the chance that my "big break" will never arrive.
But as Charlotte is reminded, "you are only one audition away from your next big role." I have no idea if Maggie herself has experienced those sentiments, but I tend to think she has, and maybe she drew on that occurrence as she immersed herself in the character of Charlotte. I will say that witnessing Charlotte's triumph brought me to tears, and that is something I was not expecting. Certainly, I cry sometimes over films and books. In fact, I cry more quickly as I grew older.
However, Charlotte connected with me on a particularly profound level, and the unbidden tears appeared as a bit of a surprise, but I instantly knew why. Maggie's inspiring and consummate portrayal of Charlotte reminded me at this festive time of the year to never give up and take the safe route or the normal route. Sure, Charlotte could have performed a normal, run-of-the-mill job for the rest of her life and had a steady income that would never give her a moment of financial worry. But what would that have done to the aesthetic desires of her soul? Would it have crushed her spirit? Would she truly have been happy? I sincerely doubt it, and her manifestation of this character reminded me to keep holding on no matter what. Stay true to your convictions even when it seems the future is bleak. And I'm so glad she did!
For those who follow me regularly, you know quite well that Brennan is a cherished person to me. He is one of those extraordinary actors that I will support almost blindly no matter what because I trust that he consistently takes roles that match who he is an actor and a human being. Whether he plays a serial killer or a romantic lead or anything in between, I always emerge as part of his support team. He is careful to take on roles that resonate with him, and his caliber of acting is something that considerably surpasses the majority of actors in the entertainment world today. Maybe I can relate to the fact that he doesn't do anything halfway; he always immerses himself two hundred and fifty percent (or more) within whatever role he is given, and that is entirely true with the role of Julian. The viewer is continuously invited into the world that he has created, and as I mentioned earlier, the viewer is urged to experience his character's story firsthand as opposed to being a mere casual observer.
Brennan's prowess practically demands that the viewer becomes engaged with the character, and he invariably provokes strong feelings within us. In the case of Julian, I believe Brennan has provided us with a character that is potentially more like himself than almost any character we have seen him portray in the past. While all characters he performs contain some portions of who he genuinely is, Julian is an actor. And I would venture to say it is a rather special moment when an actor has the opportunity to play a creative artist as it doesn't happen all that often.
Notwithstanding, Julian is more than an actor; he is an aspiring director. That is something Brennan mentioned he had not examined heretofore, but within this role, he had the occasion to do so. Watching his character work with Charlotte was absolutely pleasant and captivating. He portrayed much more than a romantic lead or an entertainer who is down on their luck. On the contrary, Julian is a superstar. But because Brennan is playing this role, we can rest assured that Julian is humble, down-to-earth, and the consummate gentleman and professional at all times. While it is clear there is a delectable spark between Charlotte and Julian, those characters go beyond the typical Hallmark romantic fare (not that there is anything wrong with that kind of romance).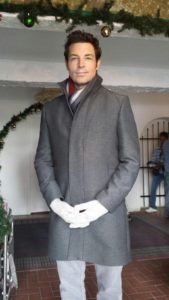 Because of Brennan's attention to detail and his eagerness to portray Julian in a realistic way, Julian comes off as being a genuinely nice guy who is charming and committed to his goals and dreams without being too idealistic. In fact, if anything, it is Charlotte that reminds him of why he is in this business in the first place. The Hollywood world has left a pretty vapid taste in his mouth, and Charlotte is the one who reignites the roaring fire within him. And because it is Brennan who is taking us on this journey, we can rest assured that we will be entertained, encouraged, and stimulated by his character. But of course, Julian does possess a somewhat understated sense of humor, so Brennan is able to bring that out as well.
Some of my readers probably wonder if this has become my new favorite of Brennan's films, and my answer is–I honestly don't know. When it comes to Brennan's films, I enjoy and appreciate them for various reasons. I've heard actors say that choosing their favorite film or role is like trying to pick your favorite kid–it's not possible nor advisable. In the case of Christmas Encore, Hallmark fans are not going to see Brennan as the romantic suitor, the bumbling single dad, the contentious businessman, nor the gentle music teacher. But what you will see is a creative artist attempting to reconnect with his reasons for entering show business in the first place. You will see a man who desires to reconnect with his convictions and ideals in a familiar environment surrounded by people who are passionate about what they do for a living. And above all, you will see one of the most phenomenal human beings on the planet and one of the finest actors alive portraying a role that will remind you of the good things in this world and that true love still does exist and can be found if you follow your heart.
For more information:
http://www.hallmarkmoviesandmysteries.com/christmas-encore