I was sent this product in exchange for my honest review. I was not financially compensated, and all opinions are 100 percent mine.
I workout four times a week in forty-five-minute increments, and because I do Zumba, I need quality workout gear. I always ensure I have good shoes, and I have a brand and style that I trust. But I also use workout clothing like sports bras and sweatpants.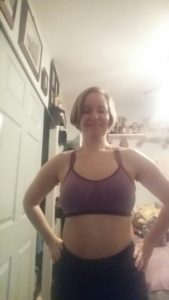 When I was given the opportunity to review a BRAUFACTUM sports bra, I jumped at the chance. One of the problems I often have with sports bras is they don't provide enough support. I also struggle with those that have padding that often doesn't provide enough support for all the jumping around that I do.
I am happy to report that these sports bras are comfortable, and the padding stays put. I did remove the padding when I put them in the wash, but even after a wash, this was a great bra.
It fits like a sports bra, and it's true to size. I was able to select a purple one, and this bra was comfortable and gave me everything I needed! So I highly recommend this. For the price, you cannot beat it!
If you would like to purchase your own:
https://www.amazon.com/gp/product/B07213SG84