I had the supreme joy and honor of interviewing author Robin Jones Gunn before the premiere of her book turned movie last year entitled Finding Father Christmas, and I was immensely excited when I learned there was going to be a sequel this year. In spite of Robin's incredibly busy personal and professional life, she took a few moments recently to answer a few questions about her journey since that premiere.
RH: Last year, the Hallmark movie Finding Father Christmas was incredibly successful. Could you share a favorite part of that one and Engaging Father Christmas?
RJG: In Finding Father Christmas, I loved it when Margaret told Miranda that if James had known about her he would have moved heaven and earth to find her. I was on set the day they filmed that scene and the words felt like a booming echo in my heart.
In Engaging Father Christmas, I loved watching on set when Miranda and Margaret teamed up when they talked to the reporter, Natalie. What I liked was the way they look at each other, like friends rather than awkward sort of relatives. It came across great on set. I hope it is as strong on TV.
When were you made aware of the plausibility of this year's sequel?
There was lots of talk, but it took awhile before it was official. I think it was March before I heard that a production date had been set. The best part was that all the principal actors said "yes" as soon as they heard there was going to be a sequel. A few of them have already told me that if there's any chance of a third movie, they are all in. Wouldn't that be amazing!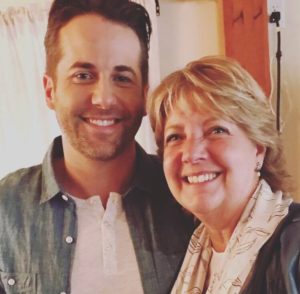 I understand you visited the set. What was the best part about visiting the set of Engaging Father Christmas?
It's an honor to be able to chat with the cast and crew on set. I knew how unusual that was and I was grateful for the three days my agent and I got to hang out during the filming of both. It was fascinating to watch the director, David Winning. Where does he get all that energy? We also got to be extras in both movies and that was especially fun. We are seated in the very last row of the theater in both movies. In EFC, I'm wearing a black jacket. See if you can find me!
With the exception of the two main characters, who is your next favorite character in this sequel. Why?
I adore Julia, the Whitcombe's little girl. She was both precocious and professional on set. I've seen her in some of the trailers and she comes across on screen as adorable as she was on set. It was so fun watching Erin Krakow with her during the breaks. It was like watching Elizabeth Thatcher with one of her students from When Calls The Heart. So cute.
Why do you think this story (in book and film) has resonated with so many? What is it that draws people in?
We all want to belong. We need to be loved and feel part of a family. I live in Hawaii and we have become "Ohana" – Family – with many wonderful friends there because all our blood relatives live on the mainland. It's a gift to be welcomed and included. When any of us are invited to join in and belong it feeds a deep spiritual need.
The books go into this theme more specifically. Miranda's journey in the books is as much about finding the true Father of Christmas as it is about finding her birth father.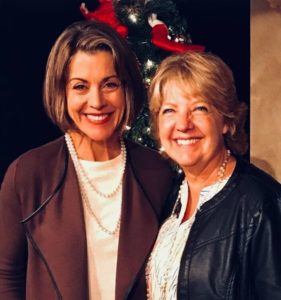 It has been hinted that a third movie is in the works for next year (Marrying Father Christmas). How exciting is it for you to be a part of a quasi-franchise of films with the Hallmark network?
As you can imagine, it's a dream come true! I really enjoy all the people I've been privileged to work with at Hallmark. The actors feel like friends now. We email each other and plan to tweet live during the premiere. I'd love to just keep going and make lots more of my books into movies with the fabulous producers. But of course, that decision is theirs, not mine. They just all know that I adore them.
I wrote a little book titled How My Book Became a Movie because so many people, especially beginning writers, were asking me this question. It's a process. I can tell you that I prayed a lot and I'm still praying a lot!
Any other upcoming works you can mention?
In March, I have a new book with Tyndale publisher titled A Pocketful if Hope For Mothers. The art is delightful and appears on every page. They made a beautiful book. I just finished doing the reading for the audio version of the book and it came together nicely. I'm so grateful for the creative editors and designers I worked with at Tyndale.
In a world that seems to grow darker every day, you seem to always be smiling and shining your light. How are you able to remain positive in this world that gets more and more negative with every passing day?
I love God with all my heart. That's the answer that immediately came to mind. It's the only answer I have to such a question, actually. God is very real to me and I love Him. My life has been punctured with all the usual pain and trials and injustices. But God is always there. He upholds us. He pours out His mercies on us new every morning. If anything good and positive and redeemable shines through my life, that definitely has to be Him.
If you could spend Christmas with your family anywhere in the world, where would you spend it and why?
If our whole family could be together at Christmas, I wouldn't care at all where we were!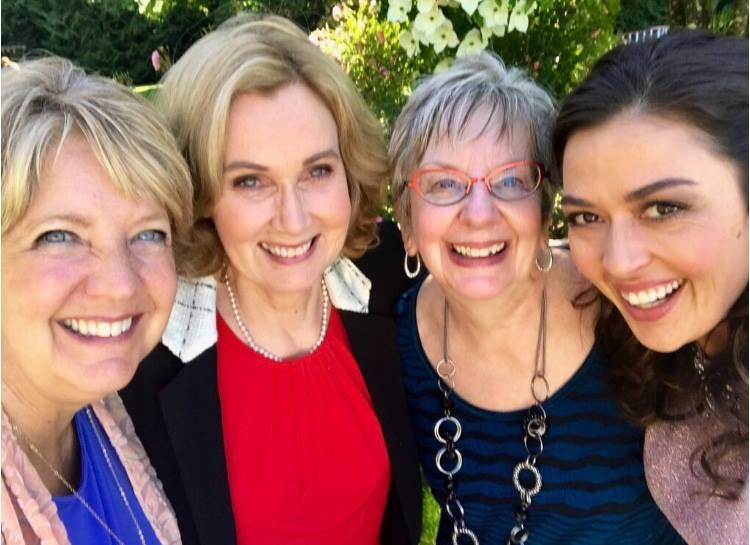 I cannot tell you how much I adore Robin! I have had the opportunity to work with and interview a great number of authors and writers, and while I love them all, there are those certain ones with whom I connect instantly, and Robin is indeed one of those special ladies. She is genuine, down-to-earth, and at her core, an authentic person who lives what she believes. I know that if Robin's name is associated with a work, inspirational and remarkable stories are about to be told. In fact, just this morning, my mother was wondering if the sequel Engaging Father Christmas was going to be as good as last year's movie. I responded, "Well since David Winning is directing and Robin Jones Gunn is the author, it's bound to be good." And with that, my mother's concerns were put to rest. 
Therefore, please tune in to Hallmark Movies & Mysteries to watch the premiere this evening (November 12th) of one of the most highly anticipated sequels of the year! There is no doubt this film will meet (and I predict, far exceed) last year's scope and brilliance, and I can hardly wait for the ratings and fan accolades to prove me correct! If you have not checked out Robin's works, please visit all her links below because indubitably, she is one author who will make a compelling impact on your life in ways I cannot even begin to express! I am ever grateful to endorse a positive, uplifting, God-fearing woman such as she!
FOLLOW ROBIN