My loyal readers and Hallmark fans are aware of my adoration for Brennan Elliott and all of his films, especially his Hallmark movies. For that reason, Love You Like Christmas became a quick favorite last year because he was the star. However, the storyline was quite sweet, and when I learned that one of Hallmark's first published books was going to be a novelization of this film, I jumped at the chance to interview the author, Keri F. Sweet. Additionally, I had the joy and honor of reading and reviewing this book, and I applaud her and Hallmark for a book that far exceeded my expectations.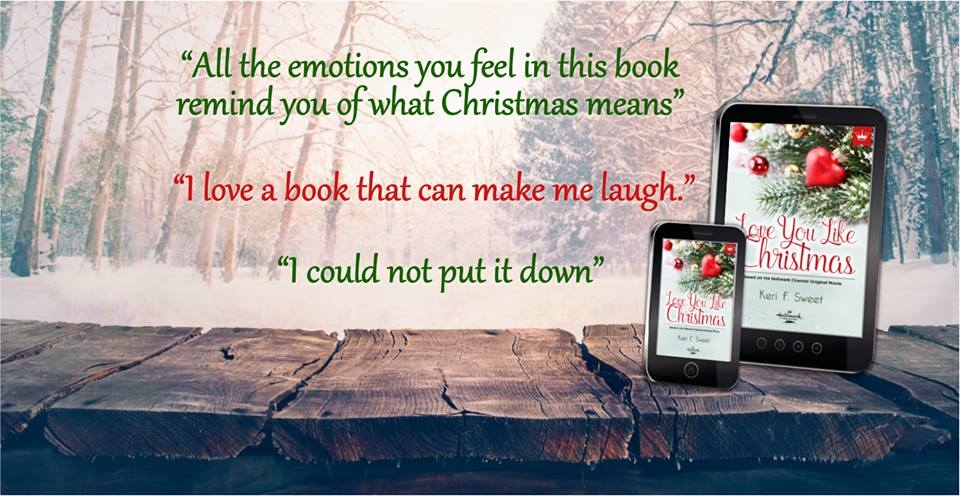 RH: Why did you decide to become an author? What kind of training have you had?
KFS: This is one of my favorite questions to answer because it was actually my husband's idea. In my early twenties, I had really gotten into reading. I was a bit of a late bloomer to books compared to most authors. My husband came home one day and mentioned I should start writing. So I did. I jumped in with both feet. It took me five years of steady writing and learning my craft before I sold my first story in 2010.
There's a great romance writers organization (Romance Writers of America http://rwa.org) that I joined and from there I met people who taught me everything I know.
The romance writing industry is very unique in that we don't see each other as competition, but rather as colleagues. Seasoned authors mentor newer ones, we work together, read for each, give feedback. We have smaller groups sprinkled across the country and the world where both published authors and writers who just began their first book can get together and talk. Not a day goes by where I don't see a successful romance author sharing a tip to help struggling authors.
I see that you write under two names–Keri F. Sweet and Keri Ford. What is the reason for this? Please tell us the difference in genres you write under the two names.
When I first started publishing, I did so as Keri Ford. Ford writes small town, southern set books. My quirky small town writing is what caught Hallmark's attention. But Ford-me writes a bit spicier content than what the Hallmark channel and company is known for.
Hallmark really nails that adorably sweet, light hand-touching moments in their stories. We knew fans who gravitated to Hallmark specifically for that charming, family-friendly content would NOT like my Ford work. We didn't want to confuse readers or make them feel we tricked them if they picked up a Hallmark story I wrote, then found something a little different in my other work.
That led us to picking a new name—Keri F. Sweet. It's a bit dorky and nobody catches it, but it's still me, still small town and quirky—but Sweet! I'm really glad we made this choice. I've ran across a few comments where some author's books were turned into movies and so the viewers picked up more books by that author only to get the surprise that the content in the other books are not the same as the movie.
You won't have that problem with me. Sweet-me only writes family-friendly stories like the movies we all love.
You have a recently-published book that is one of the first books ever published with Hallmark Publishing. How did this come about? 
This book has been the highlight of my career so far. The director of the line had read one of my Ford books and thought my writing style would be a great match. She messaged early summer and asked if I would be interested in writing for her. I jumped at the chance.
How was this process different–adapting a movie to a novel–instead of writing your own original novel?
It was really fun. It came out to be a nice marriage of my strengths as an author (developing characters and motivating them) with my weaknesses (plotting the story). It was interesting to have the visual of the movie to fully paint the backdrop of the story. I may have gotten a little carried away with all those details as I went a bit over on our word count guidelines! *hangs head*
I had a really wonderful time writing a novelization. I hope the readers love them and we're able to do many more. If you want more, be sure to leave reviews and tell them on social media!
Why should lovers of the movie Love You Like Christmas read the book? 
You just get so much more story. You find out more about how Kevin came into his financial troubles with the storm. We find out more about Maddie's past, how she lost her mom, conflicts with her father, and her connection with her aunt. In the movie, Jo attaches really quickly to Maddie; in the book, I was able to add a few moments between them to further create that strong bond they share. In the movie, Maddie is really anxious to leave Christmas Valley but we don't know why she doesn't just rent a car or something. In the book, I give more details to explain why she doesn't.
Will people who have never seen the movie still enjoy the book? Why?
Oh absolutely. The book is a complete, beginning-to-end story. You can read the book and be satisfied and never know the movie even existed in the same way you can watch the movie and be happy with the conclusion and never know about the book. However, I think you should both read and watch it because it's just such a heart-filled Christmas story you can now enjoy two different ways.
Any other upcoming works you can mention? Do you have plans to write an original book that may be turned into a movie or maybe even a screenplay? 
I am working on an original book. I really can't say much about it at this time, but I've completed the story and I'm hopeful. Fingers crossed for me? It would be so wonderful to have another book come out with them. If it gets turned into a movie or a screenplay too—oh my goodness! That's just so wild to even think about. LOL!
What do you enjoy most about Christmas?
I really love baking and trying new things in the kitchen. My family likes to cook food, eat food, and enjoy leftovers. I do a lot of that over the holidays. My son and I make a gingerbread house every year together and I usually try my hands with a few new desserts. This year I'm playing with fruit cake. I've never made it before, but it's a favorite dessert from Love You Like Christmas and it's got me curious. I've started collecting recipes now and have made one of them. It's in the "let it sit for two weeks to enhance the flavors" stage. I can't wait to slice it!!
What do you enjoy most about Hallmark?
By far the holiday movies! I tend to like working at my desk, but once Christmas movies get here I turn on my laptop in the living room and spend a lot of time on my couch throughout the season.
Thank you so much for inviting me out here today and for helping spread the word about our books. I've been sitting on this news since this summer about to burst with wanting to talk about it. I'm glad to be here with you!!!
BUY THE BOOK
AMZ:http://amzn.to/2zEwF5s
B&N: http://bit.ly/2xWjsr8
Kobo: http://bit.ly/2xT4ttp
iTunes: http://apple.co/2zJCApI
AMZ UK: http://amzn.to/2zEePPJ
AMZ CA: http://amzn.to/2gvuvAc
AMZ AU:  http://amzn.to/2gvuvAc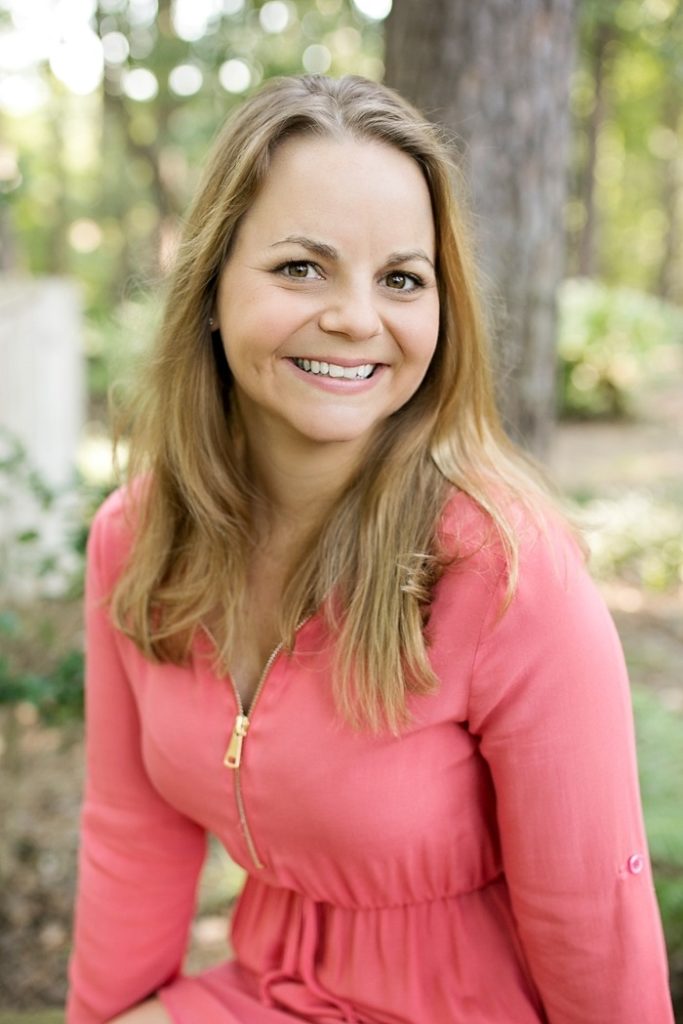 As far as I'm concerned, I believe I have found a brand new author in whose tales I can lose myself. All too often, I review books for authors and find myself looking at the percentage that is left in the book and challenging myself to read a certain amount before I take a break. With Keri's book, it was just the opposite. I had to force myself to set the book aside in order to work on my interviews or even accomplish household chores. As you will read in the review below, her detailed descriptions were exactly what captivated me. And while I do not always read "spicier" romance novels, if an author possesses the prowess that Keri does, I can sometimes make exceptions (which is why I have included some information for Hallmark fans who may be interested in checking out her "Keri Ford" books).
I invite all my readers to consider buying and reading Love You Like Christmas and also checking out Keri's links below. While some may question the viability and possibly even legitimacy of reading and writing books based on Hallmark movies, I am here to put my stamp of approval on Keri's most recent book. She has a gift, and I am grateful her husband encouraged her to use that talent in such a way as to entertain and even inspire readers. It is my honor to be able to promote her works, and I look forward to her future endeavors!
FOLLOW KERI
Website: http://KeriFSweet.com
Facebook: http://Facebook.com/KeriFSweet
Twitter: http://Facebook.com/KeriFSweet
Newsletter sign up: http://Facebook.com/KeriFSweet
Love You Like Christmas: Based on the Hallmark Channel Original Movie by Keri F. Sweet
My rating: 5 of 5 stars
I was sent a copy of this book in exchange for my honest review. I was not financially compensated, and all opinions are 100 percent mine.
First of all, I admit it. I was a bit skeptical of reading a book based on a movie. The last time I did that was with the movie "Annie" when I was a little girl because I was crazy about that movie and couldn't get enough of it. And now Hallmark made the decision to begin publishing books based on their movies, and although I am a top supporter of the network, this seemed a bit risky to me.
However, Keri completely altered my thinking with her expertly-crafted book based on one of my favorite Hallmark Christmas movies. In fact, from page one, her descriptive language was incredibly refreshing in a modern society where the art of description is almost a lost art form in many romance novels. She has a gift of describing things in such vivid detail without overdoing it, and while this was the first of her books that I read, I doubt it will be my last.
Since I have seen this movie more than once, I found myself intrigued with Keri's minor additions to the plot and characterization that seemed to "fill in the blanks" that a movie often omits. I found myself understanding tiny things that never quite made sense in the movie (although I didn't consciously question those things). It was as though Keri anticipated ambiguous points in the story that she sought to clarify in her own way while still maintaining the integrity of the characters and the story.
Keri has absolutely "sold" me on Hallmark books now, and I can hardly wait to sink my reader's teeth into their next book and hopefully read some of Keri's as well. If you saw the popular film last Christmas or even if you haven't, I would unequivocally recommend this book to you. I felt as though I was reliving the movie, but in a far richer version as I luxuriated in this sweet and well-written tale. I would call this one of the best Christmas books I have ever read!
———————————————————————————————————————-
For those interested in Keri's work published under Keri Ford, this portion of the interview is for you.
What was your first published work?
My first published book was a short, really sexy book. It was a friends-to-lovers, Through The Wall, where she wants a friends with benefits relationship, but he's always secretly loved her. So while the book itself has some really funny and charming moments, Hallmark viewers may or may not like it.
The first chapter is on my website. But the book is also set to perma-free if you want to grab it to see: http://www.keriford.com/books/uninhibited-in-apple-trail-arkansas/through-the-wall/
If you're looking for more sweet content from Keri Ford, check out:
Cupcakes and Crushes  http://www.keriford.com/books/cupcakes-and-crushes/
This is the book that brought me to the attention of Hallmark, but it still has on-the-page sex scenes and language, so I leave it up to the discretion of my readers to choose to read or not.