I remember reading about A Bramble House Christmas becoming a Hallmark Christmas movie, and at the time, I was so excited for the author, C.J. Carmichael. I knew nothing of her nor her works, but the premise and the title just seemed like a perfect fit with this beloved network. Later, when I discovered that David Haydn-Jones and Autumn Reeser were cast in this film, my level of excitement went through the roof! I am immensely grateful to C.J. for agreeing to a last-minute interview concerning her book and how it became one of the most highly anticipated movies of the holiday season!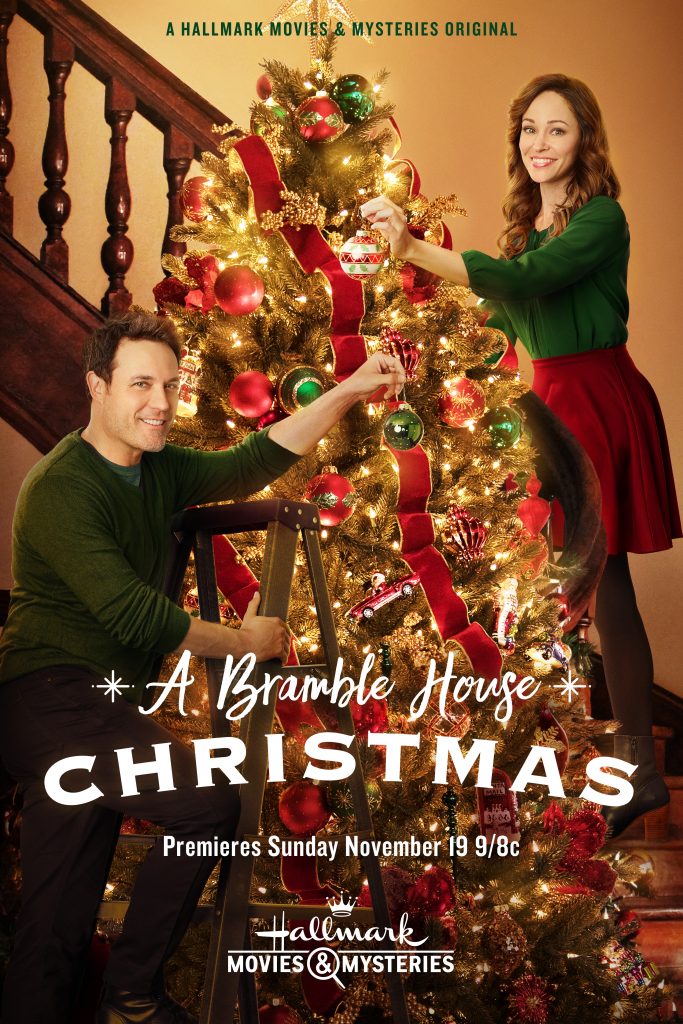 RH: Please tell us about your journey to becoming an author.
CJC: Hi Ruth, it's such a pleasure and honor to be interviewed by you. My journey to becoming an author began with a Commerce Degree from the University of Saskatchewan, followed by two years of articling and then passing the exams to become a Chartered Accountant in Canada. Not the best formal training to be a writer! My true passion was reading and writing stories, though, so when I was home on maternity leave with my first daughter, I began writing. That was in 1988. My first book was published in 1998 by Harlequin Superromance. That's ten years of honing my craft, so you see I had a lot of learning to do.
What originally inspired you to write A Bramble House Christmas?  What has been the reader response to the book/story?
I started with the idea of a little boy, Scout, who's been ill most of his life, and his Mom, who has been a single parent and making so many sacrifices to take care of him. I wanted to give them the father/hero they both deserved…and a very happy, white Christmas as well. I've been very pleased with the reviews and email messages from readers who have loved the story and found it meaningful and touching.
Please tell us about the process of this book becoming a Hallmark movie.
I have three talented people to thank for making this dream come true for me. First is my friend, screenwriter Tawny Stokes from Calgary, who has great connections in the movie industry. She put my A Bramble House Christmas on her website and that's where Shelley Hack from Smash Media found it.
Second is my friend and publisher, Jane Porter, whose company, Tule Publishing, supported my book A Bramble House Christmas in every way possible, from designing the beautiful cover, to pushing forward negotiations with Smash Media.
Third is Shelley Hack for believing in the story. She told me when she was five pages into the book she knew it would make a great Hallmark movie. We did the shopping agreement for Bramble House in March of 2016. Now we have a movie in November 2017. I still have to pinch myself sometimes to believe it.
Were you able to go to set? If so, please tell us about that.
Jane Porter and I visited the set for two days in July, and I'm so glad we did. Shelley made us feel welcome, and even put me in her producer's chair, with headphones, to watch the filming of several scenes. I met many of the actors, not David Haydn-Jones unfortunately, but Autumn Reeser was charming—and even more beautiful in person. I also chatted quite a bit with the young man who plays Scout, Liam Hughes, and his mother. Liam is so very collected and calm and talented, I was so impressed. Especially when I discovered he's an avid reader and writer as well.
Watching the crew transform Maple Creek in July to Bramble in December was truly magical. I can't wait to see the final, completed film…tonight!
Why do you believe this movie will resonate with Hallmark viewers? What message do you hope they take away?
I've written over fifty books in my career and at this point, Christmas romances are my favorite romances to write. I believe the theme of love conquering all is so much more powerful at this time of year because it is love—not video games or designer purses—that is the greatest gift of all.
In the case of A Bramble House Christmas, I'm hoping viewers will empathize with the struggles Willa and Scout have been through, and root for them to have their happy ending.
Any other upcoming works you can mention? 
I also write mysteries and right now I'm working on book two of my Bitter Root Mysteries series. My mysteries steer away from gore, forensics, and violence and focus on small towns with lots of interesting people…and dangerous secrets.
Before Hallmark approached you, how familiar were you with Hallmark movies/shows?
Very familiar! We don't get the Hallmark Channels in Canada (phone your cable providers, Canadians, and tell them to get working on this!), but the movies are carried on channels like W and Bravo. Our winters are cold and nothing beats a crackling fire, a cup of tea, and a Hallmark movie on the television.
What is your favorite thing about Christmas? Any special traditions?
I love so much about Christmas! Baking and decorating and wrapping the gifts—though I don't enjoy the shopping part. Outdoor Christmas lights transform the dark nights of winter into a Winter Wonderland—love it!
My favorite family traditions include going skating (my husband wears his Santa hat), opening stockings by the fire on Christmas morning, and playing board games together. It's also the perfect time of year to reach out to others in need, to top up on donations and to remember to count our blessings.
In the teeming oceans of writers that surround us in this day and age (you know EVERYBODY and their brother is writing a book after all!), very few are what I would consider "standout" authors. I could easily name a wealth of well-spoken, skilled authors with a plethora of books and fans to their credit, and these self-same writers continue at a whirlwind speed to spew out books that are often sold based on their names and reputations alone. Now, I don't disparage any of those authors who have attained celebrity rank, for I am well aware of their talents and perpetual work, but my loyal readers know that my heart lies with authors who often live beneath the radar. One of my missions in life is to spotlight authors like C.J. who are just as talented (and sometimes more so) than these aforementioned famous authors, and I am overjoyed that C.J. shared about her books and journey in the literary world. While I have yet to savor one of her dynamic books, I have no doubt that her characters are intrinsically profound and three-dimensional and her stories are laden with warmth, realism, and authenticity. Furthermore, I am anticipating experiencing every sensation from the entire spectrum of emotions when I view the film this evening, and it will only whet my appetite for devouring one (or more) of her books at a later time!
So please tune into Hallmark Movies & Mysteries tonight (November 19th) and watch and support this movie, A Bramble House Christmas, that is destined to become a new classic amongst loyal Hallmarkies all over the world. In conjunction with that, I entreat you to check out all of C.J.'s links below and maybe even purchase a book or two if you are so inclined. I sincerely hope this is not the last time we will see a Hallmark movie based on the writings of the prolific and ardent C.J. Carmichael. May it be the beginning of a beautiful and beneficial relationship!
FOLLOW C.J.