In truth, there are particular supporting actors who are perpetually a joy to view on screen, and Toby Levins happens to be one of them. I have had the honor of interviewing him three times now, and in this third offering, well, I believe I can safely state that he has decidedly matured as an actor, but thankfully he has not lost his clever and sometimes unconventional sense of humor. And no one could deny the fact that Hallmark is continuing their love affair with this intriguing industry professional.
RH: While I know you probably don't have any info about more Murder, She Baked films, the fans keep asking. If there ever are any more in this series, what would be your hope for your character's arc?
TL: I recently worked with Ali Sweeney and we talked about how great it would be to get everyone back together, but in the immediate future it doesn't seem to be in the stars. Which is, to be honest, best for my waistline. Perhaps Bill and Andrea could get a spin-off.
You had the opportunity to be in two other mystery series–Hailey Dean and Gourmet Detective.  What was most memorable about being in those films? 
Both shows were great. The tone of a film set is in a large part due to the leads, and in both cases – Kellie Martin and Brooke Burns are both incredibly talented and welcoming. In Hailey Dean, I got to play a tech billionaire, which meant wearing a suit. I never get to wear a suit. Unless it's a hazmat suit. I wanted to keep my entire wardrobe! Gourmet Detective was shot on Vancouver Island. It's always nice to go away to a location for a shoot, and as a bonus, all the cast ended up getting on super well, so it ended up being a little vacation.
What can you tell us about your role in Loudermilk?  Do you know where/when this is available? 
Loudermilk is currently screening on the Audience network in the States; fingers crossed HBO Canada will be showing it early 2018. My role is brief (until season two), but definitely one of the most rewarding productions I have been on. Peter Farrelly (Something about Mary) is an incredible writer and director, and working with Ron Livingston made me want to be better at what I do.
We will see you in Christmas At Holly Lodge. What can you tell us about your role and the movie without giving away anything?  Any behind-the-scenes stories?
In a wonderful opportunity to work with my friend Ali Sweeney, I play Vince, the handyman of Holly Lodge. Vince spends a lot of time doing his best to protect Sophie (Ali Sweeney) both financially and romantically, all the while trying to win the affections of Callie (played by Signed, Sealed, Delivered's Crystal Lowe). I got to work with two of my good friends, Ali and Crystal, which is always a treat. Plus I had to act all cute and enamoured with Crystal, who is like my sister, which led to some funny moments.
Any other upcoming works you can mention? 
I have another season of Freeform's Beyond about to be realized – playing Sheriff Dayton Some crazy stuff goes down and it looks like we are going for season three, so I am excited to see where the Sheriff goes! I was lucky enough to work on Netflix's Altered Carbon which is set to be released in mid-2018. It's based on a Japanese Manga, and I play a prison guard….a not very nice prison guard. Lastly, in February of next year, Siren will premiere. I have seen the pilot, and it's incredible; I can't wait to see the reaction. I am also waiting to hear back about my James Bond audition in 2015; I hope they have the right cell phone number for me.
Additionally, Hallmark fans can still catch me in Christmas Homecoming which premiered on Hallmark Movies & Mysteries earlier this month.
What do you enjoy most about Christmas?  Any special traditions?
Well, I am Australian, so our Christmas is usually a BBQ and cold beers. Our version of Santa is actually a kangaroo called Fred. Fred rides in a sleigh pulled by twelve Koalas. That may or may not be true. This Christmas, I will be driving down to LA where I am making the permanent move to live. I think on the 25th I should be somewhere around Ashland, Oregon, so if any of you are nearby, let me know!
If you could work with one or two people in the business that you haven't yet, whom would you choose and why?
Actor – Matt Damon. he encompasses everything I want to achieve in my career. He doesn't strive for fame, but just wants to do good and interesting work. He also uses his notoriety for incredible causes such as Water.org  which he founded. I have forgiven him for beating me out for the role of Jason Bourne.
Director  – Taylor Sheridan. Taylor was a working actor that had a very similar career to me, playing a lot of Sheriffs. Eight years ago, he decided to tell his own stories, first with the incredible Hell or High Water. Since then he wrote Sicaro and just directed my favourite film of the year – Wind River. If you haven't seen any of these movies, please do – particularly Wind River. It's a devastating story that needs to be told and seen.
Any plans to do any writing/directing? 
I have a short I wrote that I am planning to direct early next year. Crystal Lowe is going to produce it for me – she just don't know it yet. I have directed some theatre in the past and I am keen to get behind a lens to see if I can get what's in my head onto a screen.
If you could spend Christmas anywhere in the world, where would you go and why?
Selkirk heli-skiing in British Columbia. A lodge in the backcountry with half a dozen friends, millions of acres of the best skiing in the world and a Helicopter to access it. (Yes, Cameron Mathison, you can come!)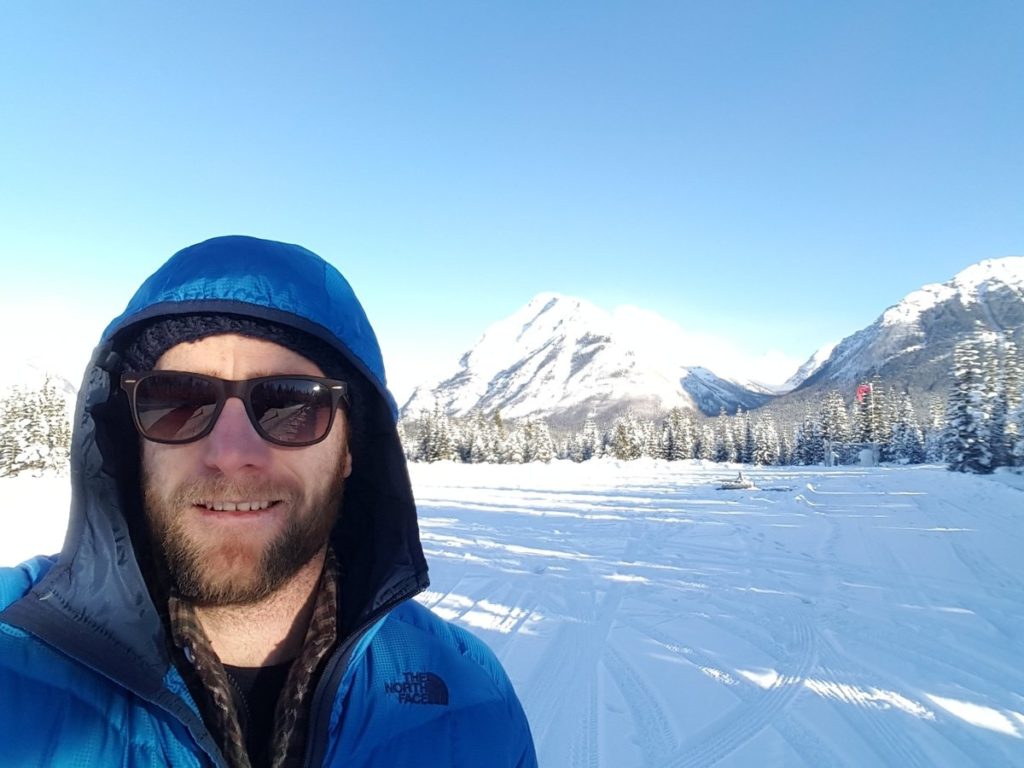 First of all, I am immeasurably excited that Toby is finally realizing those dreams of moving down to LA! I know he has labored arduously to achieve this dream of his, and the fact that he is making this bold career and life move is something for which I applaud him profoundly. I can only imagine that more possibilities will continue to come his way, and knowing this guy, he'll find a way to actualize as many of his dreams as possible. Rarely have I seen a more tenacious working actor than Toby, especially since he tends to keep a low profile as far as the public is concerned. He doesn't buy into the hogwash that some working actors tend to believe in that you must promote yourself exorbitantly in order to get the work and the kind of roles you so desire. Instead, he is always careful to highlight his co-workers and maintain his humble nature and authentic self while still managing to book fascinating roles that permit him to hone and polish his craft. Maybe it doesn't happen as quickly as it might for those who acquiesce to a false scenario, but I am convinced that Toby is doing it the correct way, and his success will be longer lasting than those who vie for attention and their twenty-seconds of glory.
So please tune in next weekend (December 3rd) to the Hallmark Channel and watch what is bound to be a notable highlight of the Countdown to Christmas season for this network–Christmas at Holly Lodge. Furthermore, don't forget to check him out in Christmas Homecoming (a remarkable film and a role that will engender much distaste within the viewer to the point where you may wish to throttle him–which is exactly what he would want to hear concerning his character) and all his upcoming works. Additionally, check out his links below and keep an eye out for this proficient actor whom I believe is on the precipice of a cutting-edge career in which he will be offered more opportunities that are likewise in line with his lifelong goals, interests, and skillset. It is entirely possible that his dream Christmas may become a reality one of these days in the not-too-distant future, and I can only wish him every success imaginable as he is more than deserving of such accolades and adventures.
FOLLOW TOBY
Interested in subscribing to all my site's updates? Subscribe below!