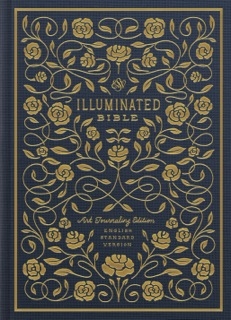 The ESV Illuminated Bible places the full ESV text alongside over 500 elegantly hand-lettered gold ink illustrations by renowned artist Dana Tanamachi. Printed on thick cream-colored paper, the Bible's single-column text setting and wide margins provide generous space for additional notes, prayers, and designs—inviting readers to creatively engage with and reflect on the beauty of God's Word.
⦁ 9-point, Lexicon
⦁ Black letter text
⦁ 2-color printing
⦁ 64 full-page, custom book opener illustrations
⦁ 50 full-page verse illustrations
⦁ 250+ hand-lettered margin verses
⦁ 100+ other illustrations throughout
⦁ Illustrated by Dana Tanamachi, whose work has been featured by Google, The Wall Street Journal, Random House, USPS, and Target
⦁ Thick, cream-colored paper
⦁ Wide margins
⦁ Single-column, paragraph format
⦁ Smyth-sewn binding
⦁ Packaging: Permanent Slipcase
⦁ Dana Tanamachi is an American lettering artist, graphic designer, and illustrator whose exquisite typographic murals ignited the worldwide chalk-lettering trend.  She has been commissioned by clients such as Instagram, Target, Google, Time Magazine, Nike, and West Elm. Learn more at ⦁ tanamachistudio.com.
Recently, I had the opportunity to review this Bible and let me tell you, it is absolutely stunning! I have not had a print copy of a Bible in so long. I always access the Bible online, but this one is simply breathtaking. It has the Old World feel to it. I remember studying in my music history class at college about how they used to include fancy lettering and gold-embossed illustrations in Bibles during the Middle Ages before the age of the printing press. Somehow having this Illuminated Bible makes me feel like I have been endowed with one of these lovely and rare books. The illustrations highlight some of the beautiful passages of the Scriptures, and since it is a hardback copy and comes with own protective cardboard slipcase, I couldn't be happier! I have never owned an EXV translation, but it is similar to the NKJV which I use regularly. This is going to be my "go-to" Bible when I'm home from now on.
How We Made the ESV Illuminated Bible from Crossway on Vimeo.
How would you like to own your very own copy of this fantastic Bible? If you are a U.S. resident, I invite you to enter the giveaway below by November 30th. Best of wishes to you!
a Rafflecopter giveaway
Disclosure (in accordance with the FTC's 16 CFR, Part 255:  "Guides Concerning the Use of Endorsements and Testimonials in Advertising"):  Many thanks to Propeller Consulting, LLC for providing this prize for the giveaway.  Choice of winners and opinions are 100% my own and NOT influenced by monetary compensation.  I did receive a sample of the product in exchange for this review and post.
Only one entrant per mailing address, per giveaway.  If you have won a prize from our sponsor Propeller /FlyBy Promotions in the last 30 days on the same blog, you are not eligible to win.  Or if you have won the same prize on another blog, you are not eligible to win it again.  Winner is subject to eligibility verification.
Interested in subscribing to all my site's updates? Subscribe below!