For those not aware of the new NBC show The Brave, I invite everyone to check it out tonight. I was offered an advance screening of the episode airing tonight (October 16th). It is definitely the best episode yet!
Episode Synopsis: An American traitor who turned to terrorism becomes integral in preventing the next attack on U.S. soil. When the only interrogator who can do the job is brought in to stop the attack, there is an unexpected breach in the prison where Dalton (Mike Vogel) is stationed. Also starring Tate Ellington (Noah Morgenthau), Demetrius Grosse (Ezekiel "Preach" Carter), Natacha Karam (Jasmine "Jaz" Khan), Noah Mills (Joseph "McG" McGuire), Sofia Pernas (Hannah Rivera) and Hadi Tabbal (Amir Al-Raisani). Also guest starring Connor Paolo (Nate)
I have been watching this show from its inception, and in my opinion, this is the best episode thus far. Yet again, viewers are transported to another dangerous, remote area where a daring mission must be carried out by the fearless leaders of this Special Ops group we have grown to admire. This time, they must enter a prison in the Middle East that houses captured Taliban members who are forced to renounce their noxious dogma. Housed within this volatile retinue is none other than an American who joined the Taliban and may be able to shed some light on a recent, unexplained explosion.
Viewers are accustomed to witnessing the feisty, stalwart Patricia Campbell in the control room but in this episode, she is thrust into the thick of things. I was completely captivated with Anne Heche as she portrayed this incredible female who is aware of exactly which tactics to employ when confronted with such an uncooperative prisoner. Furthermore, due to the succinct writing in this episode, viewers are able to glean more of Patricia's backstory in a rather unexpected but expertly crafted way. If anyone has ever questioned why Anne was chosen to play the fierce Patricia, this is the episode where her immersion within the role and her uncanny skill answers any of those potential questions. I found myself on the edge of my seat for the duration of the episode and I doubt I exhaled until the final moment of the nail-biting conclusion.
In the role of Dalton, Mike Vogel has been precisely flawless, and he only gets better in this upcoming episode. Somehow, he has found the perfect combination of strength and determination–as well as a bit of swagger–to engender love, reverence, and a bit of aggravation for the inimitable Dalton. There is never any doubt that his sole purpose is to see that every person in his team survives even at his own peril, and in this episode, Patricia demands the impossible, which places him in a quandary that reminds me why I could never do this job.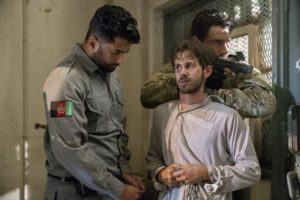 As suggested by the title of this episode, viewers are guaranteed a wild ride as a potential prison break must be thwarted by any means possible as long as the Americans emerge "safe," including the Taliban prisoner, Nate, as played stoically by Connor Paolo. Through his character, viewers are subjected to the "reasoning" of a Taliban fighter, but gratefully, Patricia is savvy enough to answer every issue he raises.
Fortunately, this episode injects a few light moments into this story as a whole as we are privy to the slightly playful interactions between a couple of other members of the team who remain back in the main control room. Moreover, as the task force comes together, viewers can depend on the fact that no matter what happens over the course of this episode, the problems will always be solved in the most unusual and fortuitously cunning way.
While it is true that there are currently three new shows this season that are centered around military themes, The Brave has the distinction of featuring relatable storylines and personable characters that are relatively easy to follow. The venues and rescues are varied, and at this point, the show is not overly violent, bloody or teeming with superfluous sex or profanity. It is rare to see a show that has such strong writing and acting and does not feel the need to fill a perceived void with excessive clutter that tends to muddy the waters.
If you have not been watching The Brave, please consider tuning in Monday nights at 10/9c to NBC.
FOR MORE INFORMATION
(Originally reviewed for TelfieBuzz)
Interested in subscribing to all my site's updates? Subscribe below!