"Disclosure (in accordance with the FTC's 16 CFR, Part 255:  "Guides Concerning the Use of Endorsements and Testimonials in Advertising"):  Many thanks to Propeller Consulting, LLC for providing this prize for the giveaway.  Choice of winners and opinions are 100% my own and NOT influenced by monetary compensation.  I did receive a sample of the product in exchange for this review and post.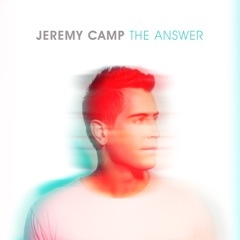 JEREMY CAMP "THE ANSWER"
So let me tell you a story. Typically, I am not really a massive fan of contemporary Christian music. I had heard of Jeremy Camp, and I thought, "Well, this sounds nice. Let's give it a try." I remember the CD arrived, and I thought, "The next time I go to work, I am playing this in the car."
It just so happens my next trip to work was that dreadful morning when Americans (and people all over the world) woke up to the horrific news about the Las Vegas Massacre. I remember hearing the breaking news before going to bed, but until I got up the next morning, I had no idea how horrific this crime was. I watched the news all morning long and wept over what I was hearing and witnessing.
When I got in the car, I said to myself, "I do NOT want to hear the news!" So I put this CD in, and the uplifting praise music that Jeremy Camp sang was exactly what I needed to hear. His music uplifted me that day and was encouraged and reminded that God was in control. While I didn't lose anyone in that horrible shooting, it was a glorious reminder of Who our world needs today!
My favorite song on the album is the last song, Wake O Sleeper. I could easily play that one on repeat because it has got a great beat and message. What a finale to the album it is! But there wasn't a song I didn't like. In fact, I loved it from start to finish!
In conclusion, if you want some positivity from the Word of God and a reminder that God is still on the throne, purchase this album today!
Buy-link:
http://capcmg.me/TheAnswer?IQid=flyby
Word Of Life Music Video: https://www.youtube.com/watch?v=wrX2tGgADu0
Word Of Life Song Story: https://www.youtube.com/watch?v=zGuxZC7Ncn4
The Answer Music Video: https://www.youtube.com/watch?v=zGuxZC7Ncn4
I am so grateful that the sponsor has agreed to giveaway one copy of this fabulous album. If you are a U.S. resident, please enter the rafflecopter below by 9 PM Pacific time on October 17th.
a Rafflecopter giveaway

Only one entrant per mailing address, per giveaway.  If you have won a prize from our sponsor Propeller /FlyBy Promotions in the last 30 days on the same blog, you are not eligible to win.  Or if you have won the same prize on another blog, you are not eligible to win it again.  Winner is subject to eligibility verification.