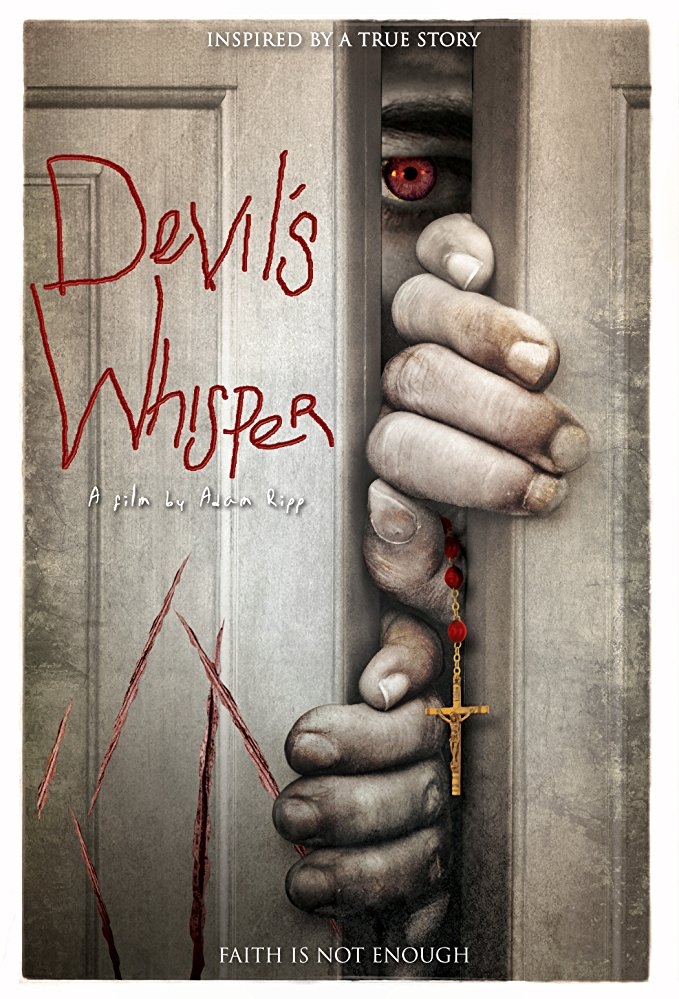 Synopsis: 15-year-old Alejandro Duran, who comes from a religious Latino American family, aspires to one day be a Catholic priest. But when Alex discovers a mysterious box, passed down from his grandparents, he unwittingly unleashes a demonic spirit bent on possessing him. Alex must find a way to defeat this ancient demon, which has been tormenting children since the dawn of man, before it destroys him and everyone he loves. On the surface, Devil's Whisper is a supernatural horror film about demonic possession, but at its core, it's a psychological thriller about repressed memories, childhood trauma, and the cycle of abuse.
Initially, my reason for taking an interest in this film was sparked by the involvement of my friend, Rick Ravenello, in this project. I knew no one else involved with this movie, but as I have always told Rick if he's in it, I will watch it and support it wholeheartedly. Long ago, he mentioned his role in this film, and I found myself intrigued by the description I found online.
Once the film was officially released to various film festivals and began winning awards, I offered to review this film.  Now that it is being officially released to the general public, I am posting my review, which will probably be unlike any other review I have ever posted.
Being a huge proponent of independent films, I have watched my share of indies that are a bit unusual, strange, and certainly not my cup of tea. I went into this film expecting something akin to the TV show Supernatural, a show I recently "discovered." While I was ready for thrills, suspense, and perhaps even an occasional light-hearted look at the demonic world, I will admit that I was decidedly mistaken. To compare this movie to Supernatural is a gross misconception that does no justice to either work. This film is in a class all its own, and when I declare that this film stretched me beyond anything I have ever known, I am stating the absolute truth. This film is not for the faint of heart, and it goes beyond entertainment and flamboyant special effects; this film is one of the most jarring things I have ever witnessed, and I can honestly say that I am honored to have screened this movie. To describe it as a horror is somewhat of a misnomer, but it does have its appalling moments. But most of the film can be described as a thriller and a drama with supernatural and intermittent horror elements.
First of all, for my sensitive readers, I don't want you to be alarmed if you choose to view this film. You will hear a string of profanity that may cause you grief and disgust, but most of the time, it does not involve the name of God (for which I am most grateful). There are no bedroom scenes per se, but there are some allusions to sex and drugs that are nothing more than what might be seen in a PG film. The top caution I would give is in reference to the supernatural components. There is violence that will disturb you and possibly have you turning away in revulsion. Demons are seen through the use of CGI, and the havoc they inflict on the family, the town, and even the priest himself is shocking and disconcerting. Again, the scenes are reminiscent of what may be seen on other supernatural-themed television shows and movies, but I found every instance necessary and compelling though quite unsettling.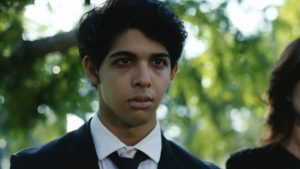 As the lead in this narrative, Luca Oriel gives an absolutely stunning performance as Alex. While I am unfamiliar with his previous works, I cannot praise him highly enough for the way in which he portrays this troubled young man. While Luca has a few other solid credits to his name, if he was not able to immerse himself in the character of Alex, the movie would have floundered into oblivion. His task is to convince the viewers through his incomparable performance that Alex not only wants to be a priest, but he is suffering from supernatural sightings and repressed childhood memories. His parents don't understand him. His friends don't understand him. He attempts to fit into the typical crowd of his peers, but there is that something different that you can't pinpoint which sets him apart as an anomaly. And Luca is able to provide the breed of acting required for every scene. Whether he is confessing his sins to Father Cutler, endeavoring to enjoy the antics of rebellious teenage life, or dealing with a tenacious demon that is making a concerted effort to railroad his future aspirations and ultimately possess this young man, Luca gives an authentic performance that had me in his corner even when he was in the wrong. The pathos and sincerity he injects into this role, as well as the excruciating pain and emotion he displays in several key moments, have shaped this film into the masterpiece of storytelling that it is.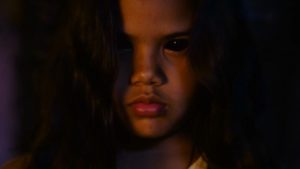 Although her role may be incipiently considered small and unimportant, the role of Alicia, Alex's sister, is played by the captivating seasoned professional, Alison Fernandez. Alison has been featured in a wide variety of works including, Once Upon a Time and Jane, the Virgin amongst other roles. We can thank Alison for providing some cute and fun moments in what would otherwise be a "doom and gloom" film. But don't minimize her ability to carry off the dramatic and even the bizarre and poignant. Near the end of the film, Alison executes a scene that had me immensely riveted in spite of the fact that I genuinely longed to avert my eyes. While she can capture the essence of the sweet, angelic girl, her experiences with the supernatural will probably leave you breathless and in awe of her uncanny talent.
As Alex's father (Marcos), Marcos A. Ferraez gives a solid performance. As one with vast experience in television and film (Sons of Anarchy, Criminal Minds), he brings that wealth of experience to this role and characterizes the father who only wants to help his son, but at the same time protect his wife and daughter from the evil forces that may be coming their way. While he is not a believer in the supernatural and he only appears to pay lip service when in church, once faced with circumstances and unexplained phenomena beyond his control, he appears helpless and turns to the science of psychology for help. There is never any doubt that he loves his family, and although he is rather dubious about Alex's insistence on demonic activity, he is only interested in keeping his family safe at all costs. And Marcos is such a skilled actor that he brings all of this to the role of this father without upstaging any of the other actors involved, especially Luca.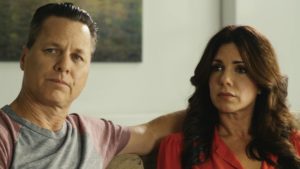 In the role of Alex's mother (Lucia), Tessie Santiago unquestionably knocks it out of the park. Again, Tessie brings considerable experience to this rather emotionally distraught mother role (Queen of Swords, The Cell 2, Scandal), and she suits this role immaculately. Some actresses may fancy playing Lucia as an over-the-top mother who is constantly crying and screaming about the plight of her son, but Tessie never overplays anything. As a mother myself, I felt that I could relate to her, and I found myself empathizing with her situation o more than one occasion. One of her most impactful scenes is the one featured here when her husband realizes that maybe she was right all along and she should have permitted Alex to continue working through his childhood trauma. The love between the mother and father is never questioned, and they only want the best for Alex and to assist him through this ordeal. She has that sixth sense that Marcos finally accepts he needs to heed, but her love for her husband keeps her from mocking him with the proverbial "I told you so" when that occurs. Both parents have been expertly cast, and the entire family unit is as authentic as any I have ever seen on screen. The family interchange and dynamics work expertly, and their director Adam Ripp deserves maximum praise for keeping this family unit realistic in light of the surreal nature of the storyline.
Also worth noting are the young actors who portray Alex's school friends, including his potential girlfriend. While they are the customary teenagers who are attempting to find themselves and break from the traditions of their families and even the church, that is the key ingredient: they appear normal. They question Alex's supernatural sightings in much the same way they marvel at why he would choose to become a priest. While Benjamin, Justin, and Coy don't bring a vast amount of credits and experience to this project, that is not even an issue when watching these young men. They appear nonchalant, realistic, and above all, convinced of their invincibility as young people.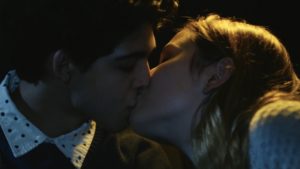 As Alex's potential love interest (Lia), Jasper Polish exudes the anticipated "coming-of-age" womanly qualities one might expect coupled with an aggressiveness that demonstrates she is ready to pursue a real relationship with Alex, not merely a casual "just friends" relationship like they have known for most of their lives. I found it intriguing to see Alex as the one who was hesitant due to his future priestly aspirations, but it is clear that Lia gets a bit more than she has anticipated in Alex. Jasper's depiction of Lia's unspoiled and caring persona melded with a bit of unbridled initiative enraptures the viewers and makes us sympathize with her plight all the more. Jasper has definitely made an impression with this role, and I look for meatier roles to be sent her way in the near future.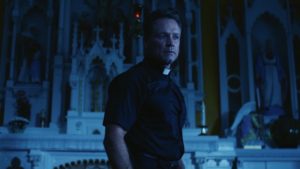 Of course, Rick was the reason I even agreed to review this film in the first place, and as Father Cutler, he undeniably makes an impact despite his relatively brief appearances in the movie as a whole.  While I know comparatively little about the Catholic faith, the disposition Rick has adopted for this film is undoubtedly in keeping with what I do know of priests. I enjoy the fact that he is a bit nontraditional at times and some of his recommendations, especially to Alex, may be suspect now and then, but his genuine concern for the well-being of his parish is always at the forefront of his mind. He attempts to be as relatable as possible in a century when traditions of the Catholic church are constantly changing and even being devalued. For Father Cutler, his faith is bona fide and organic as opposed to distant and defunct. And the fact that Rick is able to infuse those elements into a Catholic priest is something I greatly respect. Not since Bing Crosby played Father O'Malley have I seen an actor portray a priest with such a pragmatic persona and engaging air. The fact that his character is ex-military only increases his credibility and affability.
In many ways, Rick is the actor who propels the story to its ultimate conclusion. Whenever tragedy strikes this small community, he is there to speak the words of healing and comfort. When Alex confides in him concerning his supernatural sightings, the audience discovers a surprising correlation in the life of Father Cutler himself. Furthermore, Rick's character proceeds to provide the audience with one of the most bizarre scenes in the entire film, and he does it in such a way that if you do not inwardly leap in unadulterated terror, I will be amazed. I have witnessed Rick handle the supernatural in other films, but his portrayal in this film supersedes those previous undertakings. Indubitably, Rick's scene by himself in the church is one that will remain with me for the rest of my life inasmuch as it is that potent and masterful.
It is Rick's character (and also Luca's as well) that brings an ingredient to the film that I had not considered nor expected. In most supernatural films or shows, demons are explained away, killed, or just disappear at the end with no explanation (thus leading to countless opportunities for sequels). Because Adam Ripp and his fellow writers decided to involve the church and its traditions in this film, the religious aspect is emphasized in a way I am not used to seeing. Even the logline that is used to advertise the film–"Faith is Not Enough"–demonstrates that this film is not your average supernatural thriller. Therefore, when I state that I witnessed and even appreciated the symbols of faith in this film, I must disclose the fact that I also come from a place of faith myself. While I would not characterize this as a Christian film in any sense of the word, I found myself and my beliefs actively challenged on many occasions while I was watching.
For me, it is about the difference between "faith in a religion" and "faith in Christ." I am a firm believer in the forces of darkness led by the chief demon himself, the devil. I know that demons do possess people, and not all can be explained away by human reasoning and psychotherapy. Faith in the religion and traditions of the Catholic church is not enough to withstand demonic forces, and I believe this film demonstrates that particular conviction. Faith in the completed work of Jesus Christ and the calling upon Him–that is what can ultimately defeat the work of the devil. I am grateful to the writers for the inclusion of stimulating faith-filled prayers within the fabric of the story, and Rick and Luca both have incredible moments when speaking forth the Word of God.
Now, I realize that this film focuses on the theme of "personal demons," or unresolved issues. To the writers' credits, I readily recognize that element of the story, for repressed memories and even roots of bitterness can surface when least expected and cause all sorts of unfathomable suffering. While I don't espouse the entire belief system or theology of this film, I acknowledge that it is not a "faith-based" film, and its purpose is to expose a wide variety of visceral issues that will speak to each viewer individually. Moreover, it is a film that I shall never erase from my mind, and I can only presume that anyone who chooses to experience this film will perceive its relevance far beyond mere entertainment value.
While I am deficient in the discipline of film direction and do not consider myself an expert on that science, Adam Ripp obviously has done a consummate job of shooting this film in such a way that the story is never lost and the actors are free to express their characters in the most credible way possible. I never sensed the pacing of the film as too rushed or too slow, and the use of dark and light imagery was appropriate for every situation in conveying the proper mood. I was never so frightened that I felt I had to divert my gaze from the film, but Adam ensured there were many adrenaline-pumping moments scattered throughout the film in just the right amount.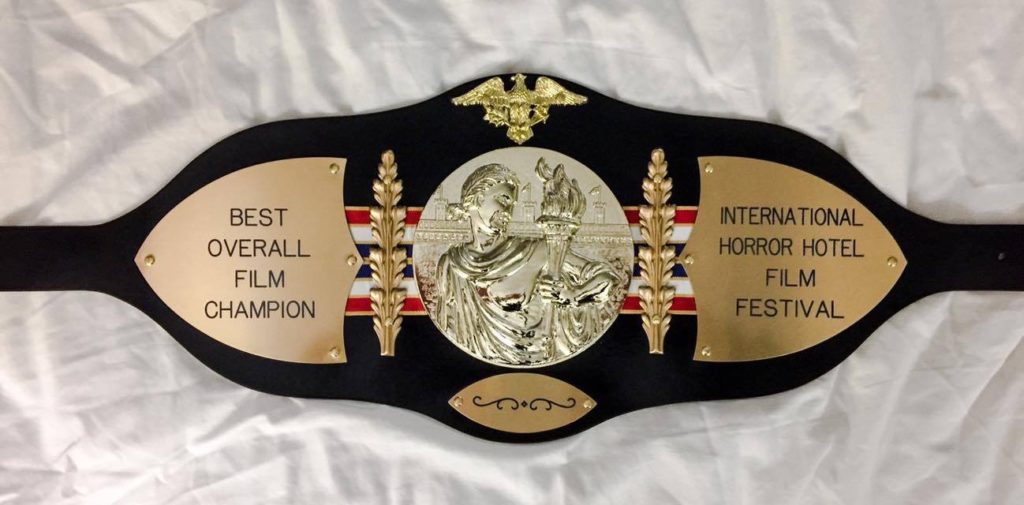 For more information:
Ordering Information:
Walmart – http://bit.ly/WalmartDWDVD
Best Buy – http://bit.ly/BBDevilsWhisperDVD
Amazon – http://bit.ly/AmznDevilsWhisperDVD