The Special Edition release of Despicable Me 3 comes with an all-new mini-movie and over an hour of bonus content including a never-before-released deleted scene, and so much more! It arrives on Digital and Digital 3D on November 21, 2017 and on 4K Ultra HD, Blu-ray™, DVD and On Demand on December 5, 2017 from Universal Pictures Home Entertainment. 
With an all-new original song by Carly Rae Jepsen, Leap! tells the heartwarming tale of one girl's dream to become a dancer in Paris. It arrives on Digital HD on November 7 and on Blu-ray™, DVD and On Demand on November 21 from Lionsgate Home Entertainment.
My daughter and I (she is fourteen) thoroughly adored Despicable Me 3, and I can tell you if you have not seen this one, you are in for a real treat!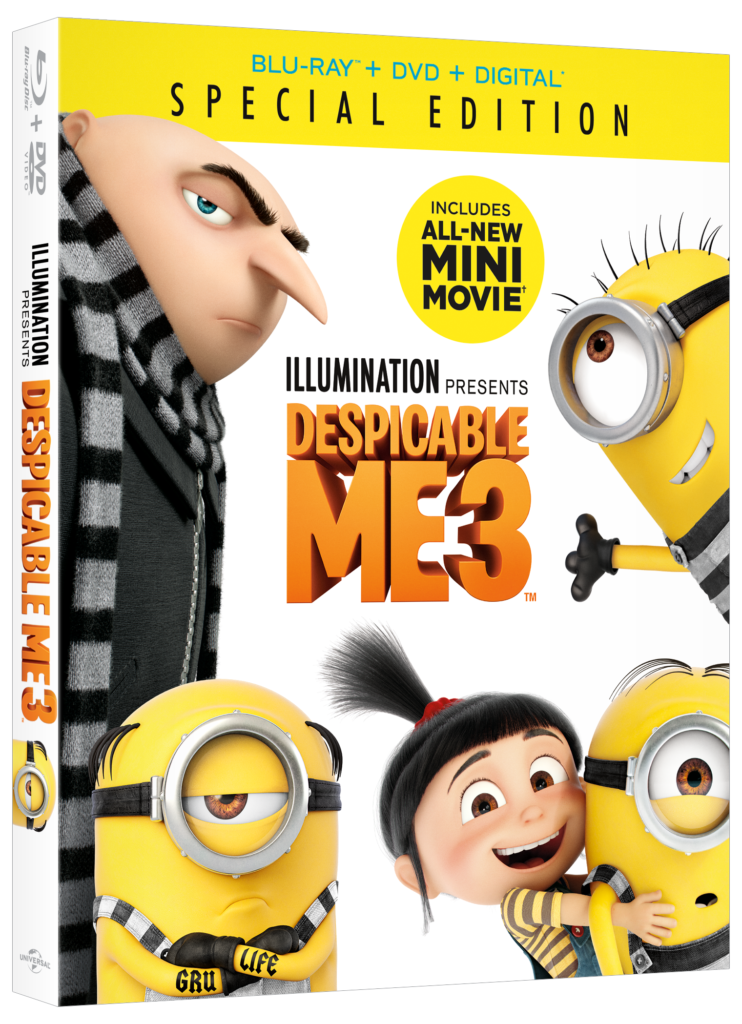 Despicable Me 3 will be available on 4K Ultra HD in a combo pack which includes 4K Ultra HD Blu-ray™, Blu-ray™ and Digital. The 4K Ultra HD will include all bonus features on the Blu-ray™ disc.
4K Ultra HD is the ultimate movie watching experience. 4K Ultra HD features the combination of 4K resolution for four times sharper picture than HD, the color brilliance of High Dynamic Range (HDR) with immersive audio delivering a multidimensional sound experience.
Blu-ray™ unleashes the power of your HDTV and is the best way to watch movies at home, featuring 6X the picture resolution of DVD, exclusive extras and theater-quality surround sound.
DIGITAL lets fans watch movies anywhere on their favorite devices. Users can instantly stream or download.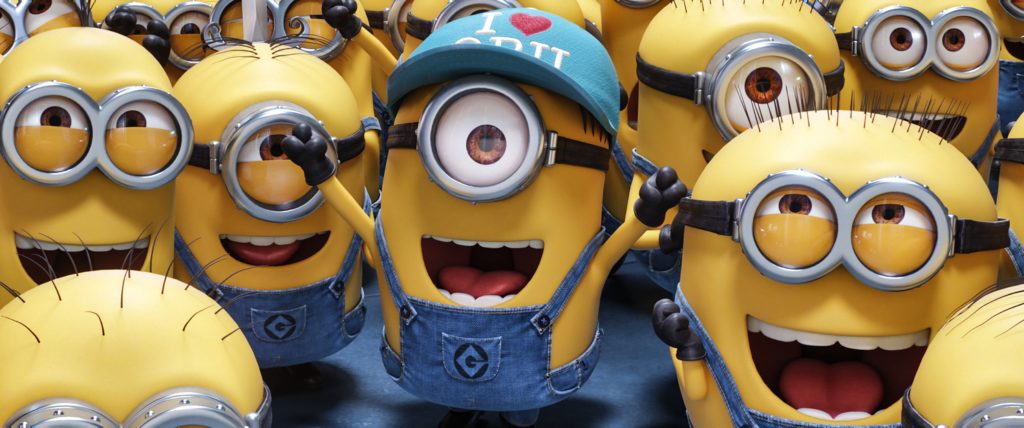 BONUS FEATURES EXCLUSIVE TO 4K ULTRA HD, BLU-RAYTM, DVD & DIGITAL:
All-New Mini Movie — The Secret Life of Kyle
Minion Moments — Watch the Minions cause more hilarious mayhem with Gru
Deleted Scene — With intro by Dana Gaier, the voice of Edith
Character Profiles — The inside scoop on the most popular characters, from the actors who play them
The Making of Despicable Me 3 — A behind-the-scenes look at the making of the movie
Developing Dru — Behind the scenes character development of Dru
The AVL Files — Through the lens of the Anti-Villain League's hi-tech database, this ultra secret, interactive surveillance briefing showcases all of the agency's amazing creations and top agents
Freedonia Visitors Guide — Welcome to Freedonia! See all that the town has to offer with this interactive map. From its world-class cheese to its beautiful coastline, Freedonia has it all!
Despicable Me TV — Tune in for some fabulous fun with these Despicable Me 3 infomercials. Includes "Balthazar Bratt Action Figure," "Bad Boy Bod by Balthazar Bratt" and "Agnes' Super Cute, Incredibly Amazing Toy Sale."
"Doowit" Sing-Along — Sing along with Pharrell Williams as the Minions plot their escape from prison
"Yellow Light" Music Video — Official music video by Pharrell Williams
Minion Mugshots — The Minions add to the long list of celebrity mugshots in their very own "rogues gallery."
Wanted Posters — Have you seen these Minions wanted for various crimes?
Website: http://uni.pictures/DM3
Trailer: http://uni.pictures/DM3Trailer
Facebook: https://www.facebook.com/DespicableMe/
Twitter:  https://twitter.com/DespicableMe
Instagram: https://www.instagram.com/despicableme/
YouTube: https://www.youtube.com/user/DespicableMeMovie
Hashtag: #DespicableMe3
While I have not seen Leap!, this is one that I have been excited to watch, so maybe I'll get my chance!
Heartwarming Animated Family Adventure Featuring All-Star Voice Talent and Original Song by Carly Rae Jepsen Arrives on Digital HD November 7 and Blu-ray™, DVD, and On Demand November 21 from Lionsgate
Eleven-year-old orphan Félicie (Fanning) has one dream — to go to Paris and become a dancer. Her best friend, Victor (Wolff), an imaginative, exuberant boy with a passion for creating, has a dream of his own — to become a famous inventor. In a leap of faith, Victor and Félicie leave their orphanage in pursuit of their passions. But there's a catch: Félicie must pretend to be the child of a wealthy family in order to gain admittance to the prestigious and competitive Opera Ballet School in Paris. And with no professional dance training, she quickly learns that talent alone is not enough to overcome the ruthless, conniving attitudes of her fellow classmates, led by the devious Camille Le Haut (Ziegler). Determined to succeed, Félicie finds her mentor in the tough and mysterious school custodian, Odette (Jepsen), who, along with Victor's encouraging friendship, help her reach for the stars.
An animated adventure the whole family will enjoy, the Leap! home entertainment release includes a behind-the-scenes video gallery and a look at stars Kate McKinnon, Nat Wolff, and Maddie Ziegler in the recording booth. Leap! will be available on Blu-ray (plus DVD and Digital HD) and DVD for the suggested retail price of $39.99 and $29.95, respectively.
BLU-RAY / DVD / DIGITAL HD SPECIAL FEATURES
"In the Recording Booth with Kate McKinnon, Nat Wolff, and Maddie Ziegler" Featurette

Behind-the-Scenes Video Gallery:

The Birth of a Dream

Animating the Dance

Reconstructing 19th Century Paris
Trailer: https://youtu.be/Cg-QNi9I-bE
Facebook: https://www.facebook.com/LeapMovieOfficial/
Instagram: https://www.instagram.com/leapthemovie/
Twitter: https://twitter.com/LeapTheMovie