In my ongoing quest to highlight young people and their accomplishments in the entertainment business, I happened upon the sensational, young talent, Peter Bundic. While some may be unfamiliar with his work, his credits are progressively increasing, and there is a chance you may have seen him in a popular movie or show without even realizing it. Recently, he agreed to answer a few questions about his experiences so far as an actor in this industry for which he truly has an intense zeal.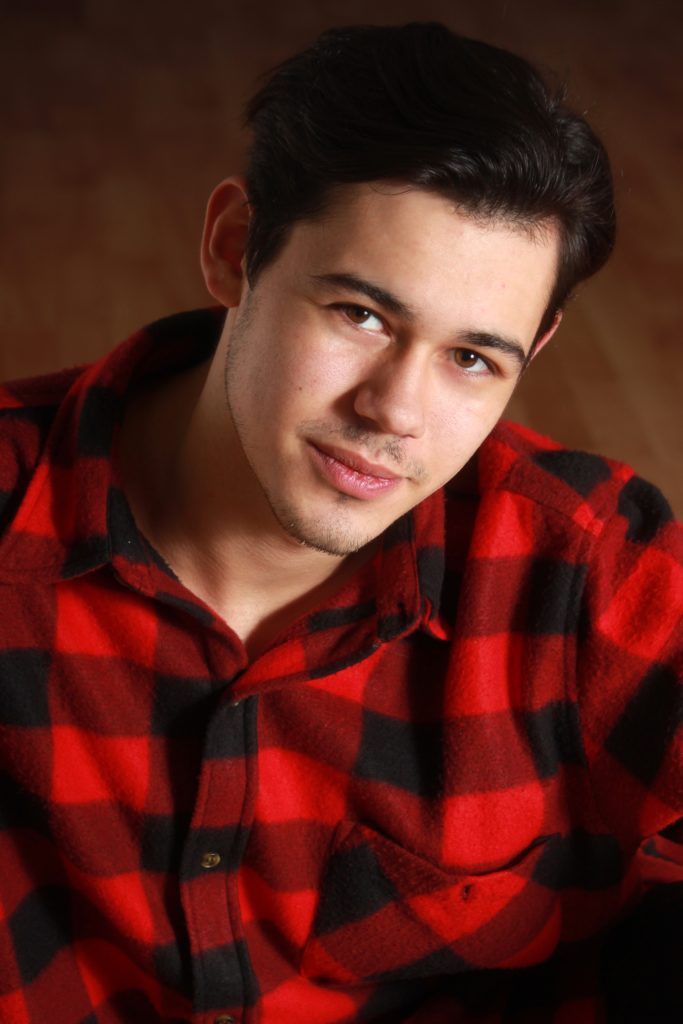 RH: Why did you decide to become an actor?
PB: When I was younger, I always enjoyed entertaining and putting a smile on my family's face. When I act, I like fully getting into the character I'm playing and experiencing their emotional journey. I feel this helps me be more insightful in understanding people better.
What was your first acting role?
When I was seven years old, I booked a Nissan Versa commercial. This was actually my first audition. Being on set for the first time was surreal and I immediately fell in love with working on projects.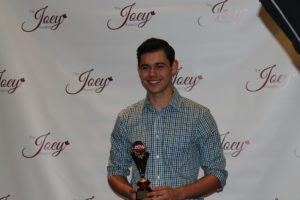 According to your IMDB, one of your first credits was on the TV Series, Eureka. What was that experience like?
I had a lot of cool experiences working on that show. The most fun I had was going down a zip line in one scene. The thrill of it was amazing and I love that I can do things like that as a part of my job.
You were in Rise of the Planet of the Apes. What was that experience like? Any memorable moments from filming?
This was one of the first really big sets I've worked on. I played the Newspaper Boy. I had fun focusing on throwing the newspaper in the right spot with my left arm for the camera angle. I got pretty good at it by the end of the shoot.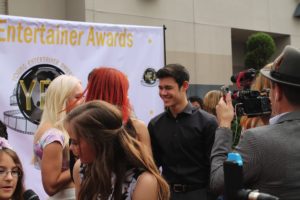 I notice you are an independent filmmaker as well and have had experience behind the camera. Why did you decide to direct/write your own films? What do you see as the benefits of indie films? What are the challenges?
I love all aspects of putting a production together. I am very creative as an actor and have good ideas when making a film and how to direct them. You always run into little challenges, but it's very satisfying when you overcome them working as a team.
In 2016, you received a Joey Award. What can you tell us about your involvement with the music video for which you won?
I won the award for my performance in the music video "Snowflakes," which was dedicated towards mental health. I was honoured to be a part of this because I feel very strongly for this cause. People all around the world suffer from mental health issues and it deserves the awareness.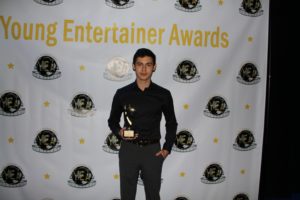 This year, you were seen in the Lifetime film He Loves You Not (which was renamed Seduced By a Stranger in the U.S.). What did you enjoy about your role and working on that film?
I enjoyed playing the neighbourhood kid having fun flying my drone. I got to work with a couple of actors I train with which was nice sharing that experience with them.
You are currently in the Disney XD show Mech-X4. Without spoiling the story, what can you tell us about your role this season and what it was like working on the show?
I played "Brick" in Mech-X4. My character was a jock and I had many scenes where I got to have a lot of fun doing stunts, including flipping tables, fighting, and playing basketball. I went through a journey as my character turned into a zombie and I got frozen with icicles on my face. All of the actors and crew were super great to work with. Honoured to be directed by Eric Dean Seaton, I had a lot of fun working with him. The cast and I made amazing memories on set telling jokes and making our way to crafty together when we were on our breaks.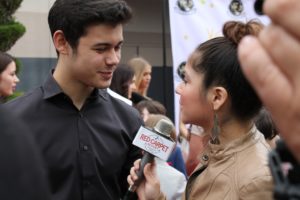 Any other upcoming works you can mention?
I just played a lead in a new Netflix show, which will come out next year. I can't mention anything yet, but more information will be released once the show has aired.
I see that you are a football player as well. What do you enjoy about football? Please tell us about your accomplishments within that sport.
I've always been involved with sports. I've played football for five years and have traveled to Las Vegas playing for Team BC and to Miami playing for the AllStar team. Being a part of a team, you have to be dedicated and going through the wins and loses together, and that helps shape strong relationships and responsibility with one another. I've always chosen to be involved with school teams like wrestling and track as well as soccer outside of school and riding motorcycles with my dad. Being active is part of my lifestyle and I'm always in the gym trying to be a stronger version of myself every day.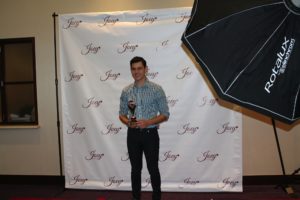 As a young person in the business, how have you kept yourself away from negative influences and remained on the right path?
The most important thing to me is to always remember why you started and to stay focused by following your heart. I am very passionate about what I do and avoiding negative influences is what I believe I should always hold true to myself and my loved ones. Everybody gets down sometimes, but when you focus on the good, even if it's small, you can always pick yourself back up and continue on your journey.
What are your long-term goals in the world of entertainment? 
My long-term goals all flow back to the main idea. I want to do what makes me happy and I want to be able to do the right thing and help others do the same. I see myself acting for the rest of my life, not only to improve my craft, but to try and grow as a person with the people around me.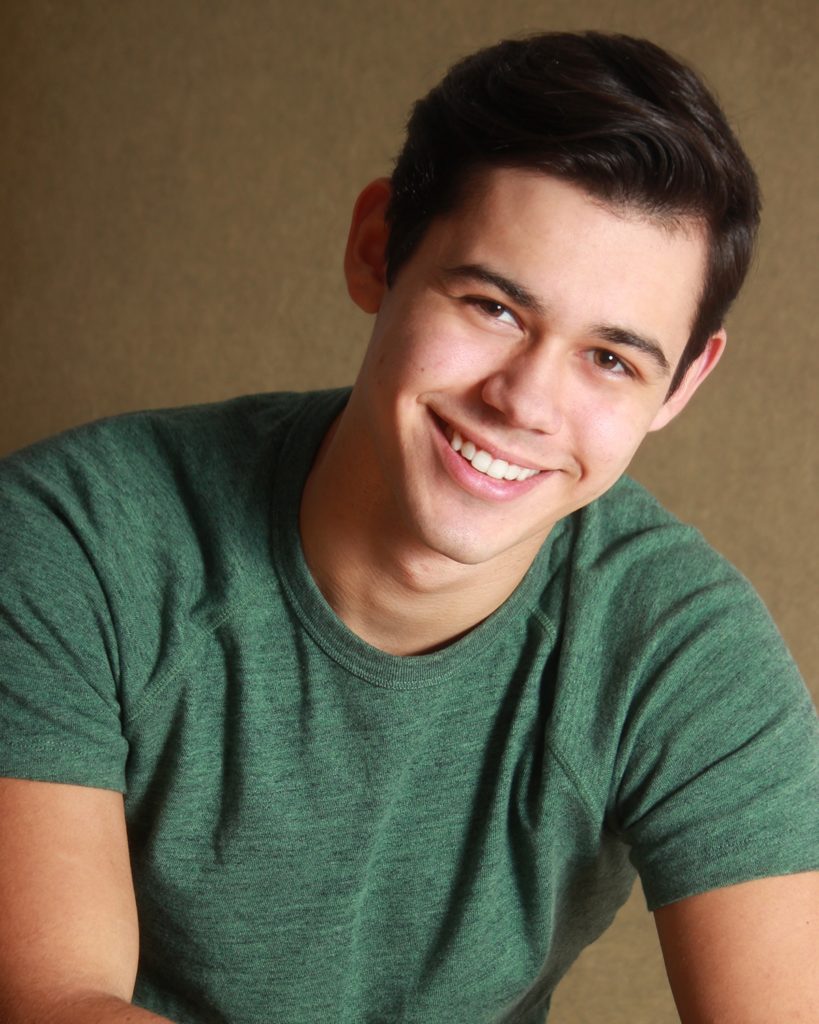 For me, Peter's attitude and work ethic are the attributes which most impress me about a young talent such as he. While he is consistently honing his skills and widening his sphere of influence, he is already assembling everything needed to ensure a lifelong career in this sometimes fickle business to which he has attached himself. He vehemently eschews the negativity that abounds in practically every echelon of society, and he chooses to focus his attention on the work at hand and even those who may need a helping hand lest they become lost within the vast sea of depression that threatens to swallow them. As an actor, he realizes he is in a unique position to inspire hope, peace, kindness, and love amongst all people everywhere, and in his own way, he is accomplishing this by remaining true to who he is and focusing on telling stories that entertain and encourage. I would invite all my readers to check out all his links below and follow him where applicable. As his maturity and sobriety far outweighs his years, there is no doubt in my mind that as he perseveres on this path of integrity and authenticity grounded with humility and forbearance, only true success awaits this youth who has chosen to follow his dreams to their ultimate fruition in spite of any obstacles or pitfalls along the way.
FOLLOW PETER
Interested in subscribing to all my site's updates? Subscribe below!