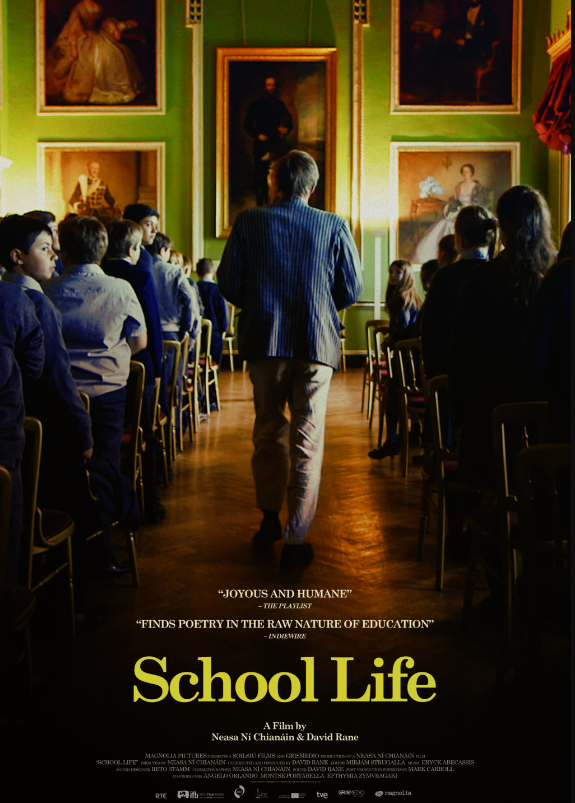 SYNOPSIS
Housed in an 18th-century estate, school life at Headfort embraces tradition and modernity. For John, rock music is just another subject alongside Math, Scripture and Latin, taught in a collaborative and often hilarious fashion. For his wife Amanda, the key to connecting with children is the book, and she uses all means to snare the young minds. For nearly half a century these two have shaped thousands of minds, but as John and Amanda ponder retirement, the film poses a quietly profound question: Will their intimate and caring cultivation of future generations live on, or will it vanish like so many community-centered practices?
Directed by Neasa Ní Chianáin, David Rane
Produced by David Rane
Cinematography by Neasa Ní Chianáin
FEATURING
Amanda Leyden
John Leyden
Headmaster Dermot Dix
And the students of Headfort School, including:
Eliza, Florrie, Ted, Megan, Charlie and Olivia
IN THEATERS SEPTEMBER 8TH
A DELIGHTFUL CROWD-PLEASER. An irresistibly admiring portrait." – Neil Young, Hollywood Reporter
"JOYOUS AND HUMANE. A moving, heartwarming look at youth, thoughtful discourse, and the emotional and intellectual power of artistic endeavors." – Gary Garrison, The Playlist
"FINDS POETRY IN THE RAW NATURE OF EDUCATION. The most adorable documentary that Frederick Wiseman never made." – David Erlich, Indiewire
"It's hard not to be moved. A gentle but keen-eyed documentary" – Guy Lodge, Variety
"Without a doubt, viewers will recognize a beloved figure from their own school years in the aging and endearingly oddball teachers." – Fionnuala Halligan, Screen
When I first began watching this film, I admit that I had absolutely no idea what to expect. I knew this was a documentary about schoolchildren in a boarding school in Ireland, and I was aware of the fact that it followed primarily the two older teaching couple. Other than that, I knew very little, so I was quite intrigued to take a look at this film.
As many documentaries are wont to do, it was a bit slow in places (especially at the beginning), but what it had going for it was this other-worldly charm. I was a teacher for many years, and my students were never that well-behaved nor removed from the pop culture. While there were occasional glimpses of the outside world (popular music in choir, minor rule infractions), for the most part, this felt as though I had stepped back into a simpler time when the world of the teacher and the headmaster meant something. Children wanted to learn, or if they didn't, they at least sat there quietly so as not to get in trouble.
While I was not bothered, there are a few brief expletives (mostly said quietly, almost reverently, not like we often hear in American films), and there are some instances of smoking and/or drinking.  It would behoove the viewer to be reminded that some laws are different in Ireland (drinking age is not necessarily the same).
For me, the parts I most enjoyed revolved around the choir/music class. The elderly gentleman who taught them was quirky, and sometimes he was a bit harsh with the students. However, the "old school" approach does tend to work with students even in today's politically-correct society. And in this case, I never doubted how much he cared for his students.
If you do have the opportunity to see this film, please understand that you are not going to be heavily entertained with bells, whistles, or CGI. You are going to see real-life kids, teachers, and interactions. Sometimes it is mildly amusing, and other times, it pulls on your heartstrings. There are moments that are a bit boring, but I found myself so invested in the lives of the students and teachers that I ultimately wanted to know how it would end. I found myself reminiscing about my school days, and I applauded the teachers' dedication to the students.
For more information (including ticket purchase), please visit the official website and check them out on social media as well.