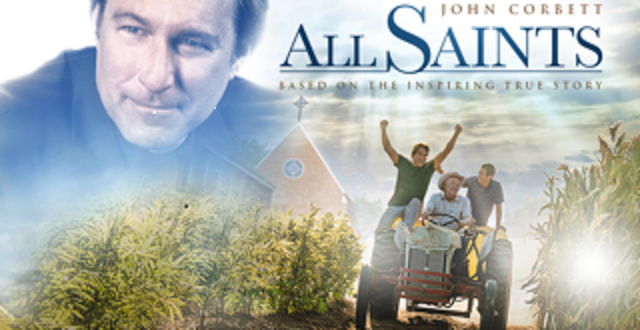 ALL SAINTS
-Genre: drama
-Rating: PG
-Run time: 1:48:00
-Recommended ages: 10 and up
-Release date: 8/25/17
-Studio: Sony AFFIRM (Sony Pictures)
-About: ALL SAINTS is based on the inspiring true story of salesman-turned-pastor Michael Spurlock (John Corbett), the tiny church he was ordered to shut down, and a group of refugees from Southeast Asia. Together, they risked everything to plant seeds for a future that might just save them all.

Behind the Scenes:
The Heart of the Movie: https://www.youtube.com/watch?v=iXv6h8avzFM
All Saints: John Corbett Decisions: https://www.youtube.com/watch?v=Ecr5uwJbZjA
The Pastors of All Saints: https://www.youtube.com/watch?v=rDADYtgVWog
The Miracles of All Saints: https://www.youtube.com/watch?v=rDADYtgVWog
From the first time I heard of the All Saints movie via Brian Bird (from whom I often get my inspirational film information), I knew I wanted to see this film. It's based on a true story, and it's an inspirational tale where God's providence is emphasized. This is one I want to watch, and I was excited to see the trailer the last time I took my daughter to the local theater.
There are so many dark films out there today with stories of death, destruction, and more. Additionally, there are so many films out there that have no real purpose except to stun the audiences with special effects and the like. I am already in love with this film because it is inspirational, Christian, and filled with light and hope. I told my family we're going, and that's the end of it.
I think it is vital in today's culture to let the movie studios know we want more films like this. I am passionate about supporting faith-based films in the theater, and I hope all of you are too!
Please visit the official site of the movie and consider buying tickets yourself. You can find all the necessary information there, including video, photos, downloads, news, theaters, and more. The movie will officially release on August 25th!
Disclosure: I was invited to view the film ahead of time, and the trailer of the film was sent my way from the sponsor. All of this was done free of charge, and my compensation was a complimentary code for two tickets to see the movie myself before the official release of the movie itself.  None of this affected my review or feelings concerning the film. I already knew about the film and was planning to see it, so this was just a nice bonus sent my way. And the sponsor only asked that I promote it for them!
I do have a special announcement, however. How would you like the opportunity to win two Fandango codes yourself so you can see the movie opening weekend?
Just enter the rafflecotper below by August 18, and you are in to win!
Please NO Canadian winners, All Fandango codes are only good to use
In U.S. movie theaters.
"Disclosure (in accordance with the FTC's 16 CFR, Part 255:  "Guides Concerning the Use of Endorsements and Testimonials in Advertising"):  Many thanks to Propeller Consulting, LLC for providing this prize for the giveaway.  Choice of winners and opinions are 100% my own and NOT influenced by monetary compensation.  I did receive a sample of the product in exchange for this review and post.
Only one entrant per mailing address, per giveaway.  If you have won a prize from our sponsor Propeller /FlyBy Promotions in the last 30 days on the same blog, you are not eligible to win.  Or if you have won the same prize on another blog, you are not eligible to win it again.  Winner is subject to eligibility verification.