In the past several months, it seems like every time I investigated some of the shows to which I typically pay attention, a certain, somewhat unusual name kept popping up–Raresh DiMofte. I became increasingly interested in who this actor/filmmaker was, so I finally contacted him for an interview to which he agreed almost immediately. I am grateful to share our exchange here as Raresh shared so much about his career, his life, and his unique perspective within the film industry.
RH: Why did you decide to pursue a career in entertainment?  What kind of training have you had?
RD: The hunger to express feelings and thoughts was bigger than me and still is.  I'm constantly looking for different "creatures", such as ideas and collaborations, to bring them to light. They always stay well-hidden, I can't find them on every try, but once I do, the explosion is beautiful and it feels like I'm adding a few years to my life.
My training started in theatre, before I finished high school, then continued with four beautiful and intensive years in university – I got my BA in Acting from the Babes Bolyai University, Cluj-Napoca. My professors for four years were Diana Cozma and Radu Teampãu, and I wouldn't have been here today without their expert guidance, extensive knowledge of all things acting and theatre, as well as an extraordinary, empowering teaching style, which at the time did not seem easy at all, but now I couldn't be more grateful.
For any actor though, the training, learning, developing process never stops and I am blessed to still have Radu Teampãu as a mentor and friend, continuously challenging me. And I savor feeling how each role I take on enriches my life.
What was your first professional job and what are your memories of it?
My first professional gig was in a Romanian TV series called Țara Lu' Papură Vouă – sitcom. I remember the camaraderie and the non-stop fun we all had working on set. And it is still fun so many years later reconnecting with former colleagues from that show who, like me, moved to a different corner of this world but we still share and value that memory.
I notice you made the move to North America. What was your reason for moving and what was that experience like?
The bug to try something else was always within me and still is. Exploring new places, connecting to new people, discovering emotions are all paramount to my r-evolution 🤓
It was challenging to understand and adjust to the new system, but any big change is like that. And it all helped shape my entrepreneurial skills, which is a completely different set of skills than acting, writing, etc.
You have been featured in several well-known TV series–Almost Human, iZombie, The Man in the High Castle and more. Any roles particularly stand out or are there any behind-the-scenes stories you'd like to share?
I am blessed to have been chosen to bring my acting palette to those shows.
Almost Human was my first American TV show. I was playing an Armenian doctor and I remember how fascinating it was for me to see how the well-oiled TV-making machine was working just in front of my eyes.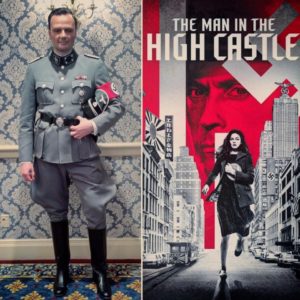 A funny/awkward story: while shooting The Man in The High Castle season one, Alex Zahara and I were picked up from the circus and taken to set (a famous hotel, downtown Vancouver). The driver parked in front of the hotel and we got out fully dressed in our Nazi uniforms, walked casually to the entrance, through the lobby to the elevators… When the elevator doors closed we realized that the world, literally, stood still around us. You can imagine why 😋 And later that day we heard someone called 911 to report an unusual Nazi gathering in the hotel. From that moment on, we had to wear parkas when walking outside the set. 😎
You and your wife founded a production company.  Please tell us about the company and why you founded it.
My wife, Nadia DiMofte and I, are both storytellers. We are fortunate enough to work in the same industries (film/TV and theatre) so we create together: writing, producing, directing (Nadia) and acting (me) in our projects. Nadia is a fine producer, writer, and director.
Together we founded Bad Icon Production$. We work hard to bring to life projects in film, theatre, and other artistic endeavors, and we try to tell stories about the struggles of the individual in the modern society.
We love to collaborate with all sorts of artists, not only from the performing arts. When we meet someone with an exceptional craft, the first thing we think about is how to include their magic in our next artistic journey.
For instance, we are now working on a digital series called uRBaN PHaNTaSieS, Vol. 1. This was sparked by our collaboration with an extraordinary photographer, Roger Mahler, who is brilliant with lighting. How can we ignore that? And now he is DP-ing our show.
Buyers is a short film we are also working on. And for this project, we decided to work with my brother, Kristian (kadys.ro) who is a jewelry artist and he custom-made masks and accessories for our characters.
It's a pure joy when we're able to bring together people with diverse crafts into one art project to tell a beautiful story.
You've done some writing, directing etc. mainly for indie films. What do you see as the benefits and challenges of indie films? Do you plan to do more writing, directing and such in the future?
It is always exciting to discover and develop new skills; producing and writing are my newest "toys". The benefits are multiple, starting from working with driven indie filmmakers who put it all out there for their passion, to seeing a story from a different angle, an angle I wouldn't need to see as an actor.
In terms of challenges in indie filmmaking I, think the biggest one is money. You can only reach so far on a low-to-no budget; if you want quality some things you have to pay for and they cost a lot but make a huge difference. Post-production for example, which can make or break your project. There is also the challenge of volume. There is a lot of stuff being made out there every single day. The biggest struggle is how do you keep making art without compromise?
Any other current/upcoming works you can mention?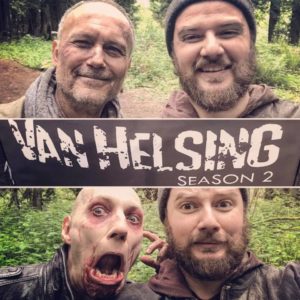 This year has been very productive for me. I have started the year with roles in TV series like Arrow, Unreal and Van Helsing. And I have to thank my agent, Aaron Alexander from Trisko Talent Management, for his everyday hassle to put me in the audition room. I also recently booked a Romanian character on History Channel's series SIX.
On the indie side, I got to or will soon work with incredible indie filmmakers on their projects: Joel Reimer, Zack Sowinski and the director Benjamin Murray on Filthy Swine, Kasey Lum on Kingspin and Aashish Chanana on Afreen and Temptations 2. It has been an amazing year for my acting, so far.
How do you balance your personal and professional life? Some actors say it is easier if their spouse is in the entertainment business, and some say it's not. What do you think?
I don't know what others say, but I know it's not easy to find your life partner regardless of their profession. Nadia and I are lucky to have found each other and double that by working in the same field. We understand each other, we challenge one another, we love to talk about everything and anything and we are never bored when we are together.
We realized that we both seek balance in life and understood the key is to give each other unconditional love, unwavering support and freedom; otherwise, we are just two strangers sharing a common space.
 I notice that you also give back to the community. Please tell us how you do that and why you feel it is important for everyone to do that, especially entertainers.
Our world is alive and burns the constant good fire of creation. How can you stay away from something like that? I enjoy meeting with, talking to, learning from and altogether being inspired by other creators.
I volunteer with Raindance Vancouver, helping my wife Nadia DiMofte, who is the Regional Director. We try to help indie filmmakers connect, improve their skills and advance their careers creating their projects.
Also, I really enjoy donating my time to photographers and witness their magic. Everyone should stay curious and discover other people and connections. This improves one's creativity.
As a non-native North American resident, have you experienced any kind of discrimination or bias in the industry? Do you think that the industry is becoming more diverse and more accepting of other ethnicities?
I was challenged by the new country, continent, and system, but that's normal when you start from scratch. I feel different here because I am, not because people are biased. It's my job to find a way to function within this new circle and bring my colors in.
I believe the film industry is an ever-changing environment and we live in interesting times.
If you could take a week-long vacation anywhere, where would you go and why? Also, whom would you take with you?
A week-long vacation anywhere is a treat in itself. I would very much like to go visit Japan for too many reasons to count. And I would love to take my brother, Kristian, as we haven't seen each other in seven years.
In so many ways, I don't know what I appreciate about Raresh more. I find his Romanian heritage fascinating as I knew very little about that part of the world, and I think his cultural background has given him some unique opportunities within the North American film and TV industry. However, his outlook on potential bias and prejudice is one of the most extraordinary with which I have come in contact. Many within the industry, and some within the world as a whole, spend their time complaining about their unfair treatment and place the blame on certain sectors of society. Now, I don't disparage the fact that prejudice does exist, but I also know that many succeed in this world in spite of that. There will always be the naysayers and the haters regardless of who or what you are. The fact that Raresh has embraced his differences and even used them to his advantage is something I find inspirational and positive in approaching this potential pitfall. I greatly respect his dedication to the the business of acting, and the fact that he has invested his time and talents in so many parts of the business is an outstanding accomplishment, in my opinion. Raresh has chosen to focus on the essential elements of acting and storytelling rather than getting caught up with the peripherals and non-essentials, and for that, I salute his achievements. Perhaps he will never be a celebrity nor a household name, but I believe his drive, positivity, and giftedness will serve him well within his chosen profession and I anticipate even greater accomplishments for him in the future. For the time being, I invite all of you to check out his links below and possibly follow him if you are so inclined. Raresh is one remarkable entertainer who deserves to have the unparalleled support of those of us who passionately support the arts. It is encouraging to see such qualified and determined professionals like him who regularly give back to the community that continues to provide opportunities for him to tell his unique story.
FOLLOW RARESH