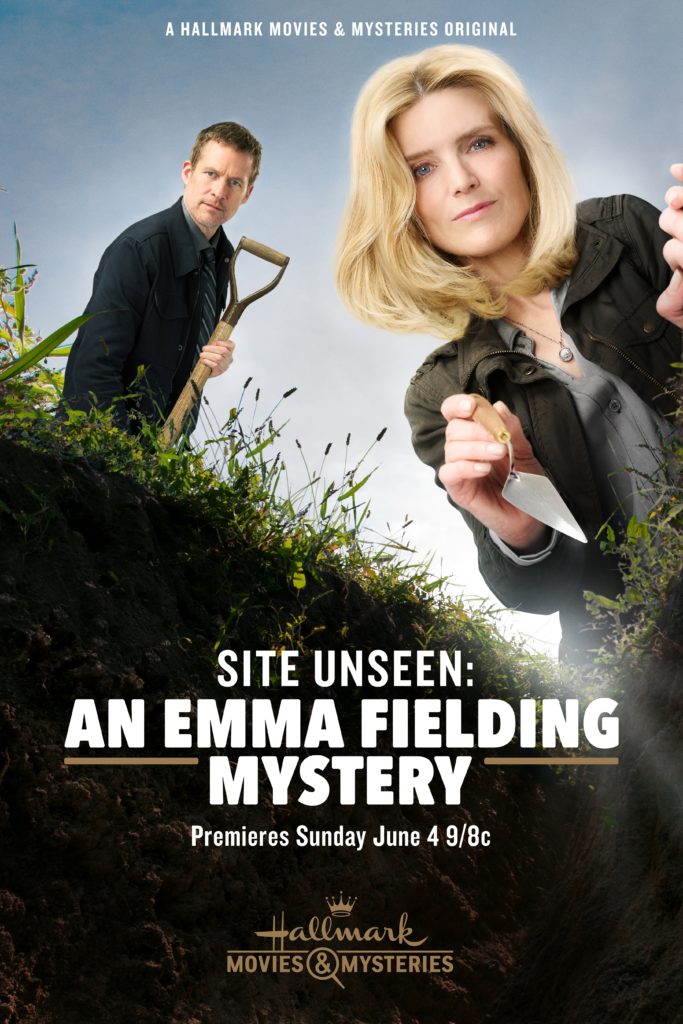 Brilliant archaeologist Emma Fielding leads a group of students on a search for unearthed evidence of a 17th century coastal Maine settlement, and digs up a lot more than she bargained for when a dead body, rivals seeking to trump her discovery, and pressure from the university block her every move. In order to pursue her passion for this dig, she'll have to insert herself into a murder investigation and unearth the killer's identity before she becomes the next victim.
I want to thank Hallmark for again giving me the opportunity to review one of their new mystery films. I was completely unfamiliar with Dana Cameron, the author of this acclaimed series, but since screening this film, I am a fan, and I can hardly wait to jump in and read one of her books! This film is similar to many others of the mystery films on Hallmark Movies & Mysteries in that it features a strong woman in the lead who is not a detective. She also makes a nuisance of herself to the local police department, but that is pretty typical. While a murder does occur, you can bet Emma will figure it out, and she just might fall in love in the process.
I was rather taken with this young trio (check the picture below as well as at the side). There was a whole group of young people at Emma's dig site, but the two girls and boy are the classic "girls rebuff boy, but boy tries to impress girls anyway" trio. Adam portrays the young Joe, who is very unsure of himself around strong women. He wants to appear to be in control of every situation. I would venture to say he wants the girls (one in particular) to recognize his talents and physique as well as his skill in protecting a woman to whom he is attracted (who doesn't need his protection at all, or so she thinks). Joe is that classic, awkward young adult boy who needs a good woman to come alongside him and aid him in maturing into a wonderful young man. I believe he has the makings of a quality young person, but his insecurity has led to a bit of bravado on his part.
Of course, Joe is a man amongst all these strong women (Sunita portrays Jessica). Neither woman thinks she is the woman for Joe. Indeed it is Tess' portrayal of Carey that demonstrates just how when necessary, differences and ego can be set aside. Carey has enough ego for both her and Joe put together, but she is also learning to assert herself as the woman who doesn't need a man in her life. Thankfully, Jessica is around to assist with essential information when necessary. I think there is an attraction between Carey and Joe, but this film proves that they can work together to help Dr. Fielding when necessary.
I am so glad Hallmark utilized a wide variety of young people in these roles, and many are virtually unknown, at least to Hallmark viewers. I would love to see any of them featured again in any future productions, but I sincerely hope we have not seen the last of Adam and Sunita! Maybe we'll see them paired together again soon.
Though not pictured, Benjamin Ayres is also appearing in this film as Emma's old flame, Will. I won't tell you much except to say he played the perfect egotistical, mysterious man, and the chemistry between his character and Emma was tense and gauche, but I think sometimes Emma (portrayed brilliantly by Courtney Thorne-Smith, whom I'll mention momentarily) wanted to create something that wasn't there as a monument to the past. Kudos to Benjamin as viewers will appreciate his role as we discover more about who the "real" Will is.
Also not pictured is Jessica Heafey who embodies that girl who never liked Emma, Nikki. I thought Jessica (who is not unknown to Hallmark audiences on this mystery network) was perfect in her role as I never fully trusted her. Sometimes I found Emma a bit too trusting of her. Maybe her sleuthing skills need to be flexed a bit. I think sometimes we only see what we want to. Nevertheless, Nikki is going to be one of the most intriguing characters in this film, second only to Will.
No doubt, Hearties recognize this guy. Martin has become a force with which to be reckoned both on When Calls the Heart and other Hallmark films. Unfortunately, he is often typecast as the bad guy, but we know that he can play a lead (remember The Christmas Shepherd). In this film, I was completely captivated with his character, Tony, every moment he was on screen.
Martin is a consummate actor, and I tend to class this role as "the role of his life." He doesn't always do what you expect as Tony, but it would appear that he fosters a great deal of respect for both Emma and her deceased father's legacy. Tony can be blamed for much, but he can also be heralded as a hero. Just know that looks can be deceiving. And Martin is one of those actors who can play any role with such a degree of credibility that it defies the imagination.
In the role of Connor, James brings his formidable skill to the Hallmark Movies & Mysteries Network. From the moment he appeared on screen, I was captivated by the persona he brought to this role. He infused Connor with all the experience, drive, and decorum that was necessary for him to be a celebrated detective. Additionally, he still came off as the "guy next door" who was down-to-earth and understood how to deal with a strong woman like Emma. Or, I guess you might say he was at least teachable. He respected her talent from the beginning, but I believe his character's tender feelings for her sometimes got in the way. It is evident that he wants to protect her in a somewhat old-fashioned, traditional way, even if she is not willing to accept that protection.
However, she is willing to accept this kind of help. I don't think Connor is used to getting his hands dirty in quite this way, but maybe the perks of the job aren't so bad after all.
Emma is one lovely woman who may be able to fill up the empty spot in his heart if she can just slow down for a moment. And perchance, she may give him that opportunity. She just has to get through the issue at hand. The two of them together make quite an effective team. But will they ferret out the killer before it's too late?
So what about Courtney as Emma? I have never seen Courtney in anything but this film. I didn't watch her past, popular works, so she is a "new" actress to me, and one that I believe truly immerses herself in this role with all the gusto, intelligence, and authority you could want. Emma is a determined woman who is going to keep digging, no matter who attempts to get in her way. She will not cease until she has proven what her father knew and believed long ago. She will find the truth, but in so doing, she may unwittingly put her own life in jeopardy.
Thankfully, Connor is there to protect her even when she doesn't know she needs his preservation skills. The only problem with her is that she doesn't know how she feels about Connor. After all, Will was an old flame. And he seems to want to rekindle that relationship. Connor is new, and she sometimes views him as a hindrance to solving the murder. She does have to prove herself to him, but it isn't long before he just wants to attempt to keep her out of trouble. She seems to attract trouble wherever she goes!
In my opinion, Hallmark has another hit on their hands, I hope that everyone can tune into Hallmark Movies & Mysteries tonight (June 4th) to watch yet another quality mystery featuring exceptional actors and a clever storyline. Although I have already seen the film, I highly recommend it to all viewers. Oh, and be warned, there are a few twists along the way that you will probably not see coming!
For more information:
http://www.hallmarkmoviesandmysteries.com/site-unseen-an-emma-fielding-mystery
Interested in subscribing to all my site's updates? Subscribe below!