I sometimes wonder where and how I happen upon certain actors, and more often than not, it is as simple as, "I saw you on thus-and-such, and I'd love to interview you." And that is exactly what happened with Grainne McDermott. I happened to see a holiday movie featuring this young actress, and when I looked up her body of works, I realized Grainne was someone special and unique, and I am so happy she agreed to answer a few questions about the story of her career to date.
RH: What inspired you to become an actress? How old were you when you began acting professionally? What kind of training have you had?
GM: Watching movies as a kid inspired me to be an actor. Now and Then was the first film I watched over and over and over and I wanted to be a part of a story like that; to make someone feel moved the way the film moved me. I began acting professionally at seventeen with Bloody Homecoming. When I was fourteen, I started taking classes once a week in Nebraska, where I grew up. Since I've lived in LA, I've continued to take classes and study with some amazing teachers.
Your first listed work on IMDB is Bloody Homecoming.  Since this is a horror film, how was your experience filming this?  We're you a horror fan, or was this a step out of your comfort zone? 
Bloody Homecoming is the first project I've ever acted in! Growing up, my friends and I would have horror movie marathon nights and we all thought it was super cool that my first film was a scary movie!
We had even imagined what it would be like if one day I was in a horror film. The experience exceeded my imaginings. I loved every minute of filming!  I had so much fun on the night shoots and I was only seventeen, so my mom was on set with me! My favorite part of filming was getting to do my own stunts which may or may not have involved fake blood.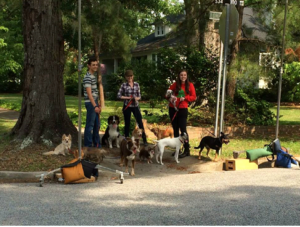 Your next feature film that is listed was 12 Dog Days Till Christmas. How did you get involved with this film? What are your memories of this film?
I actually filmed 12 Dog Days Till Christmas immediately after filming All She Wishes. I think we had two days in between to switch characters and dye my hair red! I auditioned for both directors in the same session and was cast for both! In Dog Days, I play Ryan, a girl who works at an animal shelter that is soon to close. I try to get all of the dogs we have left in the shelter adopted before Christmas with the help of a juvenile delinquent called Jack. We always had at least eight dogs on set!
While filming a dog walking scene, I had to walk three dogs at once who all wanted to go in different directions. I ended up tangled in their leashes and nearly falling on my face! I loved getting to meet and talk with Reginald Vel Johnson on set too!
All She Wishes is listed next. How did you get your role on this film? What did you like about your character? 
I was cast in All She Wishes at the same time as Dog Days. I play a girl called Kate Lynn, a "frenemy" of the main character Sophie. I liked putting a comedic spin on the traditional mean girl archetype.
Please tell us about your filming experience on I Know You're In There. What was challenging and memorable about portraying your character? 
In the film  I Know You're in There, I play Chloe Redding, a girl diagnosed with catatonic schizophrenia.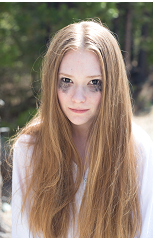 This was a bit of a challenge because she doesn't speak, move, or even blink! We had a very small cast and crew, and we all lived in the house we filmed in during the shoot.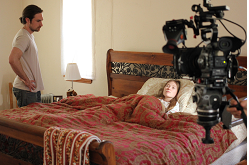 I creeped out the crew daily which I consider a great accomplishment!
You are listed as being a part of the TV series How To Be a Vampire and Dark/Web. I'm not familiar with these shows.  What can you tell us about the shows and your involvement with them?
How To Be a Vampire is a musical comedy on CWseed.com It's about a guy who goes to college and discovers a world of vampires. I play one of the students on campus. It's a game of "Where's Waldo?!" to find me. Dark/Web is a horror anthology series. I play Mo, a friend of Cole Bernstein's character Estel in the episode titled "Viral."
You are listed as a production assistant on Girlfriends of Christmas Past.  How did you get involved with this film, and what did your duties entail?
I take any chance I can to be on set, so when friends from the other films I've made asked if I could help out on Girlfriends of Christmas Past, I was more than happy to show up. I helped prepare meals for the cast and crew and run errands for the producers.
There are a few things listed on your IMDB for upcoming works. In fact, I think you're listed as the producer of one of them. Please tell us anything you can about any of your upcoming works
I'm really exciting about the things I have coming up! I'm a part of the sci-fi film Diminuendo starring the late Richard Hatch and Chloe Dykstra which will be out later this year. I play Chloe Dykstra's character Cello as a teenager. The film I'm producing as well as acting in is called Blackbird. It's a story about Emmy Paterson and Anna Beck, two nineteen-year-olds growing up in 1960s San Francisco during the civil rights movement and the Vietnam draft. I'm going to be playing Anna and I can't wait to bring this story to life!
As you have somewhat grown up in the industry, where do you hope to see yourself five to ten years from now?
I'm just getting started! I want to travel and take on challenging roles. I look forward to meeting and working with actors I've loved watching on screen and maybe even inspire a young actor the way I was inspired as a kid.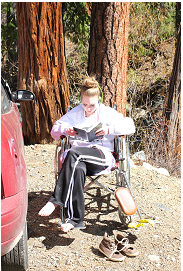 What is your advice to young people who wish to enter this profession? 
Don't neglect your education and read everything you can get your hands on.
While you are a versatile actress, do you have a preferred genre to watch? To act in? Why?
I LOVE SCIENCE FICTION! I'm obsessed with the TV show Orphan Black. I love seeing ideas and human drama in fantastical settings.
What do you like to do in your downtime?
In my downtime I love to go to the movies, kickbox, and read a lot.
I often say how much I appreciate connecting with young people in the entertainment business, and Grainne is no exception. In 12 Dog Days Till Christmas, she captured my attention due to her exceptional portrayal of her character, Ryan. While some actresses who have little on-screen experience often seem stiff and untrained, Grainne easily demonstrated that her talent, though raw, was a cut above so many others, especially at her age. While I have been unable to see any of her other works, there is no doubt that she is one who is continuing to make her way in the vast sea of the world of entertainment. She is unspoiled, humble, and committed to honing her craft as well as learning every aspect of the business, no matter the menial tasks she may be asked to complete. She understands at her tender age that making connections in this business is one of the most vital things to ensure the longevity of one's career. I certainly anticipate her upcoming works, and the fact that she is producing at her age is quite remarkable, to say the least. So if you feel inclined, I would invite you to check out all of Grainne's links below and maybe follow her and/or look up her past works. Even if some of her works do not appeal to your tastes, it does not take away from the fact that Grainne is a true professional with a bright and promising career that will only continue its steady rise as long as she remains on the straight and narrow path on which she began. 
FOLLOW GRAINNE
Twitter