I cannot remember the first time I heard of the upcoming show Date My Dad. Maybe it was Lilah Fitzgerald who told me about it. Perhaps Cindy Busby tweeted about it. Possibly I saw a Facebook post from Willie Aames. And when I read that Zenia Marshall joined the cast, I couldn't have been more ecstatic. But it is entirely within the realm of possibilities that you have not heard of one of the other special actresses appearing in this show tomorrow (June 2nd) night on UP Network. If you are a Hallmark fan, you probably have seen one of her films. I'm talking about none other than Audrey Smallman, and recently, I got to ask her a few questions about how she got started in the business and what some of her memorable roles have been.
RH: Why did you decide to become an actress? How long have you been acting?
AS: I have taken theatre and in-front-of-camera acting classes since I was very young. I have always loved playing dress-up and pretending to be whatever I am dressed up as, even cats! But it wasn't until a friend of mine in one of the classes told me she had an agent and was performing for TV, and she wasn't the only one in that class who was doing that. I asked my mom if I could have an agent to get on TV and she said "yes." I also like meeting new people and getting to work with all the different people on a set.
I have had an agent since 2013, and I booked my first commercial three months later. I also started acting in short films where I booked the lead in all but two. Then in 2015, I booked my first film.
You started out with some short film work.  What are your memories of working on those? 
I enjoy doing short films. I'll always remember digging a hole and flushing broccoli down the toilet in Serving Time. It's funny because I like broccoli. But my favourite one was The Wolf Who Came to Dinner. We shot it all in two days and now Jem (the director) and I are friends. The funny thing that happened in that short was the wolf couldn't see through his head mask so he kept walking into doors.
Your first official film was Family For Christmas. How did you get involved with that film and what was it like working on set? Any special memories? 
I auditioned, and I received a callback. Then my mom received the call that I booked it. I was so happy! It was my first time being one of the main actors in a full-length film, so it was a longer shoot and I had a tutor. I got to act with Lacey Chabert, who was so nice! My special memories of that shoot are that everyone was so nice, and I got to sit on Santa's lap in the middle of summer!
You also were a part of Travelers. Even though your part was small, what was that experience like? 
I liked the creepiness of my character. Wish I could have played her more.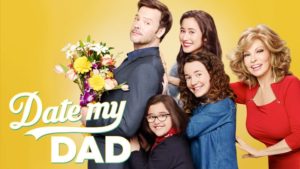 We will be seeing you in the upcoming Up show Date My Dad. How did you get that role? What can you tell us about your role and the show without spoiling anything? Any memorable filming experiences?
I had an audition for the role, received a callback, and THEN that same day I was asked to come back and do a chemistry read-through with Barry Watson and some other actors auditioning for my sisters. I was SO excited!
The most memorable experience was having my birthday on set! It was a total surprise and happened during a birthday scene so I had NO idea I was called to set for my birthday, even when everyone started singing "Happy Birthday" to me!
Why do you think Date My Dad is going to be a great family show? 
It is going to be such a great family show because you can watch it as a family! There is something for all ages to relate to and understand. It's funny and even sometimes sad. You will love all the characters!
Any other upcoming/recent works you can mention? 
Yes! I have another film out in August called Midnight Sun with Bella Thorne, Patrick Schwarzenegger, Rob Riggle and Quinn Shephard. I hope I can get to go see it! Another film I have coming out, but I don't know when, is Pretty Little Dead Girl.
Many of your works have been rather dark and even scary. As a child in the business, how do you act in those kinds of roles without letting it scare or affect you negatively.
It doesn't scare me at all because I see how it's all done! And I do each scene more than once, so I become familiar with it.
How does school work for you when you're on set? 
Well, I get a tutor on set and we either work between scenes or if it's a short film day, I stay and get some school work done. But I am smart anyway. 🙂
When you're not working, what do you do for fun?
HANDSTANDS! And hanging out with my friends. I also enjoy soccer and skiing, as well as drawing, and making animation videos.
If you follow my site somewhat regularly, you KNOW how much I adore interviewing and featuring young people in the business, and Audrey is no exception. I remember her from Family For Christmas, and after chatting with her about Date My Dad, I'm even more excited to see this show! I cannot get over the incredible talent that UP has secured for this new series, and Audrey fits perfectly with the rest of the cast due to her infectious smile, her contagious effervescence, and her bubbly nature that takes great delight in reveling in each and every moment that is thrown her way. The picture above looks like the ideal family, and I can hardly wait to see what antics Audrey and the rest of her "sisters" conjure up beginning tomorrow night (June 2nd) on UP TV. Be sure that you check out all of Audrey's links below, and whatever you do, don't forget to support this quality young actress in any way that you can. It is youngsters like her that inspire me with limitless hope and unbounded conviction that not all kids in this world are bad. And if kind, decent, stalwart adolescents like her are a part of our future, I'd say we're in pretty good hands!
FOLLOW AUDREY