We are now more than halfway through the Hallmark's quartet of wedding films to celebrate "June Weddings." And as we approach Saturday, June 17th, Hallmark viewers are in for a tantalizing treat!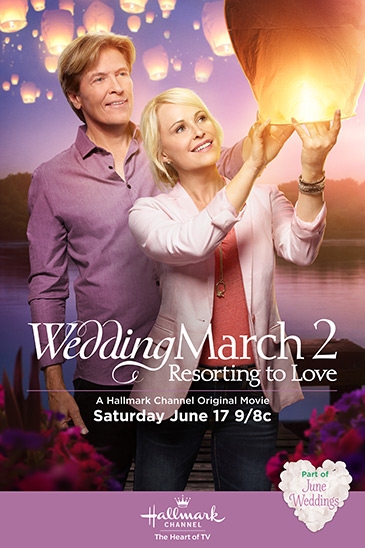 Mick Turner and Olivia Parsons were college sweethearts until he left the relationship to go on tour with his band. Now, years later, Mick needs a silent partner to help him revive his failing Willow Lake Inn and, unbeknownst to him, Olivia is moving to New England for that purpose. But when Mick learns that Olivia is coming, he misinterprets her intentions. He thinks she wants to rekindle their romance, and she's planning on not-so-silently revamping his simple inn into a premiere wedding resort.
I was a huge fan of Jack Wagner and Josie Bissett in the original film last summer, and when I had the opportunity to chat with Jack earlier this year, I was excited when he confirmed to me that this sequel was happening this summer.
I recently discovered that Gelsea Mae is featured in the film, and I see that she plays a bridesmaid. Yay, Gelsea!
I'm happy that Emily Tennant has reprised her role from the first installment. (Sarah Grey returns too.)
But what electrifies me more than anything is that Tara Wilson and Aren Buchholz are in this film too! Tara and I go way back, and Aren has been so busy that we had tried to set up an interview previously, and it just didn't work out.
However, a couple days ago, I was able to do a live broadcast with both Tara and Aren, and I am quite happy to share that below.
So be sure that you tune in Saturday, June 17th to the Hallmark Channel and watch The Wedding March 2: Resorting To Love. You won't regret this one!