Maybe you've heard of Destination Wedding, the movie that kicks off "June Weddings" month on the Hallmark Channel. If you are a diehard Hallmark fan or "Heartie," you are probably well aware of this film, and maybe you've been counting down the days. And perchance you noticed a certain giveaway that popped up today, hosted by one of the stars of the film.
What you don't know is that earlier this month, I was asked to help promote a couple of these films, and in so doing, Andrea Brooks and I got to chatting, and before long, this giveaway she is hosting now was born. (Yes, I have known about this for a while, and this was part of the surprise I had hinted at earlier in the Facebook group.)
So, be sure that enter the giveaway. I'm going to post the details here, but you will need to go over to Instagram in order to enter. And you have until June 2nd (that's Friday, folks!) at 10 AM Pacific time. And it's only open to the U.S. and Canada. I want to thank both Andrea Brooks and Brooklyn Designs for this amazing giveaway, and I would invite you to head over there now by clicking the picture below! It should take you right over to Andrea's Instagram post.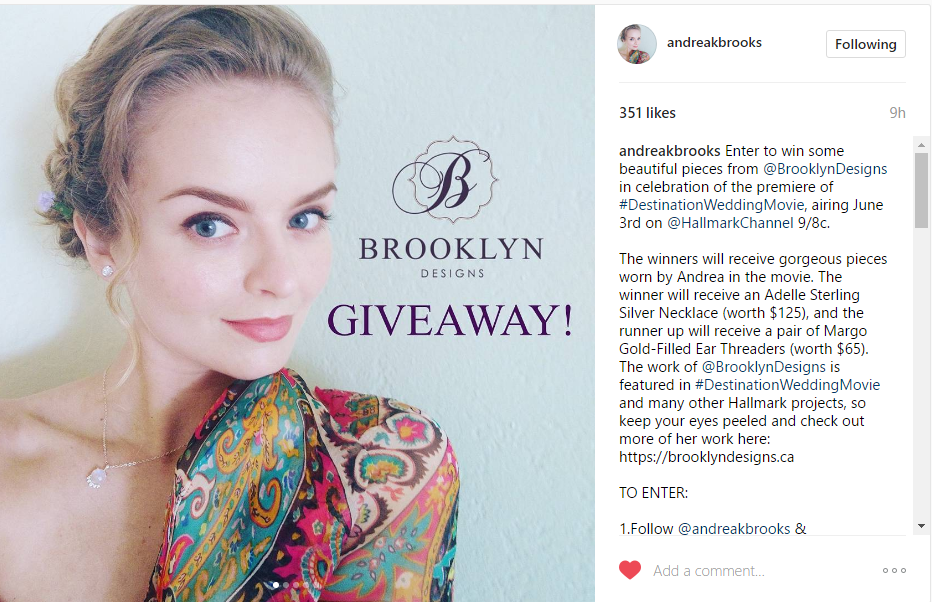 I am not certain if I get to do a review before the film airs (generally these things happen last-minute), but there are a couple other things I would like to mention.
Of the
Of the four people listed here, only one will not have an interview posted this week. I was unable to contact Alexa PenaVega, but in case you're interested, I did a fabulous interview with her last year.
I just had the opportunity to interview Andrew Dunbar, and in some ways, that interview was what I call "three for the price of one." (You'll have to watch out for the interview to understand why.)
I'm sure some might wonder why on earth I would be interviewing Jeremy Guilbaut and Andrea Brooks again when I just interviewed them a short time ago. Well, first of all, we've all connected so much through this whole experience that it just makes sense to do it again.
However, there is another reason. When I was asked to promote the movie, it seemed normal that I would interview Jeremy. And I thought, "How can I make this a unique experience and different from the other interviews I've done?"
My first thought was to interview Andrea and Jeremy together. That would be easy. But I knew it would make more sense to try something new–step out of my comfort zone. So, the big surprise?? Well, Friday evening, you'll know. But let's just say that many people have been asking over the past year or so for me to do a certain kind of interview. I won't say what kind–I'll leave that to your imagination. It wasn't the right time, so I've always declined. This time, I'm taking the plunge. I'm not going to announce it in the event that something goes haywire, but this is going to be a big thing. A real step outside my comfort zone. I should be nervous, but I'm really not. I am trusting that God has gotten me this far, and He opened the doors for this to happen.
So, be sure that you enter the giveaway, set your DVR's for Saturday evening, June 3rd, and watch for a very special interview that will be published sometime June 2nd!
For more information on Destination Wedding: