Because of my support of festivals like the Artemis Film Festival that celebrate "women in action," I often have the opportunities to interview and feature women who are doing unique and phenomenal things within the film industry. It just so happens that Dawn Alden is one of those people. She has a diverse career within the realm of theater and film, but her sole focus has been advocating for women in every aspect of the entertainment industry. Recently, she answered a few questions about her background, her film company, and the work which is her primary focus right now–Her-POW! New Adventures of Vintage Heroines.
RH: Please tell us about your background and how and why you got involved in pursuing a career in the arts.
DA: I grew up as the "black sheep" in an engineering family. My father was fond of saying "into the best families, actresses are born!"  I always felt a draw to the arts and theatre's ability to draw people into a story, take them on a journey, and provoke empathy and fellow-feeling with people who may appear very different from you on the surface. As I matured, I realized that I came to theatre from an activist standpoint: I saw it as the perfect medium to create social change.
I did complete an undergraduate degree in the sciences to appease my parents, but went on to get an MFA in Acting from the University of Pittsburgh, a program that emphasized training in the classics.  From there, I moved to Chicago and dove into the local theatre scene!  It wasn't long before I joined the ensemble of an all-female theatre company called Footsteps Theatre. Not long after that, I founded my own theatre company, Babes With Blades.
Please tell us about your work on the stage and how that led you to create your own theater company.
A staple of Footsteps Theatre's annual season was an all-female Shakespeare production. It was in the casts of these shows that I discovered other women like myself who had an enormous love of stage combat (the stage version of stunt fighting), but were frustrated that they had few to no opportunities to fight on stage.  All the great swashbuckling roles: Cyrano, The Three Musketeers, etc, were male. I started Babes With Blades as a two-night showcase, to which I invited all the artistic directors of all the theatre companies in town, trying to show them this wonderful resource of fight-trained women that was lying fallow. When the papers found out about the showcase, we were deluged with calls from the public asking for tickets, and I realized this idea was larger than just a showcase. Twenty years later, Babes With Blades is still producing theatre with fighting roles for women in Chicago.
What caused you to make the decision to move to LA?
I realized I had done everything I wanted to do in Chicago. My biggest dream–to be on a sci-fi television series–couldn't be realized in Chicago, so I decided to pack up and move to LA. The lack of brutal winters didn't hurt either!
What inspired you to start your own production company and what is unique/special about your company?
As I mentioned, I approach my art from an activist mindset, so when I saw how deep the sexism and racism runs in the institutions of Hollywood, I realized that I would have to do exactly what I did with Babes With Blades: create a home where the kind of art I wanted to make could be made.  The maxim from the Women's Lib movement in the 70's was: "If you can't find it, found it."  So I founded it.
One of the lessons I learned while playing the male roles in Shakespeare is that a great majority of the female roles that are out there, even when they are leads of the story, tend to be reacting to circumstances beyond their control. Male characters moved the plot forward, female characters react and try to influence the male characters' actions. There is a whole slew of "women in distress" movies that follow this formula, and those seemed to be the best that actresses could hope for. I am more interested in creating work where the female characters have agency, where they are the ones with the power to move the plot. Where their actions shape the story, not just react to it. I founded Vicarious Films to create work where women move the action.
Please tell us about your most current project you are crowd-funding. What is the premise?
My team and I are currently crowd-funding for Her-POW! New Adventures of Vintage Heroines.  From Mike Madrid's book Divas, Dames and Daredevils, I first found out that dozens of female comic book heroines from the 1940's, characters that led their own series of adventures, had fallen into the public domain. Considering how long we fans have had to wait for the big studios to make a Wonder Woman movie (and how long we will have to wait for a movie that stars any other female superhero), it seemed only natural that we should make our own!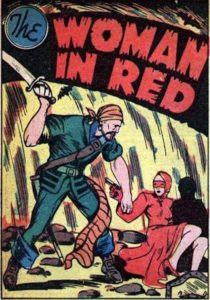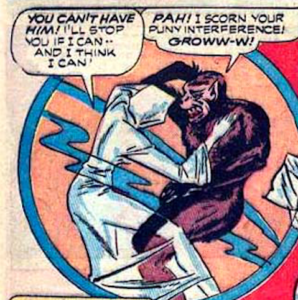 We chose three characters: The Woman in Red, The Veiled Avenger, and Ghost Woman, and created three short films, each featuring one of these characters. We are hoping eventually we can create features, and ongoing web series featuring these and many of the other fantastic heroines that are also in the public domain. The only thing holding us back is lack of funds!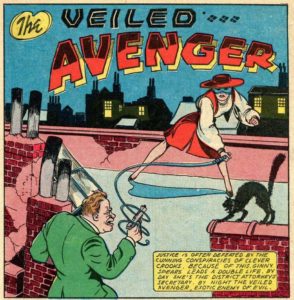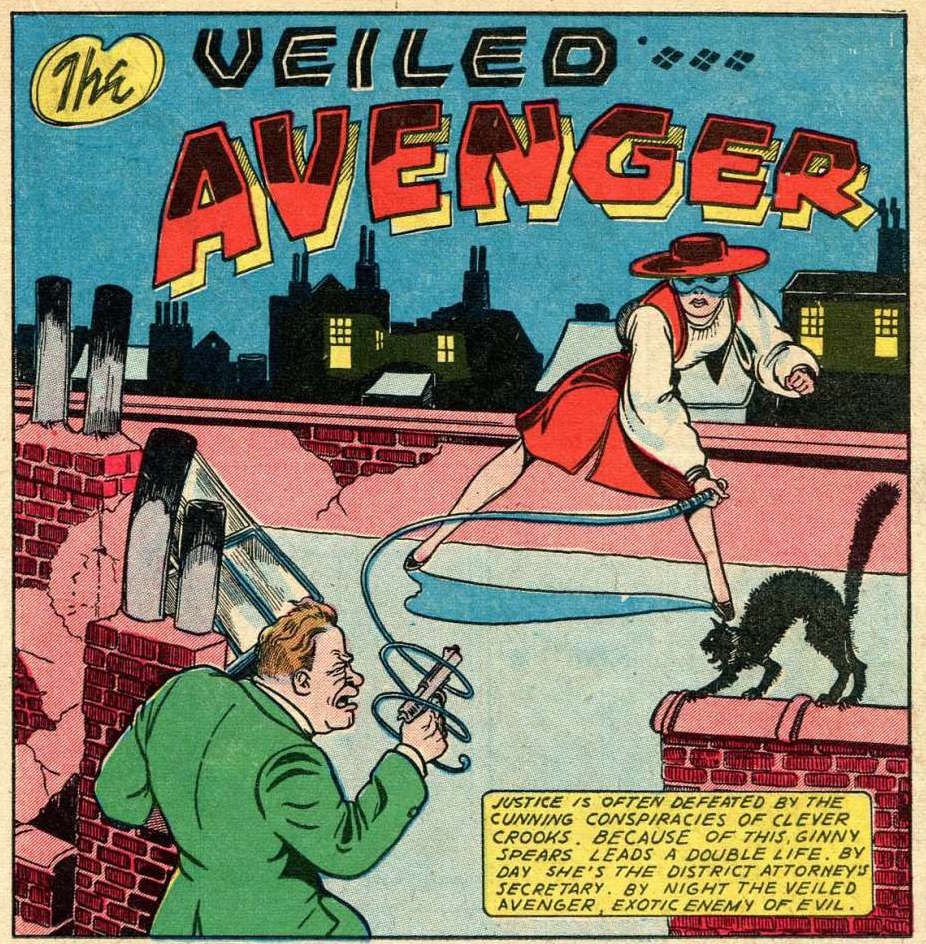 Why do you feel this project is so important? Why are you so passionate about it?
It is a pervasive misconception that there have been only male superheroes throughout the history of comics, and it's only since the late 90's that women have started to create comics by and about women.  Back in the Golden Age of comics, female characters were ubiquitous, and both men and women read comics!  It is just one of many examples of how women are dropped from history, and then new generations assume that only men did everything, or at least everything interesting, since the beginning of time. It is simply not true!  Women have rich legacies in the martial arts, in artistic creation, in computer science, you name it!  Dig a little into the forgotten history of almost any field, and you will find that if men were doing it, women were doing it too. This project is important, because it helps reveal again that women have been a part of every aspect of history. I told that story with women warriors in my work with Babes With Blades, and this project is another extension of that same mission for me.
Why did you choose crowdfunding and why did you choose the crowdfunding platform you did?
One of the distressing facts of Hollywood is that the money for making projects is concentrated in an elite group of mostly old, white men, who are only interested in funding projects that tell the stories of white men.  The research that quantifies how difficult it is to get anything made that focuses on female content, or that is created by a female team, is mind-boggling and devastating. It seems that more and more, art can only be made by the wealthy, by the one percent, and so the stories that are told are also about and for the one percent.  If you are not personally connected to circles of wealth, crowdfunding is one chance, one possibility for funding a project that would never get made by those in the Hollywood inner circles.
We chose Seed & Spark for our funding platform because it is a local, women-owned and run business, and because it's very mission is near and dear to my heart. Emily Best, the founder, advocates not wasting time and energy knocking on doors that will never open to you, and to find other paradigms to make work that is outside the mainstream ethos. This is exactly the philosophy that led me to founding Babes With Blades, and Vicarious Films, so it seemed like a natural fit!
As one who is a proponent of indie films, what are the benefits and challenges of this art form?
The benefits are the range of stories that can be told and the voices that can be represented.  We are all, every one of us, bursting with stories we could tell. It is neither fair nor healthy for our society that only a select few voices get their stories told. Indie films and web series help get those underrepresented voices out there in front of audiences who are hungry for new stories.
The challenges are that because the filmmakers aren't supported by any kind of structural resources, they must do everything themselves. They have to go out into the wilderness and build everything from scratch. I had been in one small indie film before I came out to LA, and now I know how to write, prep, produce, shoot, record sound, direct, and edit a digital project. Not necessarily because I wanted to, but because in order to make product, I had to do all of those things at one time. For my next project, I am probably going to be learning how to make four dresses from 1910 because I don't have the money to rent them!
 If everything goes as planned, when would production on this project begin and when would you project it's release?  When finished, where will it be available?
If we get our green light, production will definitely take place before the end of the year – most likely in late August/early September. Once the shorts are finished, we will be putting them up on the Vicarious Films YouTube channel, so everyone can enjoy them!
For someone who might be hesitant about contributing to a project such as this, what would you like to say to hopefully convince them about why they should contribute?  Also, if unable to contribute, how can someone help out?
Everyone who I have told about this project has immediately commented how amazing it would be. I have a large mailing list, and I have never gotten so many excited responses to my monthly newsletters before! People are just so excited by this idea, and I think when the films are done, we will make a lot of people happy. Plus there is the significance of bringing these characters into the public eye again, which I think is a worthy cause. And who doesn't like to see gals kicking butt?  It's a win-win-win situation!
If you cannot contribute (and I have many artist friends who are in just that spot!) you can still
follow the campaign
on Seed & Spark. Any campaign that gets 500 Followers get an incredible $9000 worth of goods and services from Seed & Spark itself. So you can help the campaign without having to spend a penny.
 Why do you feel it is vital for women to be involved in every aspect of film?
I think it's vital for women to have equal representation in any and every aspect of our society. We are fifty-one percent of the population, after all!  But film and television, which in many ways shape our culture and our self-perceptions, desperately need to have that equal representation, so that everyone's voice gets heard.
Any other current/upcoming works you'd like to mention?
I opened in a play on the 8th of April at The Complex Theater in Hollywood. The play is called The Lady Was A Gentleman, and it's based on a fascinating historical character named Charlotte Cushman. She was a world-famous actress and a lesbian before such a word or the idea of what it might mean existed. It's a comedy that takes place during one of her many "farewell" tours of the country. Tickets are available on brown-paper tickets here.
 What are your top five favorite female-driven film/TV works?
–Amma Asante's Belle (just a gorgeous film – see it if you haven't!)
–Katherine Bigelow's Near Dark (I'm a bit of a vampire film fanatic)
–Marjane Satrapi's Persepolis is visually stunning and tells a story most Americans are completely unfamiliar with
–Jennifer Phang's Advantageous is a stunning piece of work
–Gillian Robespierre's Obvious Child is a quiet little gem of a movie
 If you could have any super power, which power would you choose to have?
No question, I'd choose to be able to fly.  🙂
It is trailblazers like Dawn, who have paved the way for women to take a more prominent role not only in the world of entertainment, but in society as a whole. All too often, the human race waits overlong to recognize such tremendous, forward-thinking people such as Dawn–in fact, sometimes it doesn't happen until long after their death. Thankfully, Dawn is an outspoken advocate who campaigns tirelessly for the advancement of women. Furthermore, she is committed to relating the actual historical truth of women's history as opposed to the diluted version that is often perpetuated in society. Years ago, I bought into the same myth that women never accomplished anything significant throughout history. But once I challenged my own views, I discovered that I had been given a somewhat skewed version of history myself, and I can state with certainty that Dawn is entirely correct in her claims. It is my supreme joy to feature and promote a woman like Dawn, who is enthusiastically devoted to her cause with an unflagging resilience that would put some men to shame. Dawn is the proof that one woman CAN make a difference, and in this case, I believe that the legacy she is establishing will endure for years, if not centuries, beyond her lifetime. I adore the fact that Dawn is passionate, and yet she never appears overbearing nor insincere. And because of that, I believe that in the end, Dawn will be victorious in her quest to fund the myriad of projects whirling in her mind and heart. For now, I invite everyone to check out Dawn and her film company via the links below, and if you feel so inclined, please check out her crowdfunding over on Seed & Spark. I wish her every success in the world, and I am sure that the end result is going to be some genuine "kickass" entertainment!
FOLLOW DAWN/VICARIOUS FILMS
Interested in subscribing to all my site's updates? Subscribe below!