I actually have Rachel Boston to thank for bringing the talented designer, Peggy Li, to my attention. I noticed Rachel tweeted during the premiere of A Rose For Christmas about her jewelry being provided by Peggy Li Creations, and since I had never had the opportunity to interview a jewelry designer, I jumped at the chance. Recently, Peggy graciously agreed to answer a few questions about her jewelry designs, how she got started, and how the opportunity arose for her designs to be featured in television and movies.
RH: What got you interested in jewelry design?
PL: I've always been interested in arts and crafts and making things for myself. When I was going to college at UC Berkeley, there were so many artisans on Telegraph Avenue selling jewelry. I was curious to try it for myself (and have some pretty things to wear)!  It was very satisfying to gather materials and learn as I worked with it…experimenting.
What did you study in school, and how did you make the change to jewelry design?
I studied environmental science in school. I was self-taught for most of my jewelry career, taking classes every now and then to learn a new technique.
 How did you make jewelry design into a successful business? 
Persistence! Learn all aspects of running a business, and don't be afraid to put yourself out there.
When did TV/films start using your jewelry? How did that happen? Which show approached you first or did you approach them?
My work was first used on the TV show Buffy, the Vampire Slayer. I had met the costume designer for the show and I sent her a few pieces and the rest is history! I'm very lucky.
 What was the hardest jewelry design you were ever asked to make?  What is one of your favorites?
The hardest jewelry design was probably a wedding band for my brother-in-law. Talk about pressure! It's flattering when family wants to use your work, but it is so special I don't want to disappoint them.
A favorite design is my Weather the Storm Necklace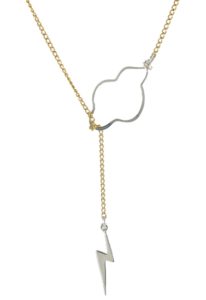 –
it's whimsical and fun and the name fits it just right.
What has been your relationship with Hallmark?  I know Rachel Boston recognized you during A Rose For Christmas.  Any other Hallmark works that you have done?
I have a great working relationship with Rachel Boston! She noticed my jewelry when I had some used on the show Witches of East End. Ever since then, she's been kind enough to request my work for her projects. She's an amazing actress and producer and I couldn't be more grateful. She's worn my jewelry in a number of Hallmark movies, like Ice Sculpture Christmas, A Gift of Miracles and Stop the Wedding.
 What do you use for your inspiration in designing jewelry?  What kind of  materials do you use?
I am inspired by fashion and the materials that I use. I use precious metals like silver and gold, plus precious and semi-precious stones. Unusual cuts, colors and shapes are always my favorite. I like to combine color, texture and dimension to my work!
What would be your advice to other perspective jewelry designers?
Refine your style and stay persistent. You will be told "no" a lot, but don't give up. Learn as much as you can about your craft and the business.
 What do you like to do in your free time?
I love to play golf, eat good food and watch movies. I'm, of course, a big TV fan, so working with so many talented people in the industry has been a dream.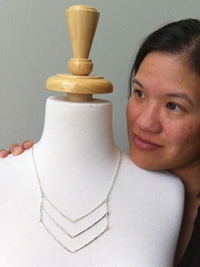 There is very little that thrills my heart more than celebrating people's successes, and the fact that Peggy has been able to have her work featured in so many television shows (just go to her site and look at the "As Seen On" area. You will be blown away!) truly excites me. While I know very little about jewelry and the art of making jewelry, I know that her work is high quality and elegant. It is easy to forget about all the small things in TV and films that contribute to the appearance of a character and the setting of a scene. The viewers may be inclined to forget about the people behind-the-scenes. I admit to not noticing the jewelry in a a scene, but I am completely certain of one essential truth. If the jewelry were not there, I have no doubt I would notice and miss that ideal accessory. Peggy has a way of designing her jewelry so that it completely coordinates with the scene and character, and now that I know of her work, I plan to keep a sharp eye out for her creations as well as the creations of other designers in the business. Peggy is a testament to the fact that if you are willing to work hard, amazing opportunities may be sent your way, and as long as you seize them, there is at least a chance that you may be able to work in the career of your dreams. Or maybe even one beyond your dreams. I invite you to check out Peggy's links below (and throughout this post–all the pictures are linked to the corresponding items on her site) and consider following her and maybe even purchasing some of her items. And if you are excited about Prison Break coming up next month, be sure to scroll all the way down for a sneak peak at an item that will be worn by one of the cast members!
FOLLOW PEGGY
PREVIEW OF UPCOMING ATTRACTIONS